Ya Gotta Love Red Hots (Thread)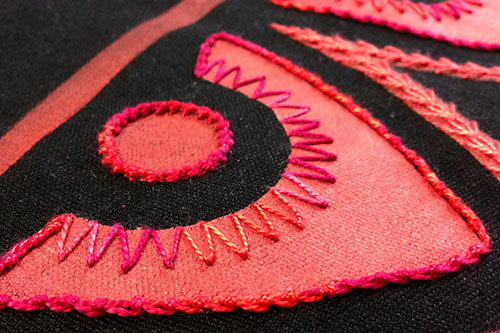 I did a ton of stitching over the holidays. With my deadline in sight, I have a serious case of Git-er-Done fever. My backside would be happier if I could stitch while I'm standing up, but that's one skill I have yet to master.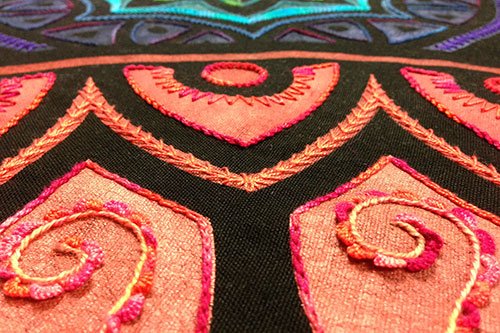 The only downside to all of this stitching, other than a sore fanny, is that I'm seeing red. As in a whole lot of Laura Wasilowski's Red Hots thread. I am nearing the edge of the second huge medallion, and I've been going through red thread like water.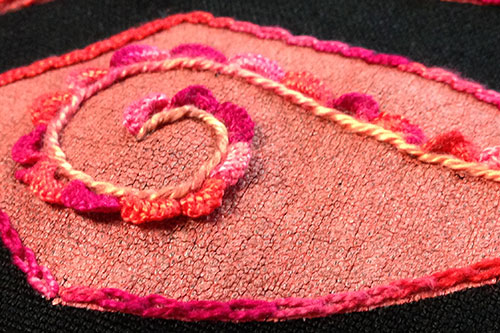 Don't get me wrong, I LOVE Laura's threads. If I were working with solid colors, I would probably be blind by now (or bored to tears…). The automatic color changes of variegated threads make doing hundreds of cast-on stitches a whole lot more interesting.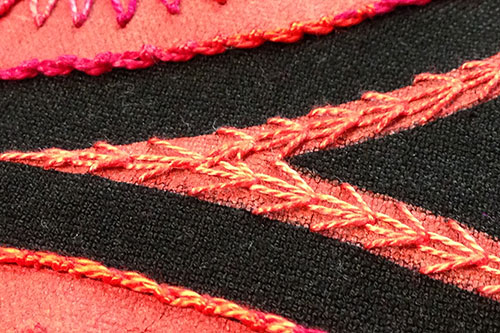 One of the biggest challenges I've had with this project is figuring out how to make stitches meet at sharp points. Sometimes I add a stitch to disguise a less-than-perfect meet-up, but this wheat-ear stitch in Light Christmas Red (DMC) worked out well. (This one is not quite red in my book, but they didn't consult me about the color name. Imagine!)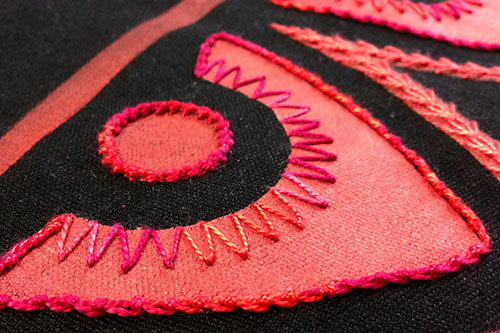 I worked from the center of a medallion out to the edge, which is filled with some interesting shapes and big huge dots. I call these shapes my tiny dancers. They are lovely little creatures; but there are 16 of them around the circle, so I have been getting to know them quite well.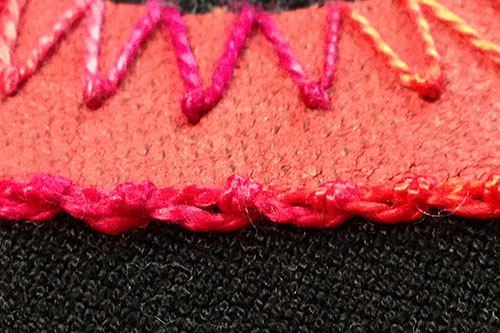 The dancers get the international treatment. Portuguese knotted stem stitch for the outline and Italian knotted border stitch for their collar. Such fun!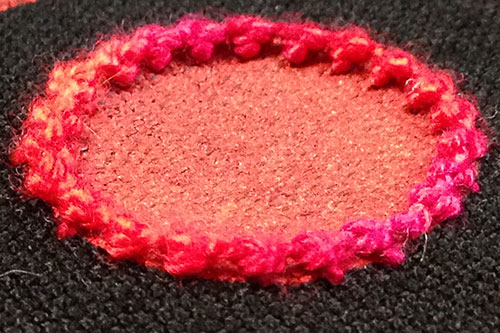 I debated a lot about all of these dots, but settled on a ring of Palestrina Knots. The look great in the Size 5 pearl cotton.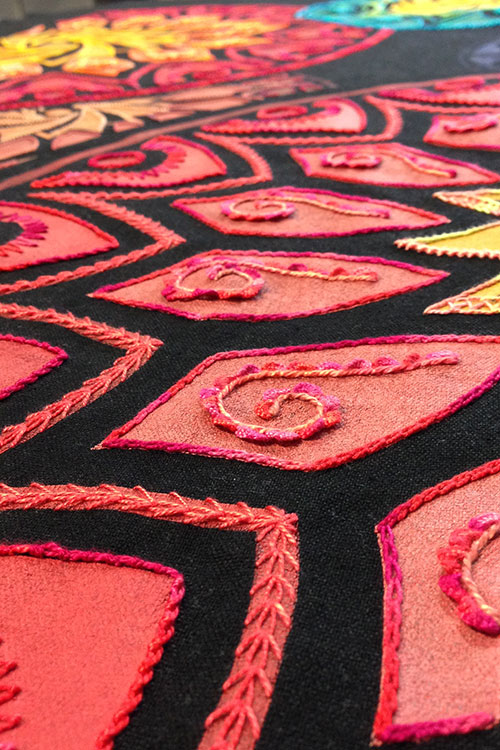 As you can see, this middle panel has lots (read that LOTS) of red. In fact, I've had to order more Red Hots thread twice — and borrow from a friend — to get this done. I'm looking forward to finishing this up with the red so I can get back to my favorite greens, blues and purples.
Resources
You'll find tons of beautiful hand-dyed threads at Artfabrik.com.
For instructions, patterns and tutorials on stitching, head over to NeedleNThread.com and check out Mary Corbet's How-To Video page. Lots of good stuff there!
If you are new to stitching, but live near Alexandria, MN, check out the Contemporary Stitching 101 Class at Dawn's Quilt Shop. That's where I got my start!
What Is Your Favorite Stitching Site?
Do you have a favorite go-to website for information on hand stitching? I have discovered NeedlenThread.com and Pintangle.com. Are there any you would add to my list?
Leave a comment below or head over to our Facebook Page.