What Is A Whole Cloth Collage?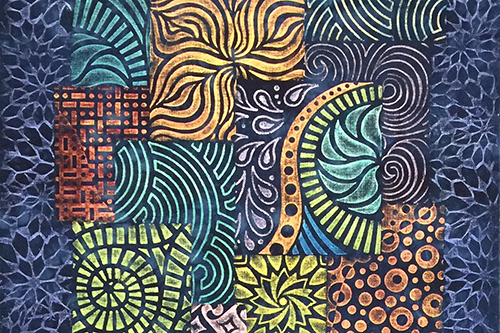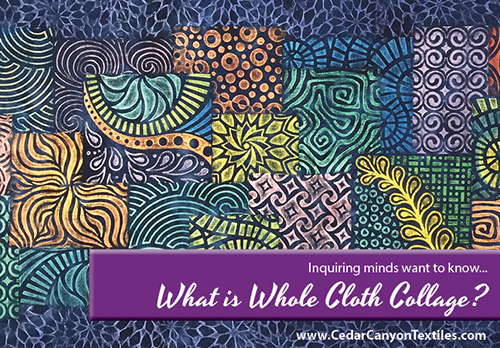 As I have been preparing to teach my new Whole Cloth Collage with Paintstiks and Textures course, I have been trying to pin down an answer for an interesting question – what exactly is a Whole Cloth Collage?
According to our friends at the Merriam-Webster Dictionary, a collage is
A)  an artistic composition made of various materials (as paper, cloth, or wood) glued on a surface, or B)  a creative work that resembles such a composition in incorporating various materials or elements.
Now it's clear to me that we're not going to be doing collage in the traditional sense of the word. Instead, we are going to create beautiful pieces of fabric that resemble collage. The bonus? No layers, no seams, no lumps and no bumps!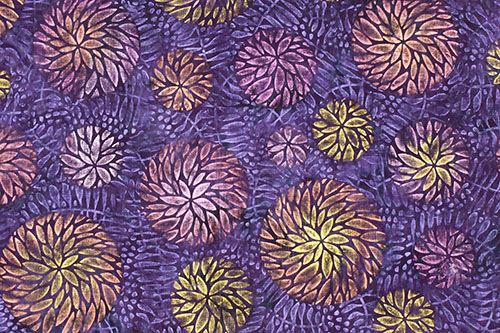 Whole Cloth Collage can be created in a number of different ways. The first one that we will explore is a concept I call Shape Shifters, where we "trap" Paintstik rubbings inside a series of shape, and then add a background image in the left over space.
[Tweet "The look of collage in a single layer — it's Whole Cloth Collage."]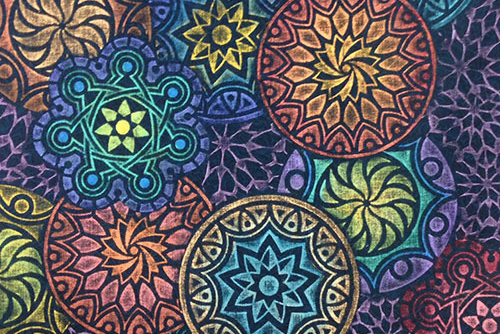 We did a variation on this theme in the Totally Textured online course using the Kaleidoscope rubbing plates to make "Coins in the Fountain" rubbings.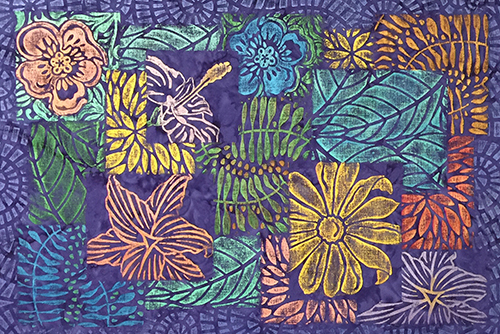 Another way to create a Whole Cloth Collage is to use my "Peel and Paint" method of making Paintstik rubbings. By keeping everything covered except the one area you are painting, it's possible to create the look of a layered collage – without making a mess!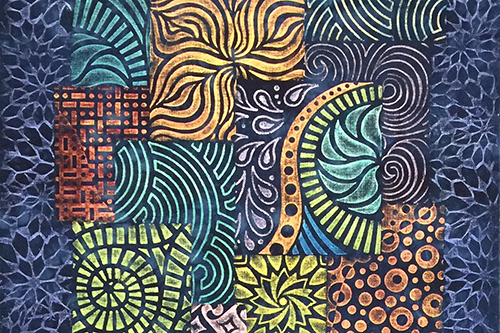 Here's another version of this type of collage using designs from various sets of rubbing plates. And you know what? these lovely collages are made with a single piece of freezer paper – or a really cool material that I "rediscovered" in my sewing room a couple of weeks ago. How cool is that?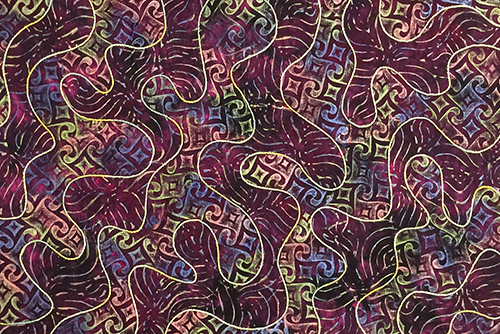 Once the shapes become more complicated, it can be helpful to turn to a two-layer mask. I'm grateful that Penny Moore of New Zealand shared this concept with me a few years back, and I'm excited to pass it along to you.
So What's The Big Deal?
Why go to the work of making Whole Cloth Collage instead of layering up bits and pieces of fabric? It's all pretty simple:
No layers to add bulk to your quilting or sewing projects.

No complex seams to complicate the construction process.

No lumps, no bumps – and no "impossible to quilt over" spots in your fabric.
In short, Whole Cloth Collage fabrics are perfect for sewing, home dec and quilting projects!
And Then What?

And if that's not enough, Whole Cloth Collage fabrics make a fabulous base for a Paint + Stitch adventure – and we'll be dipping our toes into the world of embroidery in the last lesson of the new online course.
Your Turn
Got an idea or comment about the idea of Whole Cloth Collage? Leave a note below. I love to hear what you're thinking about.