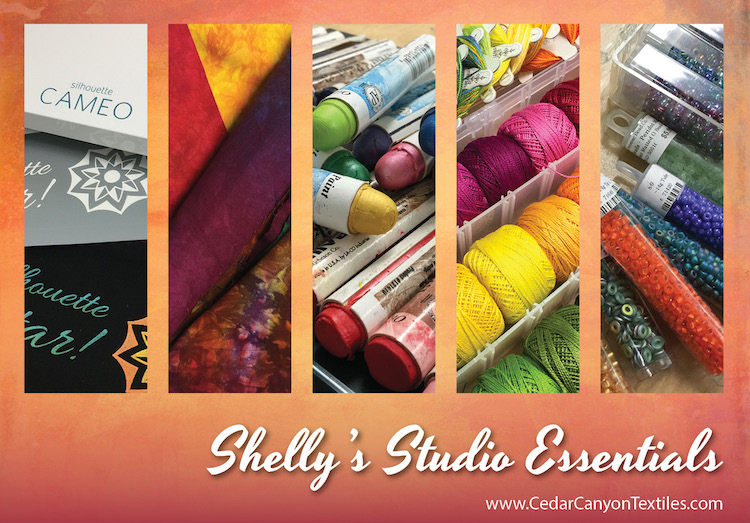 After three months in Chapala with  (very) limited supplies, I found my home studio more than a bit overwhelming. With several decades worth of art supplies on hand, it's a miracle I get anything done! It's time to remove the distractions and get down to a smaller set of Studio Essentials.
Rather than just "thinking" about doing this (which has got me nowhere the past couple of years!), I'm committing here, in public, to putting my studio on a serious diet. If it does not fall into the realm of my five Studio Essentials, it needs a new home. Now!
It should come as no surprise that my Number 1 Studio Essential is a Silhouette cutting machine. The software gives me the design freedom I crave, and the machine gives me a way to turn my designs into practical tools for my art. No, I would Not Go Back to art without a cutting machine.
Number 2 on my list is "Plain" fabric to use as a canvas. It may be solid, it may be hand dyed. For that matter, it may be a subtle batik. What it won't be (very often) is a bold commercial print.
The only reason that Shiva Artist's Paintstiks are my Number 3 Studio Essential is that they are used in that order. Design/Tools, Fabric, Paint, and so on. Having spent the last 18 years working with the Paintstiks in my art and my business, I can't imagine my art (or my life) without them.
Embroidery Threads are a recent addition to my studio supplies. I took up hand stitching about four years ago and never looked back. Adding stitching to my painted fabric brings it to life. Better yet, stitching adds quiet time to my sometimes hectic life and joy to my heart.
I'm not sure if Beads are the oldest or newest item in my Studio Essentials. I started collecting beads BP (Before Paintstiks) and resumed in the past year or two. I expect that the beads will come and go depending on my projects, but for now, they make me happy, and have a safe space on my short list.
Sweet Spot, Not Austerity
Given the huge variety of tools in my studio (and probably in yours!), a "short list" of Five Studio Essentials may feel like serious austerity. But I don't think so – and here's why:
I'm NOT talking about getting rid of EVERYTHING. I'm not talking about never adding (or deleting) anything from this list. I'm not even saying this is the entire list. Of course, I will keep a other tools that are essential to my art. Sewing machine(s), an iron or two, studio furniture, embroidery stand and interfacings all have a place.
What I AM talking about is releasing the things that no longer serve me – and allowing them to find a home where they will bring joy and inspiration to someone else. I "know" there is someone just dying to have a collection of sequins, a box of fabric dyes, a gazillion yards of cording, a felting/embellishing machine, textile spray paints, a collection of buttons, a bundle of lino blocks (with cutter, of course), and… Well, you get the picture!
By removing all the excess – all the distractions – I'm saying YES to the things I love, the things that bring me great joy. By releasing the extras, I'm giving my creative spirit free reign to explore the multitude of possibilities waiting in this smaller range of supplies.
Your Turn
So, what's your strategy for taming the "stuff" in your studio? Do you periodically purge? Save it all? Do tell – I'd love to know how you keep it under control!