Start Simple with Placemat Project

In last Monday's post, I talked about projects you can make with the Primrose Stencils including the big (huge?) Woodland Flowers Quilt. If you missed it, I also said this was NOT the first Design project I would tackle if I were new to paintstiks or Design Magic. (It's not a difficult quilt, just a really big one!)
So, what would I recommend? Frankly, I'd start with the placemats project in the Design Magic book.
All you need are 2 fat quarters, a chunk of batting and my favorite combination of toys — one paintstik, one brush, & one set of stencils. You can make your own stencils using the process in the Design Magic book, or you can use a set of our pre-cut mylar stencils.
Now I'll be the first to admit that lots of paintstiks are more fun than just one… but you really can get by with one if you really want to. Here's a photo from the instructions in the book.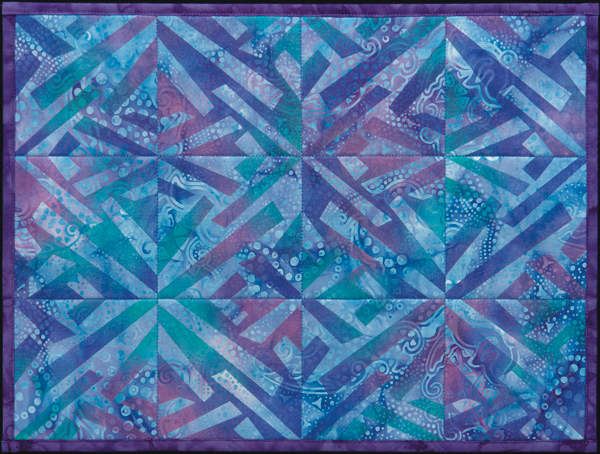 To make this placemat, you'll paint 12 images on the fabric in a 4 x 3 grid. And that brings me to an interesting decision — which designs look good in an odd-number grid?
Choosing A Pleasing Design For Placemats
If you have made your own designs — or if you look at our pre-cut mylar DesignMagic Stencils, you'll see that some designs look better when the 4-patch formed by the repeating patter is kept intact. Stated another way, they look better in an even-number grid rather than an odd-number grid. The Primrose design we talked about last week is a good example that looks best in an even-number grid.
For the placemats or any other project that has an odd-number grid, I like designs that create more of an overall random pattern. Here are 3 of our DesignMagic Stencils that work well for this type of project.

Wavy Squares Design

Fractured-X Design

Bubbles Design
Each of these samples was painted on graduated color fabric. You can get a totally different effect by using more colors and painting on a tone-on-tone fabric. Here's another sample of the Bubbles Design.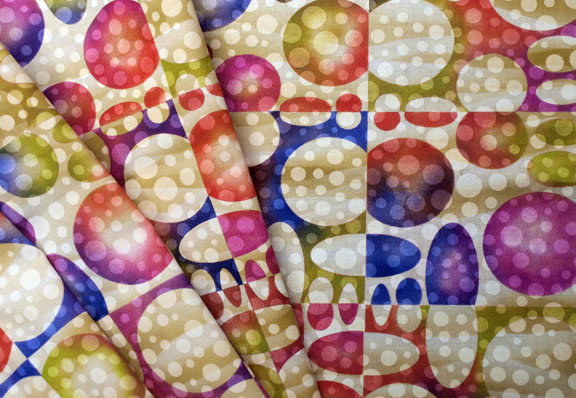 I have to share a short story about this particular sample — I was so lucky to find that fabric at Houston last fall — I could not believe my good luck! I was doing demos for my good friends at Laura Murray Designs and needed something to paint on. This fabric was perfect —  Fizz for my Bubbles! What more could I possibly ask for?
Show Off Your Placemat Projects
If you've made placemats from your own designs or from our stencils, feel free to post them on our Facebook page. I'd love to see what you are up to!