Star Flower: A Paint+Stitch+Bead Adventure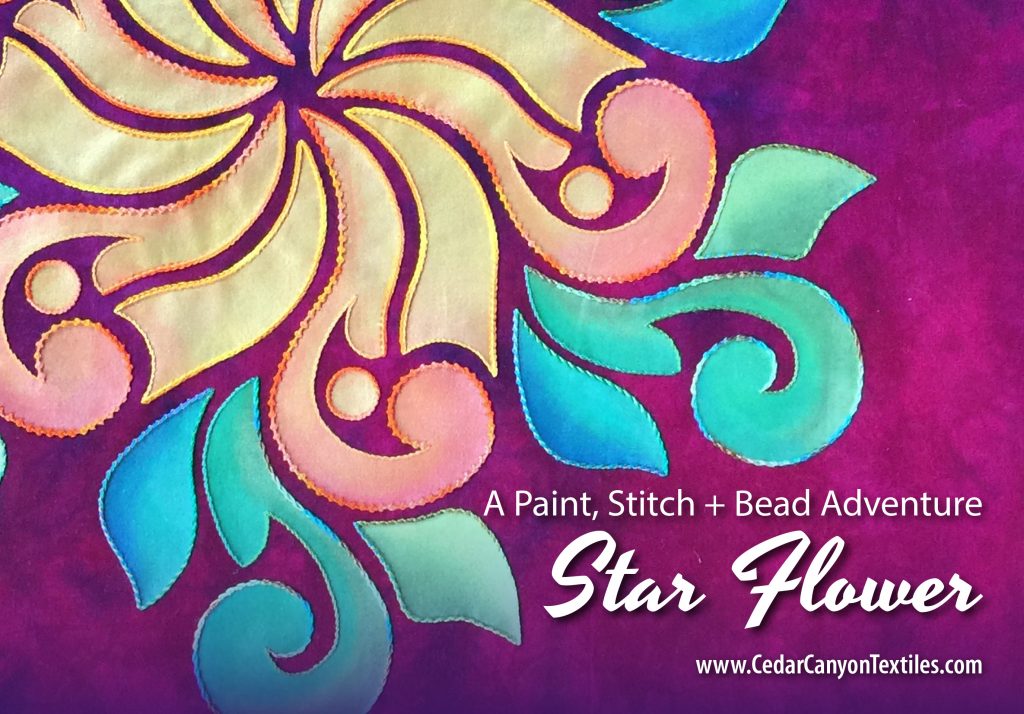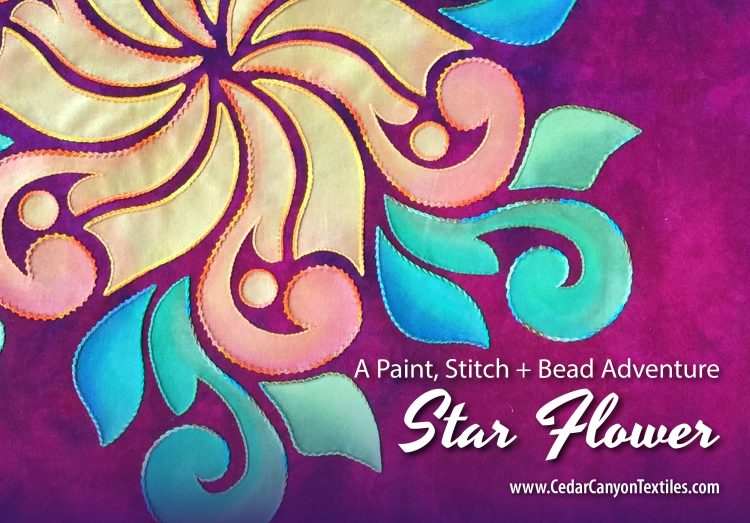 As part of my "timeout" from the business here at Cedar Canyon, I've spent a good deal of time on my Star Flower project. It's the first of my Paint, Stitch & Bead adventures that will be a completed piece of art instead of a learning tool.
I created the design using the Silhouette Studio software, and cut a Renegade Stencil using my Silhouette Cameo cutting machine. As with most of the cutting machines sold in the craft market, the Cameo is limited to cutting materials up to 12″ wide.
I wanted a larger image, so I created a two-part stencil and had a friend help me place the stencil on the fabric. (Sometimes, you just need more than two hands!)

Rather than taking a bunch of notes, I took photos as I worked to record paint colors, thread colors, stitches, and so on.
I completed the painting in two days, and then forced myself to wait until the next morning to peel up the Renegade Stencil. It was oh… so… tempting… to peel it up right away, but I didn't want to smudge any paint.
Here's a photo of the Star Flower piece on my stitching frame along with a couple of the smaller color tests I painted before jumping into the big project. I love the fact that I can scale images down and test scale models of an actual design. It's definitely worth the extra time and effort. For me, it takes the fear out of painting on the "real" project.
I've been curious about how much time I actually spend on a piece like this, so I decided to keep some records. As I completed each section of stitching (and beading), I made a note about threads, colors, stitches and time spent.
The best part about the notes will be the record of stitches and thread. It will be a whole lot easier than trying to remember what I did in which section. Stitches can look a lot different after they are wrapped and beaded.
Once all the stitching was complete, I added beads to the flower in the center. These are beaded stitches I've shown here on the blog. The orange on the left is the Beaded Palestrina Knots. The gold beads in the middle on the right are added to a Pekinese Stem Stitch. Finally, those delightful gold beads at the top right are Knotty Stop Beads.
Star Flower: It's a Wrap!
After adding beads to the flower, I decided it was time to stop. More beads are tempting, but it was starting to feel like overkill. So… onto the finishing steps!
Of course, this begs the next big decision. Shall I turn it into a quilted wall hanging? Stretch it on a gallery-wrapped canvas as an embroidery? Got any other brilliant ideas for me?
Pop in with a comment below. I'd love to hear how you would finish this Star Flower stitched painting.
Learn to Stencil on Fabric with Renegade Stencils
Want to know more about stenciling on fabric with Paintstiks? There's an eBook for that!
Stenciling on Fabric with Renegade Stencils and Shiva Artist's Paintstiks is a step-by-step guide to adding images to fabric with sticky-back vinyl stencils. 15 pages, full color, digital download, just $9.95.