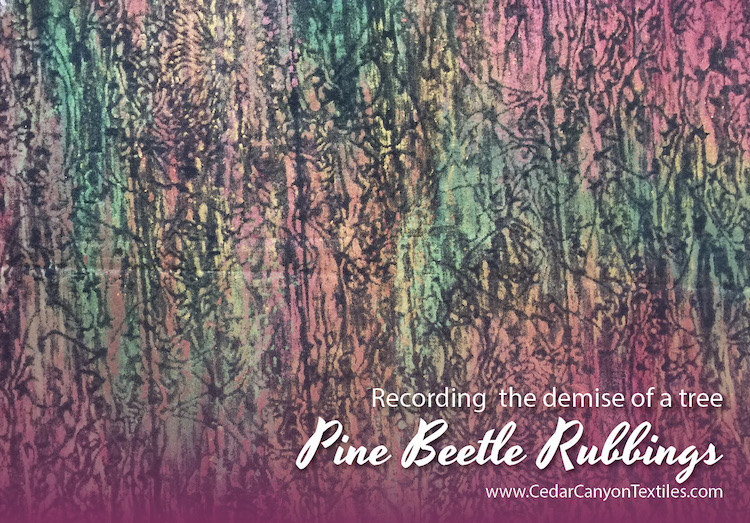 Last week I posted photos of Pine Beetle Art. In a nutshell, they are photos of tree trunks showing the paths taken by pine beetle grubs as they tunnel around under the tree bark – and slowly kill the trees. Oddball inspiration? Yes. But inspiration nonetheless.
Today, I have photos of Pine Beetle Rubbings. No, not rubbings made from actual beetles or pine beetle grubs. (That could get really gross!) Instead, I hauled Paintstiks and fabric out to a dead tree in the middle of the ranch and set up shop for a couple of hours
.
First things first. I peeled the film from the Paintstiks and sprayed the trunk of the tree with 404 sticky spray.
I was going to say that no one minds if you spray a dead tree, but that's not quite what happened. A wasp hanging out under the tree bark minded quite a lot – and stung me on the thumb to show his displeasure!
After making sure I had not parked myself over a wasp nest, I decided to proceed. To start, I simply picked one area of the tree trunk to make the initial rubbing.
I experimented on a small piece of fabric to figure out how to make the rubbings. I decided that I liked using one color for a base and adding a second layer as an accent.
It was difficult to get a clean rubbing with the Paintstiks, so I decided to see if I could smooth out the image a bit.
I used a bit of paper towel at first, but gave up on that and simply used my hands. The paper towel left too much lint, and when you're out in the middle of a ranch, you just make do!
Yes, my hands turned all sorts of color before I was done. But you know what? I'm happiest when I'm up to my elbows in paint. It's all good!
I had a very limited supply of paints, so I did my best to choose color combinations that worked. (I certainly wasn't planning for Pine Beetle Rubbings when I packed!)
After a couple of hours, my back was tired from bending over and my enthusiasm was dwindling. I did, however, think to make a "brush rubbing" using a stiff stencil brush. It's a much softer look, but still quite interesting.
I'm ever so grateful that I found this tree during one of my hikes…
… and I'm quite happy with the pieces of fabric I painted. I've made rubbings from lots of textured surfaces, but I may never have a better story than making Pine Beetle Rubbings!
Your Turn
What's the craziest thing you've ever made rubbing from? Leave a comment below. I'm quite sure I'm not the only one making art from oddball encounters with textures!