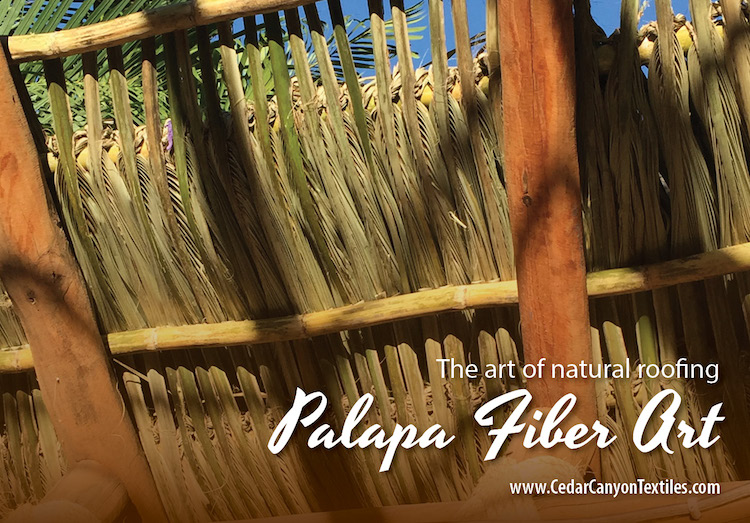 There is a wonderful palapa in the gardens here at the QQ. As you can imagine, it's most popular during the hot season when shade is a welcome sight. The old roof had seen it's better days, so it was time for a replacement – and that's how I got a lesson in Palapa Fiber Art.
The construction of a palapa is deceptively simple. As I watched the roof go up, I struggled to find the right analogy. I finally realized (a week later), that the process is much like upside down basket weaving on a grand scale!
The first job, of course, is to remove all the old thatch from the roof structure. As you can imagine, this was a very messy job! After many years of providing shelter, the old thatch was badly deteriorated.
Next up, the new materials arrived. I'm not sure exactly what these slender poles are, but I have to believe these guys know what they are doing. My spanish was not good enough to ask a lot of questions, but I certainly enjoyed watching!
This is one of many truckloads of palm leaves that came in from the coast. If you have visited a beach community in Mexico, you've probably spent time under a palapa.
The next step was to reinforce the structure and add new poles across the posts. I noticed that the poles were placed in pairs, a bit different than the original roof.
Once the structure was complete, palm leaves were added from the bottom up. It was fascinating to watch the process. The guys would haul up a big bundle of leaves with a rope, then add the leaves quickly and precisely around the structure.
From the inside, you can see the pattern of the leaves. The leaves are held in place by friction, with the tight spacing and the strength of the stem doing all the work.
When you look at the inside of the completed roof, it's clear that Palapa Fiber Art is indeed an art. Much like a basket weaver adds pliable materials to a frame to form a vessel, the workers added palm leaves to the palapa frame to create a giant upside-down basket that we see as a roof. Pretty cool if you ask me!
The new roof looks quite "fuzzy" from the outside. Not to worry. The rains will come in June and the "fresh haircut" look will turn into a durable roof to provide shade and shelter for years to come.
Your Turn
Have you had the opportunity to watch a different type of fiber art in progress? Leave a comment below. I would love to hear your stories!