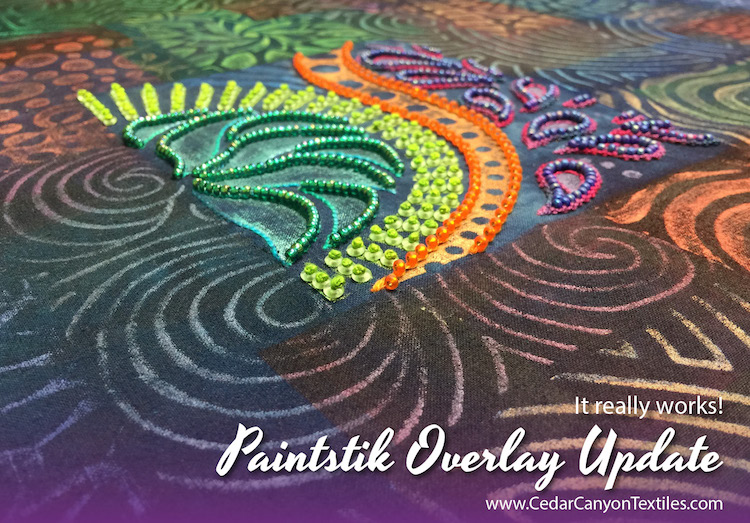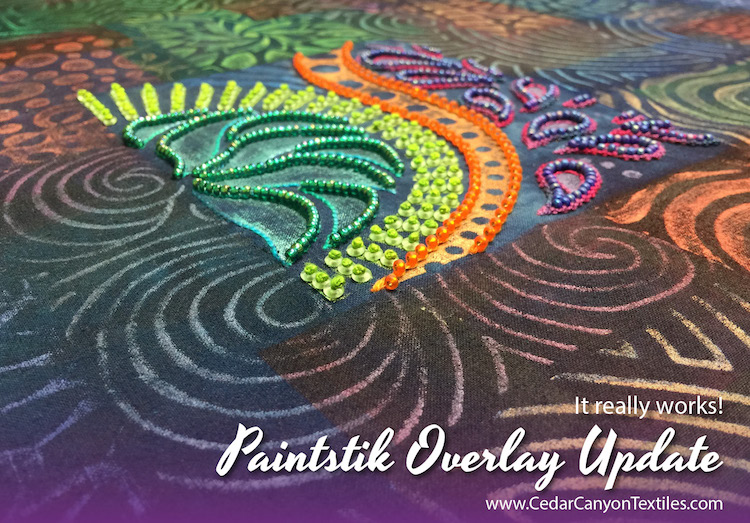 You may remember that I've been working on a way to rescue a project with a Very Busy Background. I experimented with a computer-simulated overlay, then took the plunge and applied a Paintstik overlay to one section of the piece. Today, I'm happy to report that the Sheer Paintstik Overlay really works!
In case you missed the earlier posts, here's how it works. I chose a number of dark matte color Paintstiks and masked off various sections of the fabric with plain old masking tape. (It doesn't stick well over fresh paint, but it was enough to help me out.)
I applied a sheer layer of the matte color over the section of fabric inside the tape.
As you can see, the masked off section of fabric is considerable duller after the Paintstik color has been applied.
My goal was to paint overlapping rectangles of color around the beaded sections on the fabric. That called for some odd-shaped sections, but the process worked just fine.
As much as I love my iridescent Paintstiks, there are times when all that "shiny stuff" gets to be too much. I'm tickled that I can hop over to my box of matte colors to save the day.
There is still a lot going on in the background, but the sheer Paintstik overlay was exactly what I needed to tone it down. Yippee! I'm one step closer to rescuing this piece – and turning it into something I love.
Learn More
Curious? Here are several past articles related to the Sheer Paintstik Overlay concept:
Shape Shifter Rubbings 4: The Final Layer
Testing a Flower Collage Overlay
Add a Layer with a Sheer Paintstik Overlay
Your Turn
So, what do you think? Do you think the Paintstik overlay worked on this piece? Would you do something different? Leave a note below. I love to hear what you're thinking about.