Paintstik Overlay Experiment 1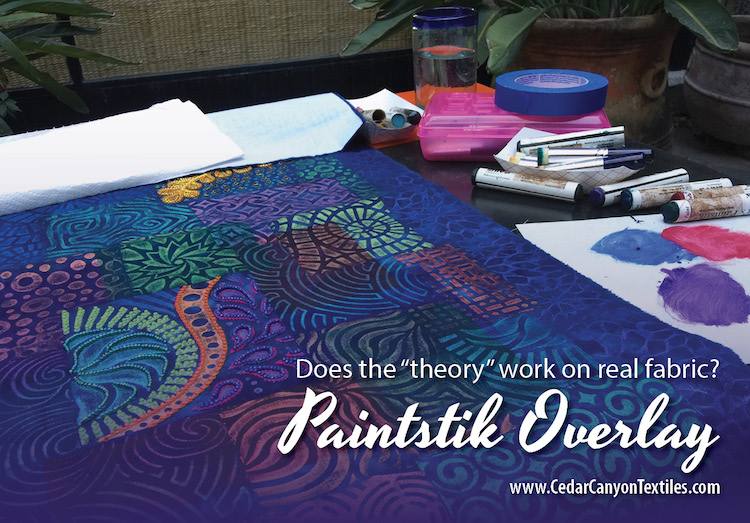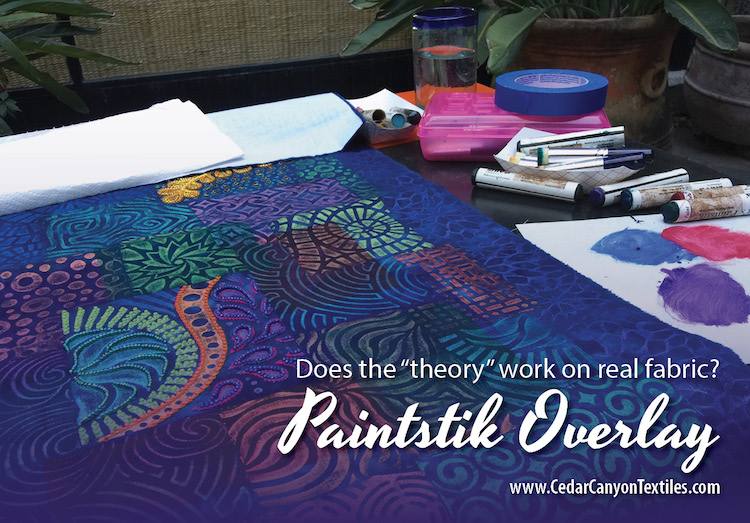 About a month ago, I "tested" a sheer Paintstik overlay on the computer screen to see if it would Tame a Busy Background. This week, I decided to see if a "real" Paintstik overlay worked on real fabric.
Because I used a bunch of Iridescent Paintstiks color to paint the Whole Cloth Collage, the piece had no logical focal point and background. Several of my friends suggested using a sheer overlay to tone down the fabric around the beaded section.
It was one of those "thwack on the side of the head moments." Using Sheer Paintstiks Overlays happens to be one of the lessons in the Whole Cloth Collage course. I just needed a reminder to use it on my own work!
Rather than using a single color for the overlay, I decided to add rectangles of different matte Paintstiks colors. Masking tape was the quickest way to mark off each of the sections.
I painted the first section with Ultramarine Blue from the matte color line. The fine pigment particles in the matte colors are perfect for dulling down the "shiny" quality of the Iridescent colors.
It turned out that a blue overlay was not the best choice on blue fabric, so I rummaged through my paint boxes to find a dark red, green and purple.
With three sections painted (blue, red and green), it was clear that the Paintstik overlays were working as planned. Onward!
With a series of overlays painted all the way around the beaded section, I felt the experiment was a success. The matte colors were doing an admirable job of knocking down the brightness of the painted sections around the beaded section that was supposed to be the focal point.
I'll add another layer of Paintstik overlays before I call this complete, but I'm satisfied (and thrilled) that the result on "real fabric" matches up pretty closely with my computer screen experiment.
Your Turn
Do you have a favorite method for toning down sections of your work that are too bright? Have you ever tried using a painted overlay? Leave a comment below. I would love to hear your stories.