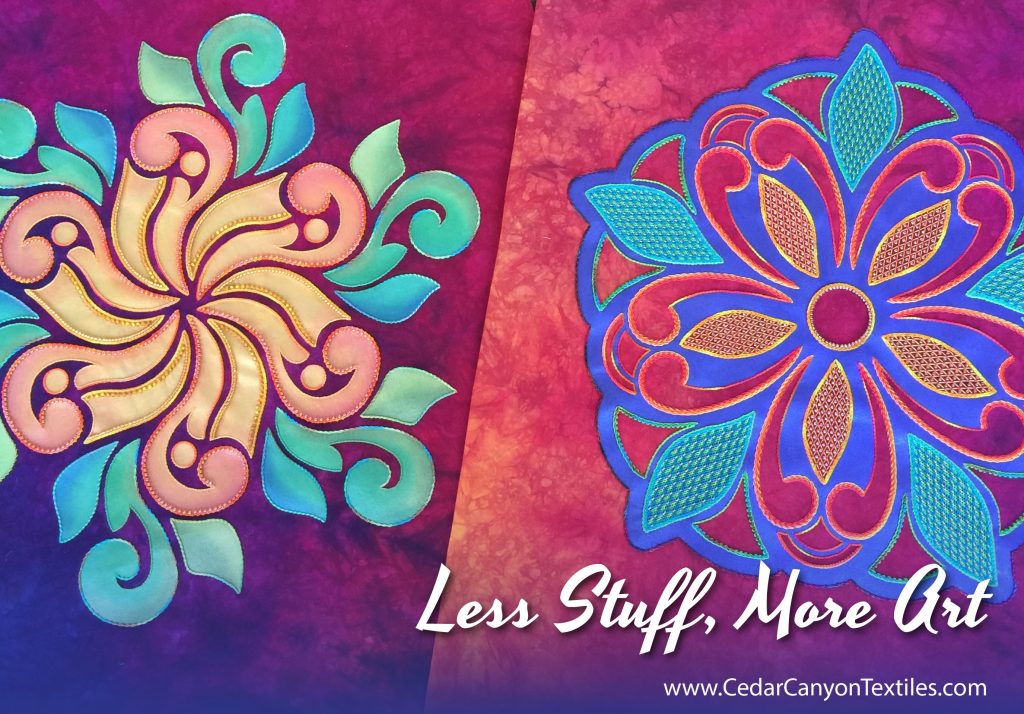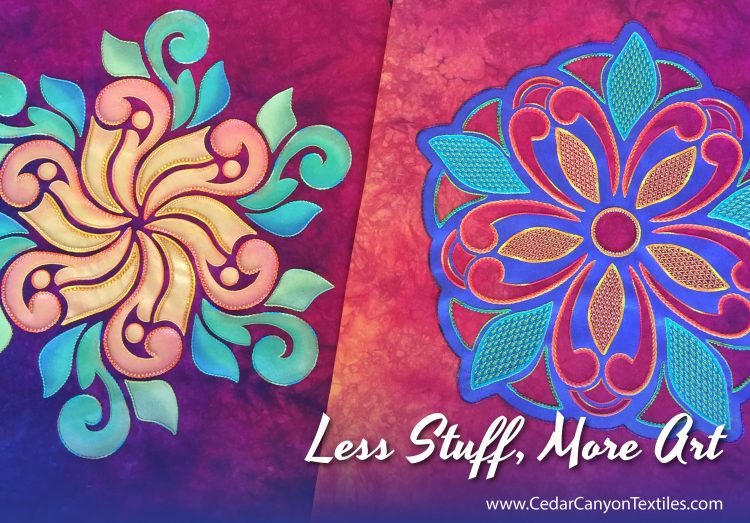 When I returned from Chapala a year ago, I wrote a post about my Studio Essentials. Having just completed six months with exactly those supplies and nothing more, I can tell you that "Less Stuff More Art" really works!
I spent the season in Chapala with a Silhouette machine, a small selection of fabric, a set of Paintstiks, a bunch of beautiful embroidery threads and a small collection of beads. I missed having a sewing machine in the worst way, but my lack of "stuff" kept me focused – and I completed more art in six months than I had in the past two years!
Less Stuff
I have not yet sent a shipment of furniture to the house in Chapala. My studio there is basically bare save for a couple of tables, one chair, and a wardrobe that I use to store my small collection of art supplies. In the top of the wardrobe, I have samples, completed work and fabric on hangers. I also use this space to store my bins of perle cotton and anything tall or oddly shaped.
There are three modest size drawers in the base of the wardrobe. One is for Paintstiks, brushes and related supplies.
The second drawer contains Silhouette supplies, beads, and some additional threads.
The bottom drawer is for fabric and sewing related supplies. I tried storing more fabric here, but it was too heavy and the drawer dropped off its runners. Oops!
And… that's it! That's all I had to play with for six months. And you know what? Less stuff resulted in a whole lot…
More Art
When I wrote that post a year ago, I "believed" that having less stuff would be better. I "believed" that I could live (happily) without all the stuff packed into my studio in Minnesota. I "believed" I would actually make more art by removing all the distractions that kept tugging on my conscience and setting my Should Monster off into overdrive.
Well, it worked. For me, it really worked! Here's a peek at a few things I learned.
In my six months in Chapala, I learned a whole lot more about my Silhouette software and mastered the process of creating two-part stencils. (The machine can only handle materials 12″ wide, so I need multi-part stencils to work on a larger scale.)
I made only one purchase for the studio. It's a simple folding table about four feet wide that works well for painting as long as I'm sitting down. I learned that the morning is the best time for painting. It gets a bit bright when the afternoon sun streams in this window!
For stitching, I chose my location based on the weather. I worked on the front patio a lot when the weather was cooler, and retreated indoors for shade as it got warmer.
And the result? Lots of art! I completed two 20″ medallions that are ready to be stretched and framed…
… and I painted one for the road so I have something to stitch on this summer.
Make It Permanent
Now that I've proved that Less Stuff More Art actually works, the trick is to keep it going. I'll be shipping some furniture and supplies to Chapala this summer and I'm going to have to make a lot of tough choices. Yes, the sewing machines come with me. To say that I missed my machines would be the understatement of the year. As for the rest of the stuff from the studio? Not so much.
It's hard to part with things I once loved. It's hard to admit that I'm never going to use a bunch of the things I purchased over the years. And yes, it feels wasteful and I feel guilty. I'm no different than anyone else.
But having experienced the freedom that comes with a carefully curated set of supplies, I'm all in. It's fun, it's exciting and completely liberating to part ways with all the Stuff that drags my attention away from my happy place.
Your Turn
So what are you thinking? Do you love having tons and tons of options? Do better when you are more focused? I'd love to hear your thoughts.