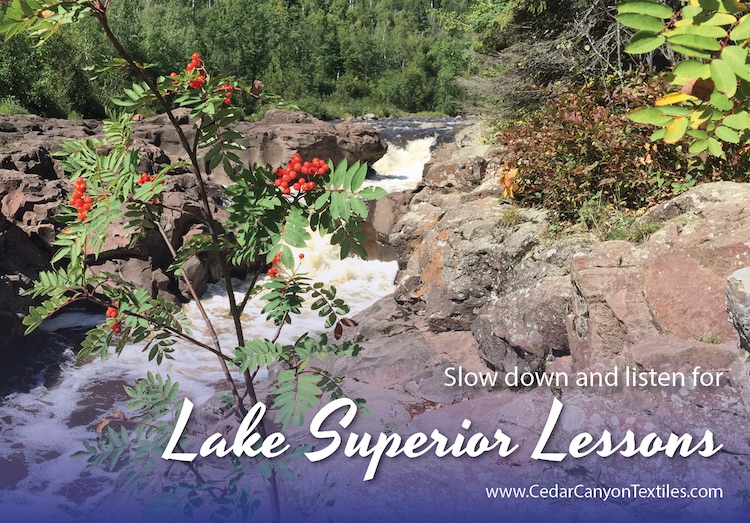 Lake Superior offers a lot of lessons if you can slow down enough to listen. I was fortunate to spend a few days on the North Shore last week with my sisters and our husbands. We were all in need of a Time Out from the general busy-ness of life, and a lovely log home at Temperance Landing provided the perfect refuge for some family time.
Despite weeks of forecasts calling for nothing but rain, the weather was picture perfect. We took advantage of the blue skies and mild temperatures to do some hiking at the nearby state parks.
It had been many years since I hiked in Temperance River State Park. With a lot of recent rain, the river was full, the falls were fabulous, and the sounds of the water were enough to scour away the fatigue of every-day worries.
Sharon snapped a few pictures for me, saving me the indignity of horrible selfies. That's one skill I have yet to acquire, and it's not very high on my list.
One of the important lessons I've learned from sister Cindy is to Look Down. There is amazing beauty to be found when we turn our gaze away from the large landscapes to see what nature has packed into a few square inches of space.
A patch of brilliant green on a shady trail will always catch my eye. And the texture of the mosses are a visual feast!
On the last full day of our trip, I spent a lot of time on shore, pondering the Lake Superior Lessons. Here are a few of the things the lake shared with me:
The sound of water is a wonderful antidote for a busy brain. Given time, the waves and the waterfalls will scour away the distractions and provide respite in the here and now.
Beauty is fleeting. Watching the light and the water playing on shoreline is a reminder of how quickly things change – and a reminder to be present in each moment.
Seeing is an amazing gift, whether we are taking in the vast expanse of a landscape or peering at the tiniest details in the world around us.
Time with family is priceless, and it's worth every minute of the driving, flying, everything else to spend time with those we love.
At the end of a hike, I was delighted to capture our shadow on the rocks across from the bridge where we were standing. It would be easy to miss – I can't say that I notice my shadow very often. But Lake Superior and her shoreline parks were casting their spell, and I was blessed to be a part of it.
Your Turn
Do you find lessons in natural spaces? Share them in a comment below. I'd love to hear your stories.