by Shelly Stokes, Founder and Creative Mentor

A couple of years ago, I got bit by the hand-stitching bug. Hard. I am not saying it was a bad thing – just that it totally changed the way I think about painted fabric.
It started with just a little bit of embellishment for a handbag. Then an "experiment" with adding stitching to a whole-cloth collage. And now to a very large-scale project that will show off the possibilities in an amazing way.
I am not ready to share my big project, but my little stitched collage is finally ready for show-and-tell. It officially became a quilt over the weekend – binding and all. Just a few more photos and it will be ready for entry in the Minnesota Quilt Show. (Now that is something I have not done in what seems like 100 years!)
Garden Collage: From Concept To Quilt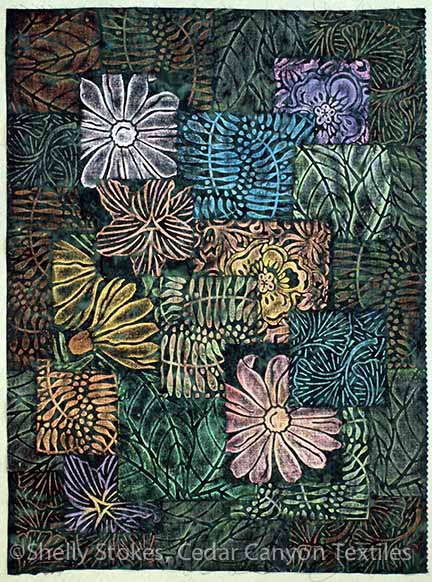 My garden collage quilt started out simply. I painted a whole cloth collage on a dark green batik after seeing a handbag created by my friend Janet Houle (Kensington, MN). I liked the way Janet blocked out some rubbings on her fabric and decided to play with the concept.
To make the collage, I used rubbing plates from the Leaves, Garden Flowers and Floral Fantasy collections along with a bunch of Iridescent Paintstik Colors.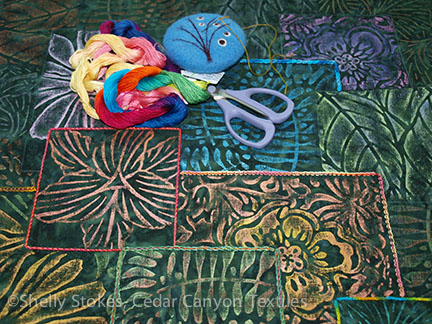 My first thought was that I needed distinct divisions between the sections of the collage. But once that was done, the flowers and leaves looked too plain.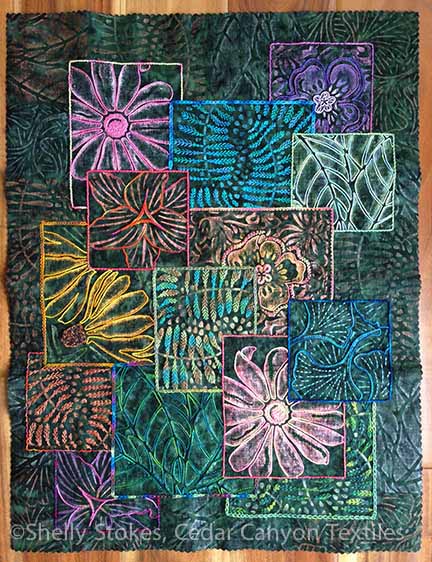 So, I proceeded to add stitching to each of the collage panels. I quickly discovered that the color of the thread could have a huge impact on what I perceived to be the color of the paint.
I did a fair amount of "reverse" sewing along the way, but it was not a big deal. In my mind, this was my little "experiment." Just something to play with when I needed something to do.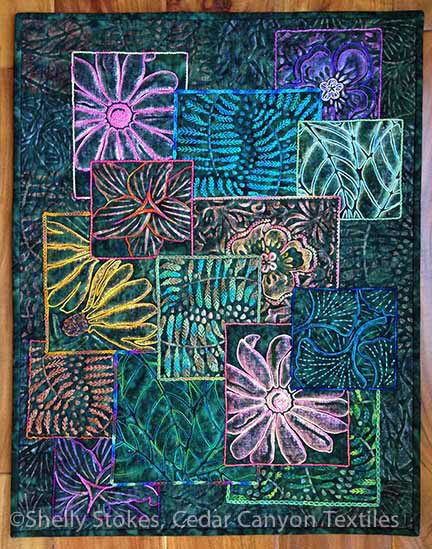 I took my collage to Houston Quilt Market and pulled it out a few times as I was looking at embroidery threads. (Cruising around a trade show is super cool when you want to see what the different manufacturers have to offer!)
During the show, a veteran quilter and teacher challenged me to take this technique and do some serious exploration. At that point, I realized that my little "experiment" was the jumping off point on a whole new adventure.
But my brain, of course, was working in overdrive. How could I turn this into a quilt without distracting from the hand work? The stitching needed to be the star — not the quilting.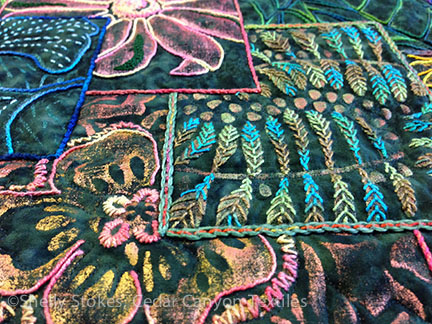 Well, ask and ye shall receive! I asked around about possibilities for "invisible" quilting, and no fewer than three people looked at me and said "Go see the people at Wonderfil."
Their Invisifil 100 wt soft poly thread was exactly what I needed. I used the smoke colored thread and it totally disappears into the dark green background fabric. Perfect!
Stitching Brings Fabric to Life
The thing I love best about adding stitching to my painted fabric is the way the fabric "comes alive" as I stitch. It is simply magical. I love my painted fabric, but I love it even more after I add the stitching. And I am thrilled to have found the next step in my creative journey.
I am really glad I started with a small project. My finished little quilt is about 17" x 22" – big enough to get a feel for the technique – and small enough to get it done! Now that I am confident about what I am doing, my big project feels ambitious but not daunting. And that is a very good thing.
Have You Quilted a Piece With Hand Stitching?
If you have experience quilting around hand-stitching, I would love to hear from you. I spent far more time than usual quilting this little piece and I would love any advice you have to offer. Leave your comments (or ask questions) here on the blog. Or you can click over to our Facebook page.