From Kaleidoscope Fabric To Beautiful Bag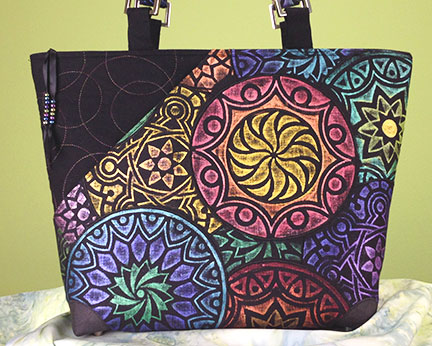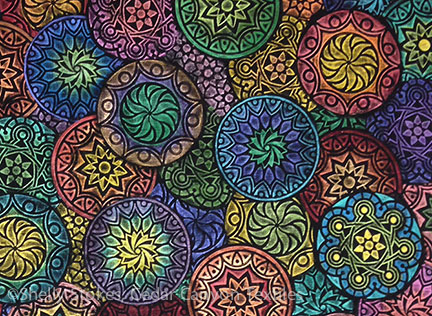 In last week's tutorial, I told you about my process for creating overlapping rubbings from the new Kaleidoscope plates. (Click here to read that article if you missed it.) This week, I am happy to show you my beautiful new handbag.
I love making handbags from fabric I create. They are one-of-a-kind bags that do not cost a fortune, and they are fun to make. My favorite bag pattern is the Candice Bag by Joan Hawley at Lazy Girl Designs. Candice is perfect for days when I want more than my wallet-on-a-string. (Yes, there is even a pocket big enough for my iPad.)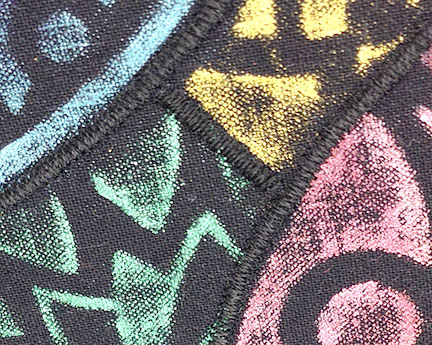 Before I constructed my bag, I satin-stitched around the outside of each of the medallions with black thread to match the background. The stitching is barely visible on the finished project, but it really cleans up the painted images and makes them look much more precise than they actually are.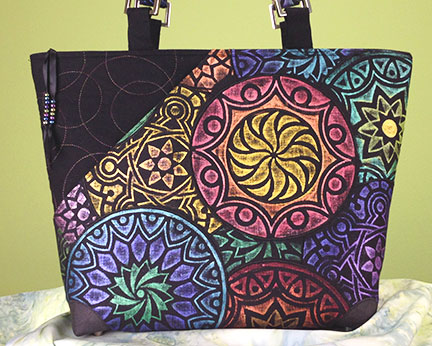 Here is the front of my bag. I love the big pocket on the front, especially when I am traveling.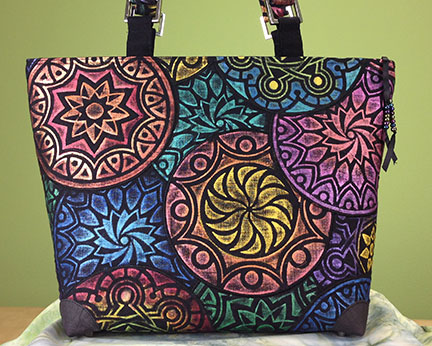 The back of the bag has a little bit of quilting. I'm not fond of fusible batting, so I add a bit of quilting to hold the layers together.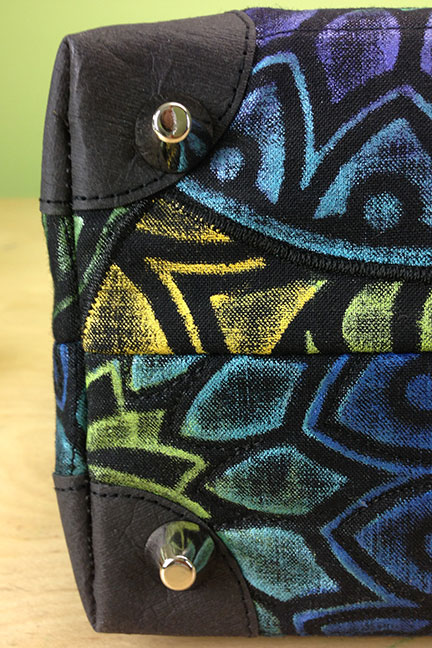 As much as I enjoy making my own bags, I do not enjoy the fact that the corners wear out long before the rest of the bag. The feet I added to my last bag helped, but the corners still wore out much too soon.
For this bag, I cut circles from black Kraft-Tex and stitched them into the bottom corners. It will be interesting to see if this gives me a longer-lasting bag.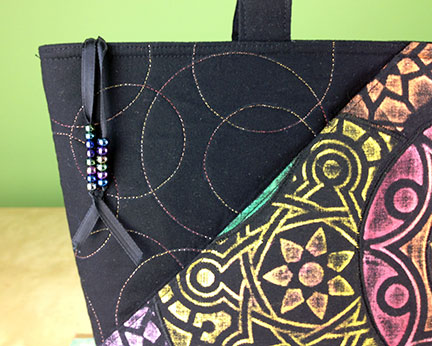 I debated about using a colored fabric for the bag front, but settled on black. To liven it up just a bit, I stitched a few circles from a metallic-wrapped thread and made a zipper pull from beads and ribbons I found in my stash.
Think Before You Stitch?
My bag projects always take longer than they should, especially when I experiment and add things that are not a part of the pattern. I know I want to add things like corner protectors and feet, but I don't take time to think about WHEN they should be added
Then, of course, I wind up doing a fair amount of reverse-sewing — also known as ripping — and tugging far more fabric through my machine than necessary. After making this mistake yet again, I now have a big note in my pattern that says "STOP! Add corners and bag feet NOW!
Maybe, just maybe, I'll get it right next time.
Update: Inside of Bag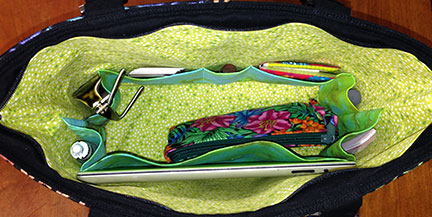 Now why didn't I know that you would want to see the inside of the bag? For the curious, here it is.
I make the pockets pretty much straight from the pattern. Tall pockets on one side for the iPad, etc. Short pockets on the other side for phone, business cards, etc. I always choose a light/bright lining so I can actually see what is inside. My biggest complaint about commercial bags is that they almost always have black linings — and I can't find a doggone thing. Not in this one!
Resources
I used the following to make my handbag: