Folklorio Dancer 1: Cutting and Transferring a Vinyl Stencil

My big goal for my Personal Art Residency in Chapala is to learn to use my Silhouette cutter. I purchased it more than a year ago, but have done precious little with it since. I decided that my first task should be to cut a stencil and paint up a piece of fabric for a challenge that my small group is doing at home. I have to make a piece that is 10" x 15" and the theme is Movement.
I wasn't worried about creating an original design, so I searched around on the web for an image that would work. I found an image with a dancer that reminds me of the Mexican Folklorio dancers. When I find an image on the web that I want to use, I purchase the image. This image happens to be from Shutterstock.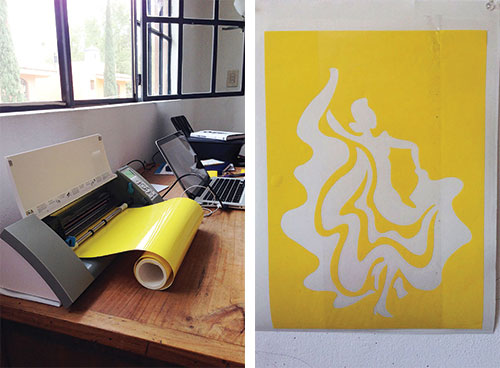 First, I used the Silhouette cutter to cut the images from sign-makers vinyl. I love that you can feed in a roll of this paper-backed vinyl and cut things that are up to 12" wide and 10 feet long!
Once the stencil was cut, I "weeded" out the sections of the stencil that I wanted to paint. One thing I learned is that this bright yellow is extremely hard on the eyes! From here out, I think a medium gray will be my vinyl of choice.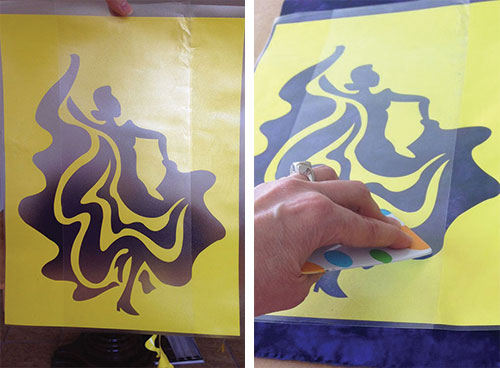 You can't peel the vinyl off the paper packing and simply move it over to the fabric. It's extremely thin and stretchy. So, we borrow another tool from the sign-makers called Transfer Tape.
To lift the stencil off the paper backing, I placed transfer tape over the entire yellow area. (My transfer tape is 8" wide, so I needed two pieces.) Then I used a squeegee to firmly press the tape onto the stencil and then lifted it up off the paper backing. (In case you are wondering, my polka-dot make-shift squeegee is one of my luggage tags!)
Next, I placed the stencil on the fabric and did the squeegee thing all over again. It's really important to press each part of the stencil firmly onto the fabric.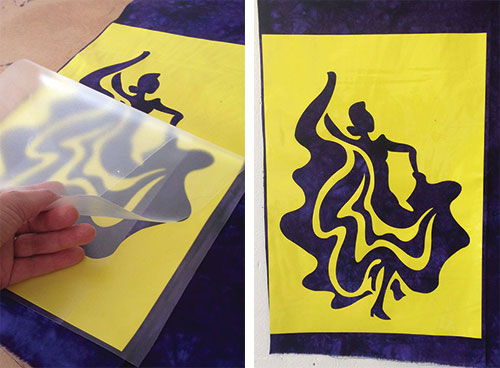 Are you ready for the magic? The adhesive on the vinyl is stickier than the adhesive on the transfer tape, and that allows you to peel off the tape and leave the vinyl on the fabric. Cool!
At this point, it was late in the day and my dancer was ready to paint. So I hung her up on the design wall and called it a day.
This may seem like a lot of steps, but I love the flexibility. With a cutter that hooks to the computer, it's incredibly easy to make stencils quickly and easily — from lots of different materials. I'll be experimenting with the cutter during my stay in Chapala, so I'll let you know how things work out. And next week, I'll show you how I painted my dancer.
Resources:
Terri Johnson (my friend who is the Silhouette guru) recommends vinyl and transfer tape from H&H Sign Supply.
– Oracal Intermediate Vinyl comes in a variety of widths and lengths.
– Clear Choice High Tack transfer tape is available in 100' rolls.
Your Turn
Do you use an electronic cutter in your work? Do you like having this shortcut — or does it make your work feel less "handmade?"
Leave a comment below or over on our Facebook page. I would love to hear your thoughts.