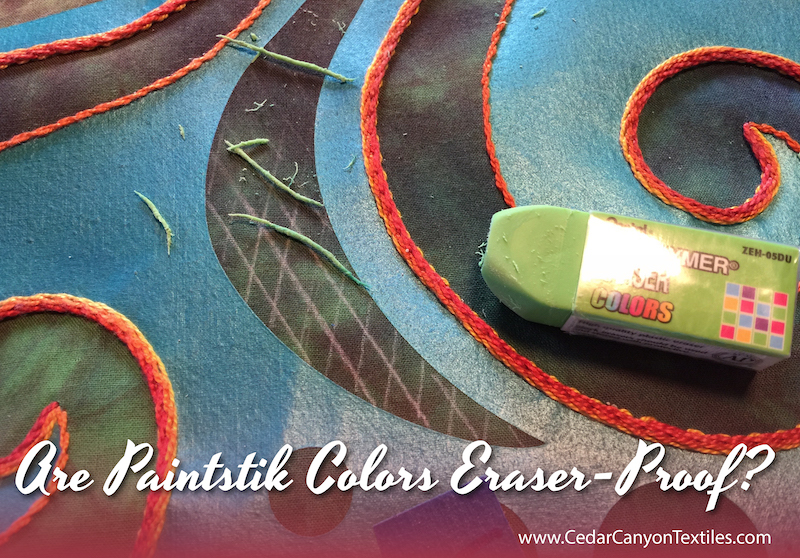 One of the things that makes me crazy is adding stitching to a shape and then deciding that it just doesn't work. After several stops and starts on my current project, I knew I had to give up on lattice-work for this particular shape. But that left me facing a big (and rather scary) question. As in "are Paintstik colors eraser-proof?"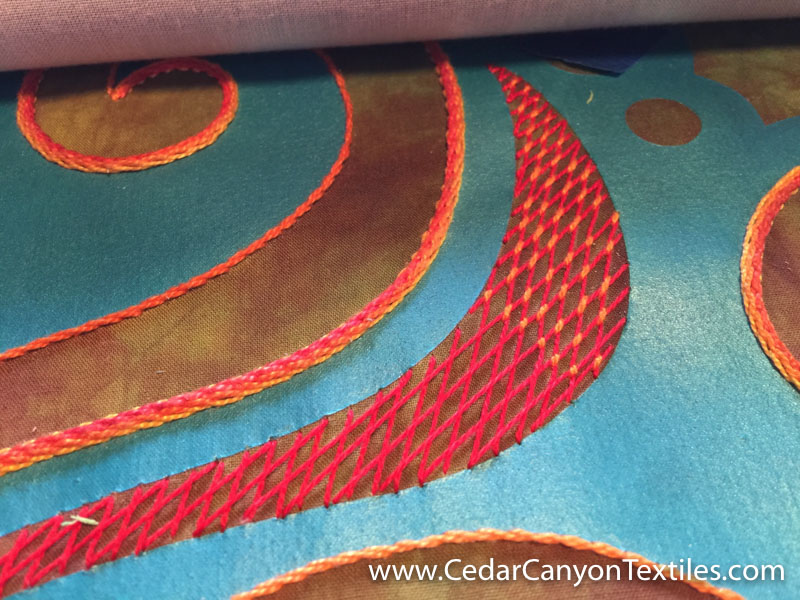 After two (rather miserable) attempts at lattice work in this shape, I threw in the towel. The battlement couching was too solid, and this version was too fussy. Art brain was not happy and it was time to try something different.
But what about those white pencil marks? I had carefully marked the lines in all eight shapes, so there was a lot of erasing on the horizon – and the marks went right up to the paint. Oh boy…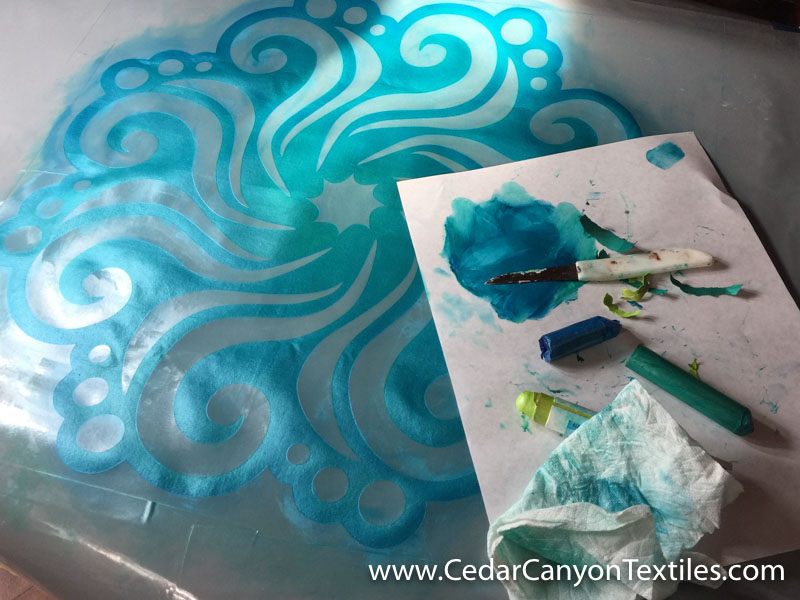 Let me back up just a little and show you how I add paint to my fabric.
I've been working with Shiva Artist's Paintstiks on fabric for more than 20 years. For my most recent series of Stitched Paintings, I started with what I call Extreme Stenciling. (You can see how this works here and here.)
The paint on this fabric was applied in a very heavy layer. The paint had been on the fabric for months. There was no question about whether it was dry or heat-set. But was it eraser-proof? I wasn't sure.
Are Paintstik colors (really) eraser-proof?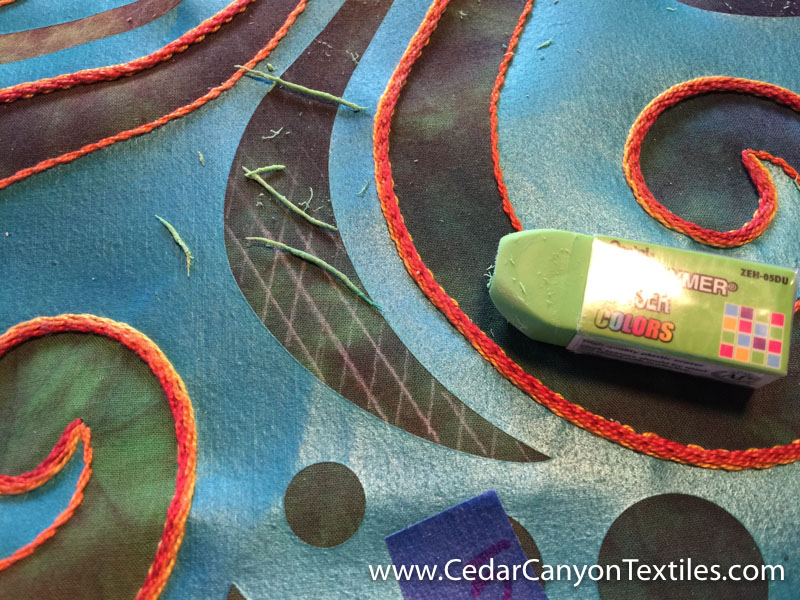 I took a deep breath and started erasing the first shape. I was both relieved and delighted to find that the painted section of the fabric looked fine. No peeling paint, no change in color, all good so far. The white marks were not easily removed, so I applied more elbow grease.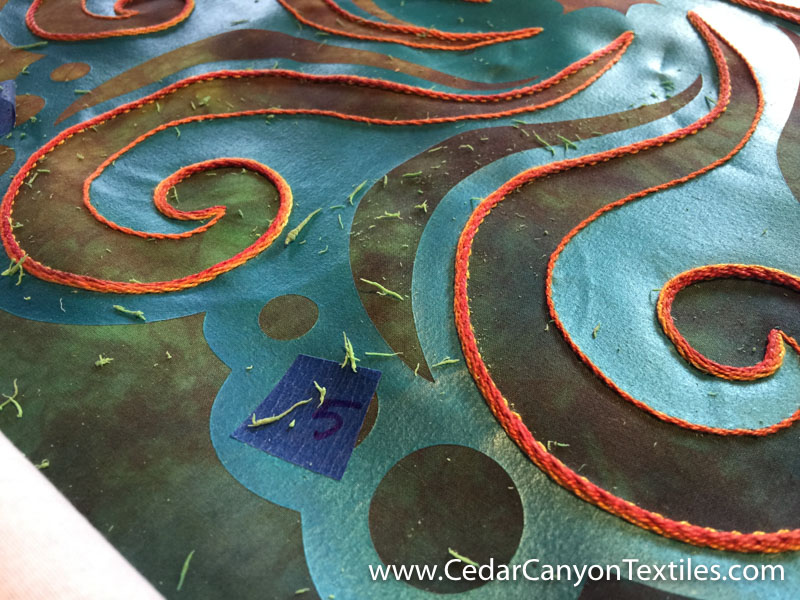 You can imagine my relief when I discovered that yes, Paintstik colors are eraser-proof! The painted image on this piece is almost 20″ wide, and I had already done a good 10-12 hours of hand stitching. Starting over would have been a major bummer!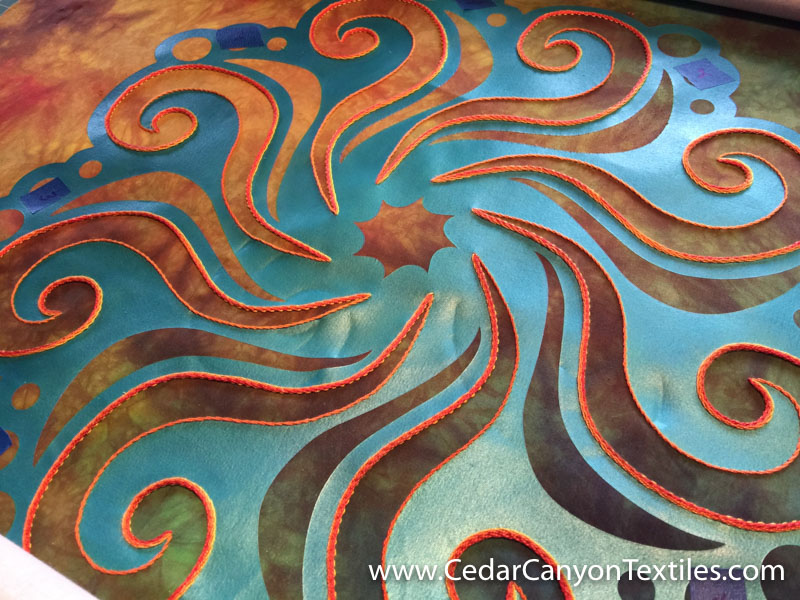 It took me a good hour to clean the markings off the fabric. But even with a lot of scrubbing with the eraser, there were still faint lines in the shapes. Thankfully, the lines were light enough that almost any filler in the shape would be sufficient camouflage.
Choosing a new motif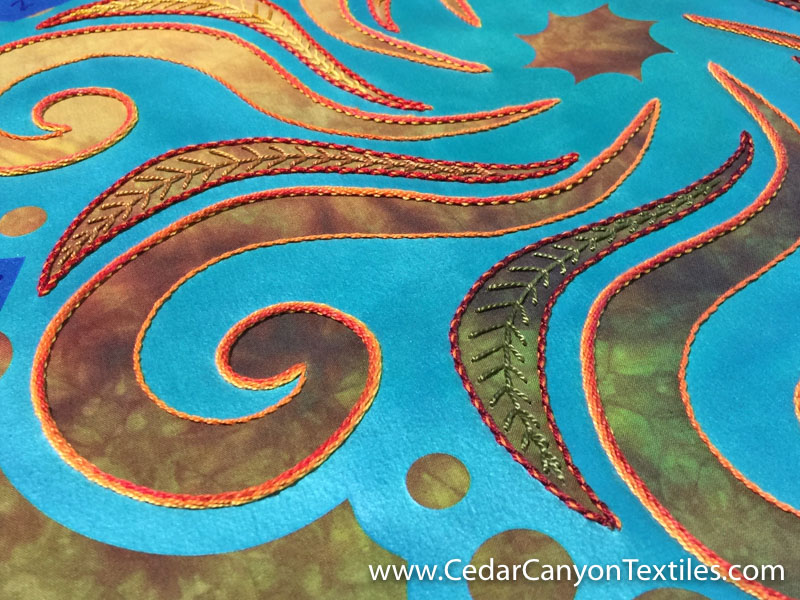 I settled on a rope-like outline of whipped chain-stitch, and then filled the shapes with a simple fly stitch, leaving plenty of space for beads.
My detour turned out well rather than turning into a disaster. I honestly didn't know if the paintstiks would hold up under a vigorous scrubbing to remove the pencil marks. I was a bit surprised (and totally thrilled) to discover that the Paintstik color was, indeed, eraser-proof.
Learn more
If you want to know more, you can learn exactly how I stencil images on fabric with sticky-backed vinyl stencils. I call them Renegade Stencils because they allow you to break the rules!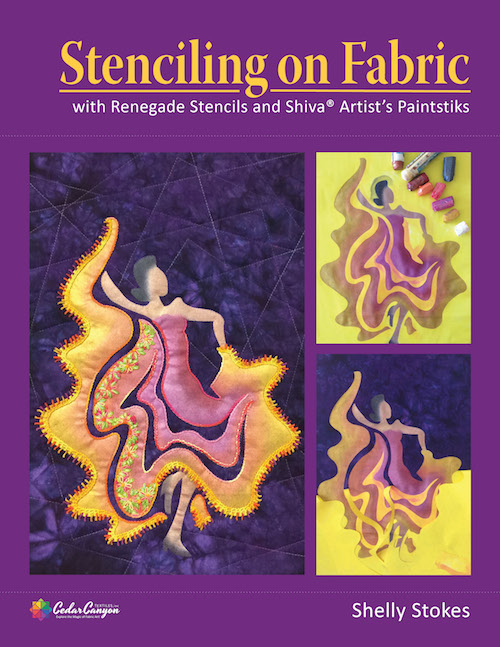 Every last detail is spelled out for you in the Stenciling on Fabric eBook. To be clear, I use a computer-driven Silhouette cutting machine to make the vinyl stencils, but the same techniques can be used with hand-cut freezer-paper stencils.
Thanks for reading
Your attention is the greatest gift you can give to a writer. I appreciate the invitation to be a small part of your creative world.
To join the conversation, leave a comment below.