Several weeks ago, I was working on my Urban Computer Satchel. After I added the facing strips to the zipper on the front of the bag, Art Brain called a time-out and tossed the whole thing squarely into Project Purgatory. She (Art Brain) was Not Happy with those little facing strips!
To rescue a project from purgatory, I almost always send Art Brain off for a nap and call on Engineer Brain for help. In this case, Engineer Brain decided to tackle the problem with Custom Vinyl Stencils. (For the record, Engineer Brain needed a few days to come up with this bright idea.)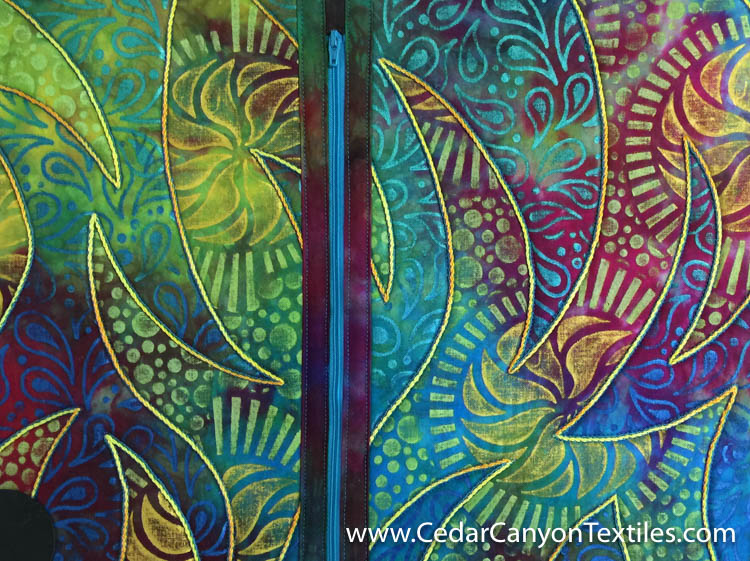 From this photo, you can see why Art Brain was pouting. The facing strips for the zippers were boring. As in Very Boring. They were cut from the same fabric I used for the painted panels, but they looked glaringly out of place. (Art Brain is pretty smart, even if she is a pain in the fanny!)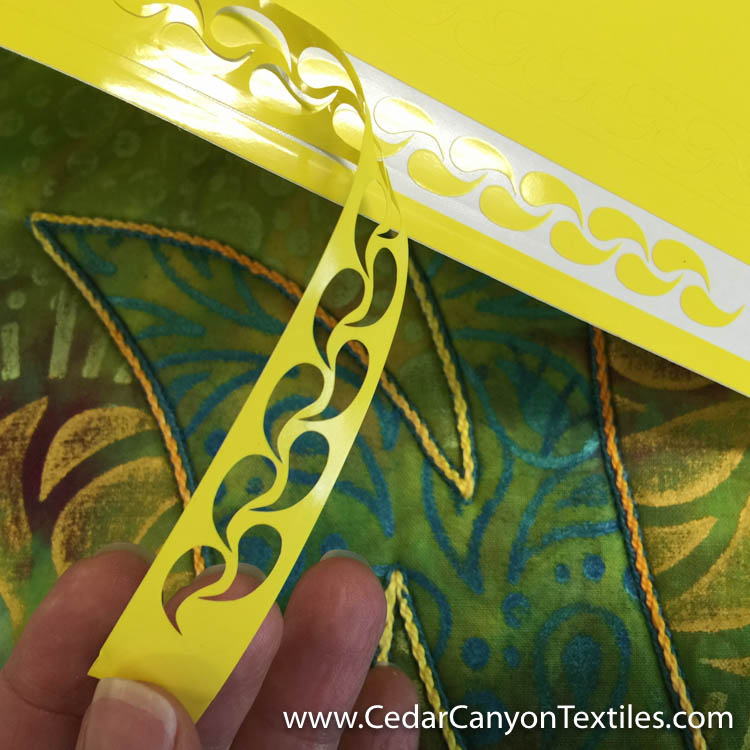 My first inclination was to add a series of dots to liven things up. But when I looked closely at the painted fabric, I decided on the tear-drop shapes. After a bit of playing in the Silhouette Studio design software, I designed and cut two strips of "tape" full of tear-drop shapes from sticky-back sign maker's vinyl. Cool!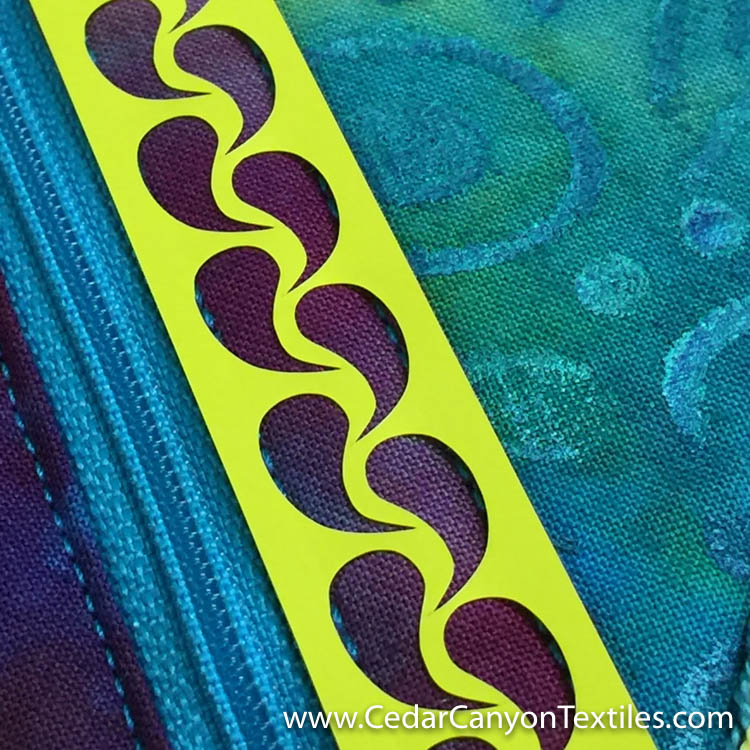 Well, almost cool. When I applied the vinyl tape to the zipper facing, it was too wide. I could see the edge stitching peeking through some of the teardrop shapes. Back to the Silhouette software to make it smaller.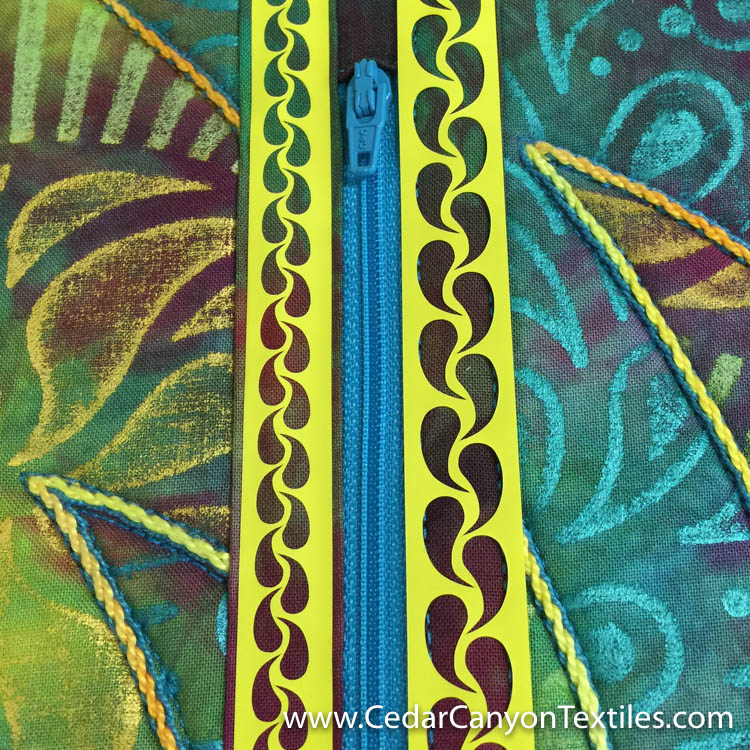 After carefully measuring the space between the stitching lines, I shrunk the tape down to a smaller size. I wasn't sure the stencil would hold together with the design elements so tiny and close together, but it worked.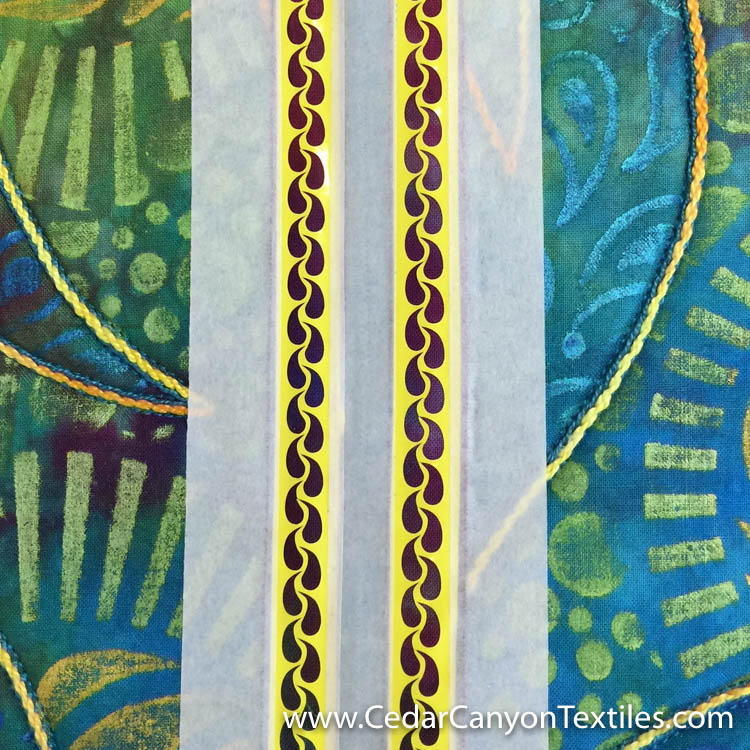 I was a bit paranoid about adding paint in the middle of a project. I had a lot of hours into this already, and I didn't want to make a mess. I added masking tape to the sides of my stencils and in the middle over the zipper.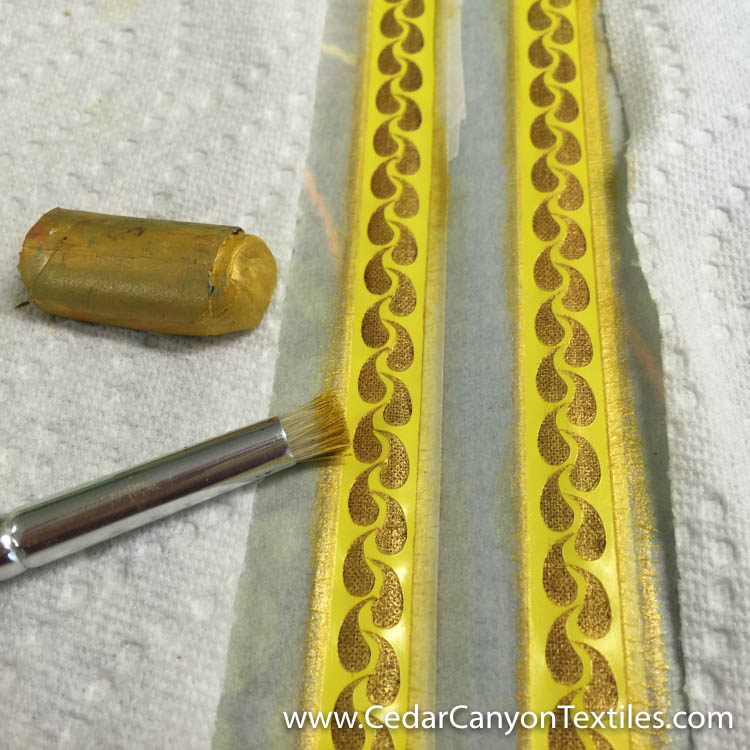 With everything covered up, I painted the rows of tear-drop shapes with Light Gold Iridescent Paintstik color.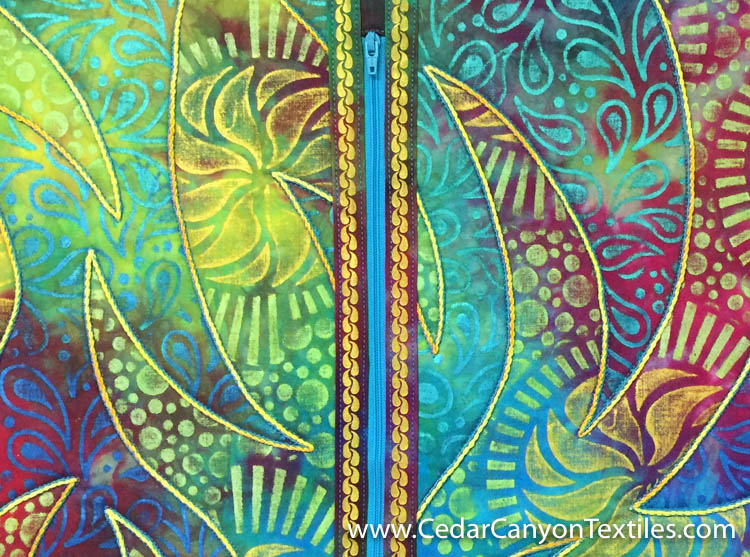 As always, I had a twinge of anxiety when it was time to peel up the stencils. But, lucky for me, I loved the results. The tiny tear-drops are not exactly perfect, but they look great on my zipper facing strips! Best of all, Art Brain was happy. I guess she likes "bling" better than "boring."
With a bit of luck, I'll be able to finish my computer satchel without another interlude in project purgatory. I'll do my best to keep Art Brain happy along the way.
Designing and Cutting Custom Vinyl Stencils
Until I got my Silhouette cutter, vinyl was not on my list of stencil materials. But I have to say it's pretty cool stuff! With vinyl, we can cut super-detailed designs — and move them over to fabric without worrying about stretching or distortion. Plus, we can break the traditional rules of stencil design.
This renegade method for making custom vinyl stencils will be a part of the Silhouette 101 for Fabric Art class that starts at the beginning of June. Registration will open shortly, so stay tuned for more!
Your Turn
Have you played with vinyl as a stencil material? Did you find it easy or frustrating to work with? Chime in with a comment below. I love to hear what's on your mind.