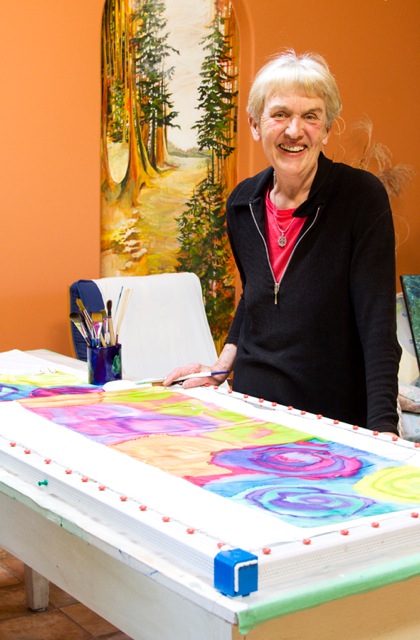 While I was vacationing in Chapala, Mexico I had the pleasure of meeting Lorraine Taylor, a lovely and talented lady from Chemainus, BC. Chemainus is located on Vancouver Island. It's an old mill town that is best known today for the murals painted on many of the buildings.
Lorraine spends the winter months in Mexico and happened to be staying in a cottage just a few steps away from our lovely suite at the QQ Inn. After an introduction by another one of the guests, I joined two other women at the hotel for a peek at Lorraine's silk painting.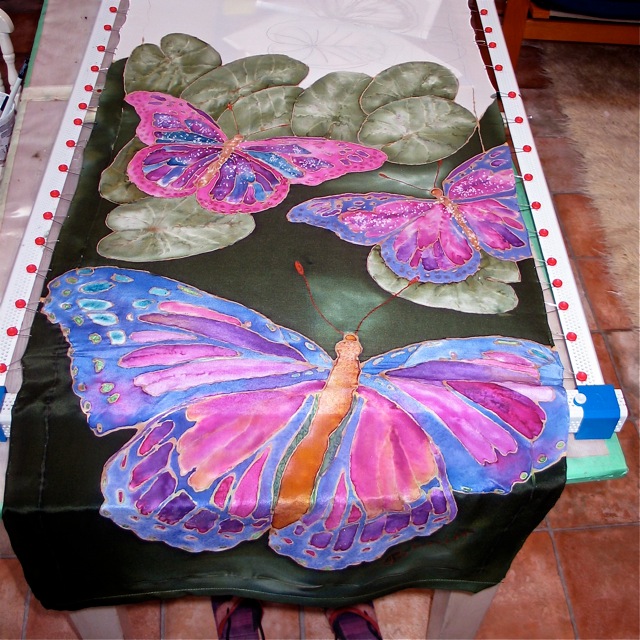 To say that I was impressed would be an understatement. I've played with a lot of fabric and paint over the years, but I've never seen silk painting up close and personal. It was a real treat to see how she worked on her scarves.
When I saw the scarves that Lorraine had been painting, I assumed she had been doing silk painting for many years. In fact, I was totally wrong. We sat down for a chat in the gardens one afternoon and she told me that she had only been painting on scarves for three short years. I could hardly believe it!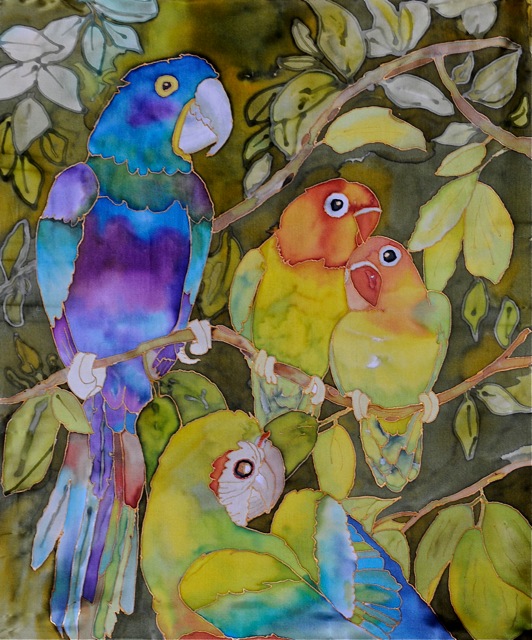 Lorraine confided that she was like so many others – she loved art but felt like she couldn't "DO" art. She surrounded herself with beautiful art, and even owned a gallery for a number of years. But here's the kicker. She didn't believe she could "DO" art until she saw a friend doing silk painting and said to herself, "I have to learn to do this!" That was at the tender age of 73!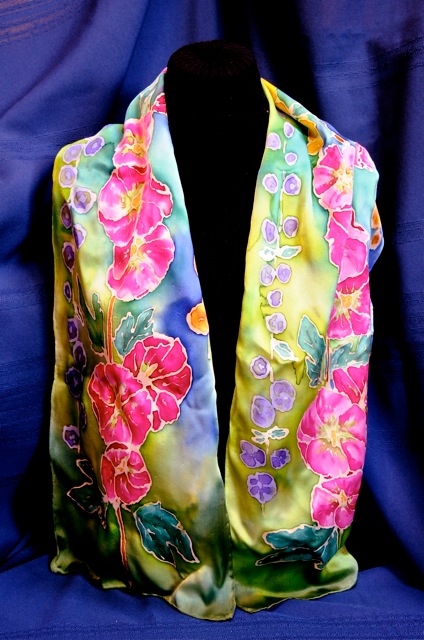 As you can see, Lorraine has learned l lot in 3 short years. She does most of her painting on scarves, but I suspect that many are hung as ornamental pieces. They really are remarkable.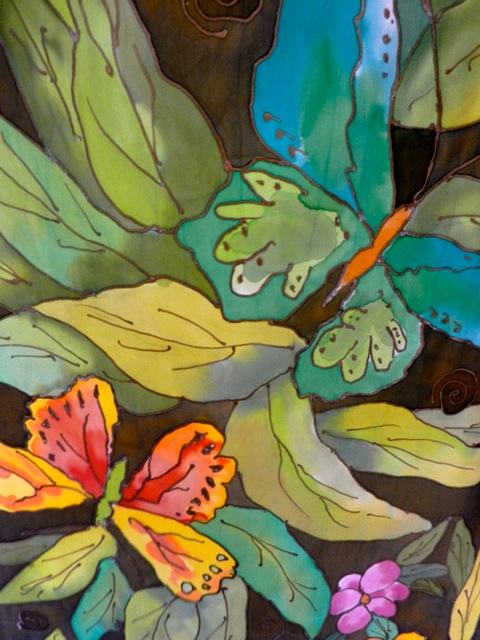 It was great fun talking about her painting and how it fills her time when she is away from home in the winter. She laughed when she told me that she "rations" her scarves, putting far too much work into each one so that she doesn't run out of supplies before it's time to head back to Vancouver Island in the spring.
Your Art Is Waiting. Are You Ready?
My conversation with Lorraine was a real eye-opener in several ways. First, it was an affirmation in my belief that each and every one of us is a talented, creative being. We are all capable of doing beautiful things if we are willing to embrace our creative nature.
Second, it was a clear lesson that age is no barrier. Whatever your age, you can take on a new adventure, including giving up the notion that you can't "DO" art. Lorraine decided to Explore the Magic of Fabric Art at 73. What an adventure it has been so far!
Do you have a story to share? Leave a comment below. I'd love to know how you got hooked on fabric art.