Linoleum Blocks and Sheets: What's the difference?
Cathy G from California has been following the recent articles on carving linoleum. She asked, "What is the difference between a lino block and a lino sheet? How are each of them used? Which do you find easier to use, especially for a novice like me, and why?"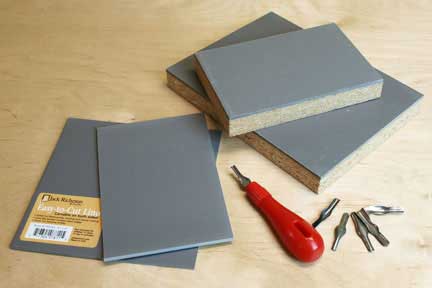 Lino blocks consist of a sheet of Linoleum glued to a particle board block. So it's less than an inch thick, but rigid. The nice thing about a block is that your design is already mounted to a sturdy block – it gives you something to hold onto and the design surface stays nice and flat.
Lino sheets are just the linoleum, not mounted to a block. The sheets are plenty thick to carve, but take up a lot less room if you need to store a bunch of them. Which one you choose to work with is up to you. One thing you can do with the sheets — because they are not mounted, you can actually carve on both sides. I've done this. I actually end up with a few holes that go through to the back side, but it doesn't hurt a thing when you use the sheets as a rubbing plate or a stamp.
You may want to try one or two of each (blocks and sheets) to see what you like to work with better. Then it's more interesting to stock up so you have supplies on hand for your spur-of-the-moment play time. You can find linoleum blocks and sheets in a wide variety of sizes over in the Online Store. And don't forget the cutter!
Can I Use Paintstiks on a Nylon Table Cloth?
Scottie P from Virginia sent in this question. "I have an overlay for a table cloth made of 100 percent nylon. The washing instructions say wash cold, gently. No iron or dryer. Hang to dry. Can I use my paint sticks on it and how can I set them? Thanks."
Thanks for asking a great question. Technically, you can use paintstik color on any type of fabric. Paint is a coating that bonds to the surface of the fabric. It does not rely on a chemical reaction like fabric dyes. Since a table cloth is something you would want to wash, it's important that you be able to heat set the paint.
In the case of your nylon table cloth, it really depends on how delicate the fabric is. Nylon fabrics can be ironed, just at a much lower temperature. If the fabric is really delicate and looks like it would melt easily, it may not be a good candidate for paint. If it looks reasonably sturdy, you're probably OK.
In a case where you can't heat set at a high temperature, think about adding color with a brush (shading and stenciling) rather than making rubbings. When you use a brush, you apply a very thin film of paint to the fabric and it will dry much more quickly. When you use the paintstik directly to make rubbings, you add a LOT of paint to the fabric (relatively speaking) which takes a lot longer to dry.
Allow your paint to air-dry thoroughly and then heat set. I think you are safe to put the table cloth in the clothes dryer on medium heat, or heat set with an iron (at the appropriate setting) by placing a press cloth over the table cloth so you don't touch the fabric directly with the iron.
You'll find general heat setting instructions (and a whole lot more!) over on the Ask Shelly page. For heat sensitive fabrics, adjust the temperature of the dryer or iron to something appropriate for the fabric so that you don't accidentally melt it.
Do you have a question?
You can always send a note our way using the Contact Page. I do my best to answer your messages within a few business days. If I'm on the road, it may take a little longer, so I appreciate your patience.
link to Contact Page