by Shelly Stokes, Founder and Creative Mentor

I'm taking some time off over the holidays, but I want to pass along a special message that is really important as we head into the new year. You are an amazing person. Yes, I am talking to YOU.
We have a tradition of making New Year's resolutions here in the US. We think about all the things we should do better and make a string of resolutions about all the things we are going to change once the calendar turns over to January 1st.
Personally, I find this tradition to be really counter-productive. To make these less-than-helpful resolutions, we focus on the things we are NOT happy about in our lives rather than giving ourselves credit for all the things we accomplished. Frankly, I prefer to dwell on the positive rather than the negative. Are you game to join me? Great! I love having company for fun things!
A 'New' New Year's Tradition
Here's a little exercise that will help you think about all the fantastic things that happened in the last year, and help you to see that you really are amazing. Yes, you really are. So keep reading!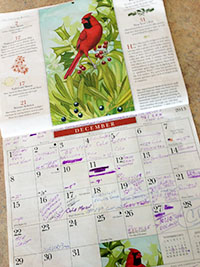 Take an hour or so in the next few days, sit down with paper and several sheets of blank paper, and make a list. Write down everything you accomplished in the last year. You will be shocked at how much you got done if you really apply yourself to this list. I know you have accomplished far more than you think, and certainly more than you give yourself credit for.
If you need to jog your memory, grab the calendar and browse through all the little notes you made over the year. (My husband makes all manner of notes on our kitchen calendar!) Or think about all the different roles you fill (parent, spouse, daughter, employee, business owner, friend, artist, quilter, walking pal, gym buddy, writer…) and what you did in each of those roles. Browse through the pile of painted fabric samples; do whatever it takes to jog your memory.
It is the big things and the little things. For me, my list includes things as big as completely redecorating our living room and moving my business inventory to a new warehouse, and small things like learning embroidery stitches that make my fabric art projects sing. Give yourself credit for everything, from writing a newsletter every week to getting your Christmas cards out on time. You are amazing and you deserve a pat on the back.
Then, if you still want to indulge in a New Year's resolution or two, go ahead. At least you will start in a positive mindset, knowing that your last year was amazingly productive and that you are a wonderful, talented person. Because you are.
Enjoy the last few days of 2013 and have an amazing new year!
Feel free to go over to our Facebook page and share some of your big and small 2013 accomplishments.