Looking for a better way to wrap a gift? Read on!
I decided to ban wrapping paper from my house a few years ago. Why buy expensive paper only to have it ripped up and thrown away after just one use? And why store the stuff when your family has declared a moratorium on gifts for the sake of gifts?  I don't want you to think I'm a total Scrooge – I still enjoy giving gifts when I can find something truly beautiful and/or useful for my family. But wrapping paper? Hey, there has to be a better way!
I dusted off my sewing machine a couple of months ago and celebrated when it still worked. (Don't laugh too hard — running a business does not leave much time for sewing…) After a few trips down the wrong path, I finally found a fast and easy way to assemble my new Bosa Nova Bags. Here's a picture of my first successful attempt. This one got stitched, un-stitched, and re-stitched a few times, but it looks pretty good!
These wonderful little bags are made from two pieces of fabric, a few Lazy Girl Handy Tabs, some Steam-a-Seam 2 fusible web and a few (very few) seams. Fast, cute, functional. What more could I want? Well, if you must know, it would be lovely have someone else write those pesky instructions, but I digress…
To make great Bosa Nova Bags, you need a lining fabric with strong contrast to the cover fabric. With the seam allowances on the outside, the lining is an important part of your bag design. Be adventurous! Isn't that lime green awesome? And check this out – even the bottom of the bag looks great!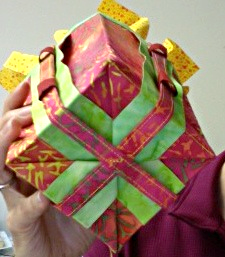 Bosa Nova Bags are fun to make – and your gifts never looked so good! If you just can't bear to part with them, make a bunch from your favorite fabrics and use them to hold your treasures. Here's a photo of the new pattern.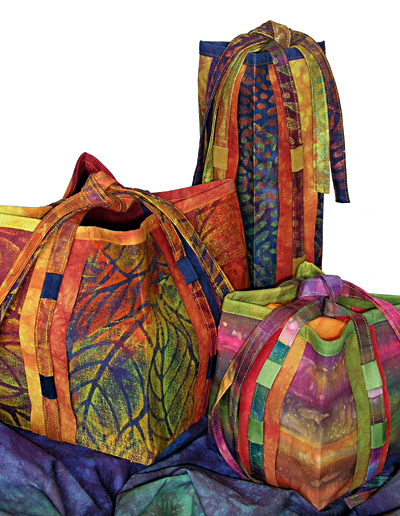 I dug into my stash of hand-dyed fabric and used one of Diane Swallen's water-color sripes for the Small bag. I painted the fabric for the Large and Tall bags with Artist's Paintstiks and a couple of our Leaves rubbing plates. The Tall bag is perfect for a bottle of wine, and I included a section in the pattern to help you change the dimensions if you need to make a bag of a different size.
I have to admit that the pattern just went off to the printer. I keep telling myself that I won't do this last-minute fire drill before Quilt Market, but it's not working…  At any rate, the patterns should start showing up in retail stores at the end of October.
Now I've got to get started on the next pattern. Can you say "Cha Cha" bags? Or perhaps "Salsa" bags?