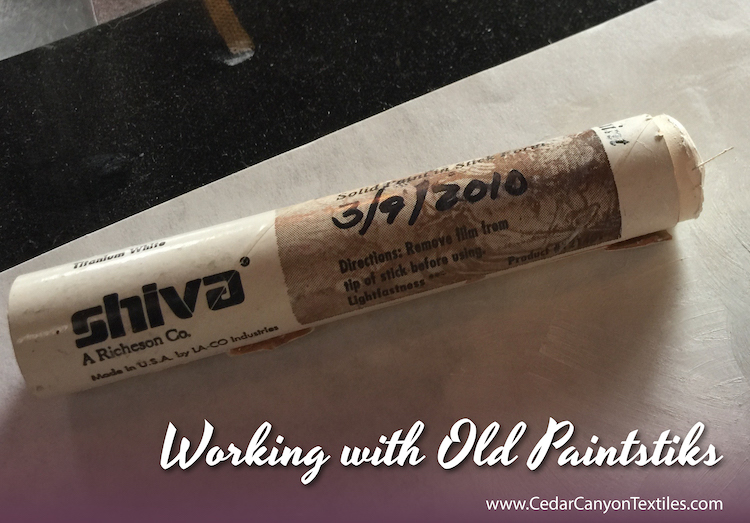 After far too much time in the computer over the past couple of months, I knew it was time to get back into the studio. What I didn't know was that I would be getting a lesson in Working with Old Paintstiks.
As I was preparing to put the "primer" coat on my next project. I pulled this Titanium White Paintstik out of my paint box. You can imagine my surprise when I noticed the date on the Paintstik. Really? 10 years old? Was this still useable?

Testing a 10-year-old Paintstik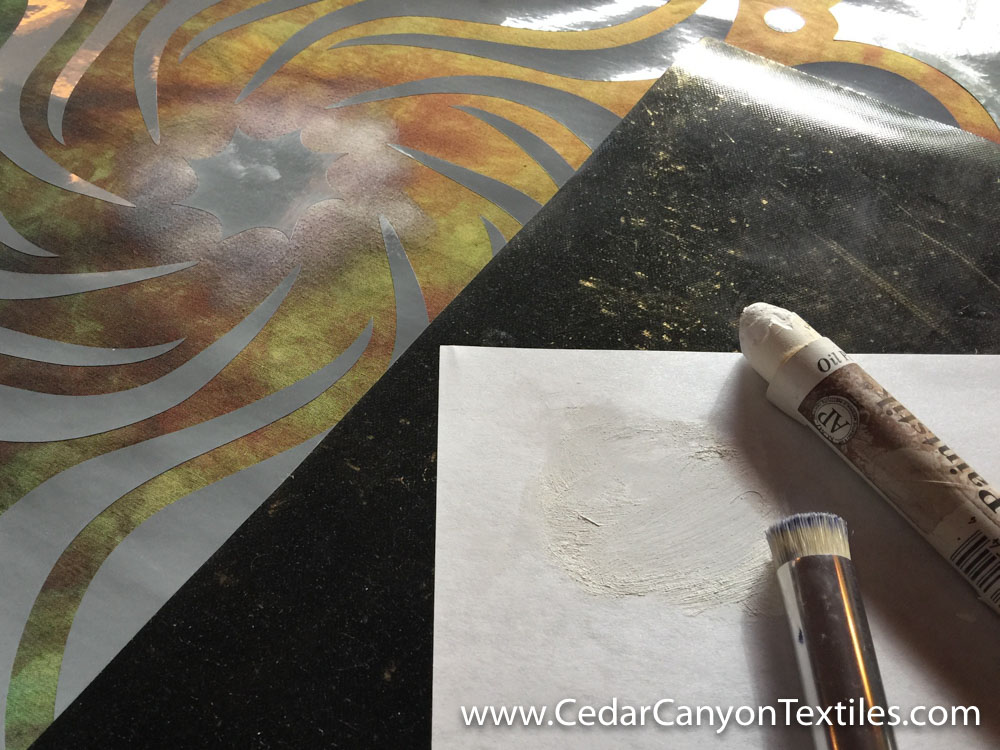 I peeled the film from the end of the Paintstik and got started – and promptly thought to myself "oh my god, this paint is incredibly stiff!"
Now I have to say that stenciling with matte colors is never as easy as working with Iridescent colors. While the shiny (iridescent) colors glide on fabric, the matte colors have a definite drag.
I wasn't sure how long I would make it working with a really old Paintstik, but I kept going…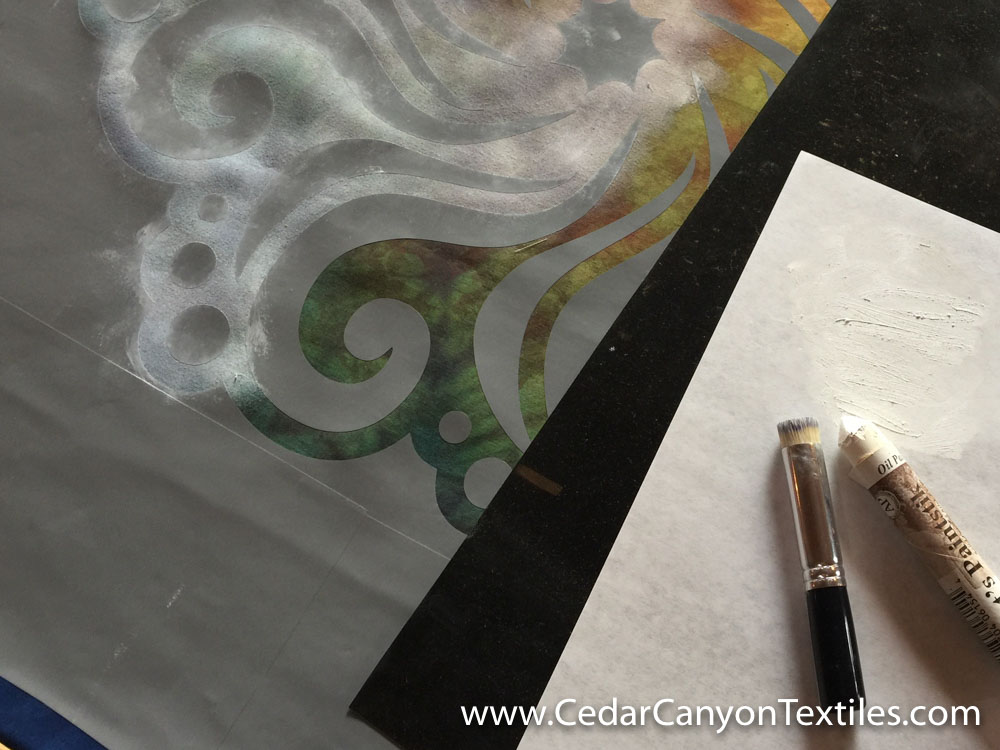 As I continued painting, I realized the paint was not quite so stiff. It took me a while to figure it out. (Surely my hands were not getting stronger!) It had to be the paint.
As I reached the midpoint of this "primer" layer of paint, it dawned on me that I had used up the end of the stick. It couldn't have been much more than a half-inch of paint, but what a difference!
The Paintstik color didn't drag so hard when I applied it to the palette paper, and it was oh-so-much-easier to add the paint to the fabric with the brush. Happy me!


Lesson Learned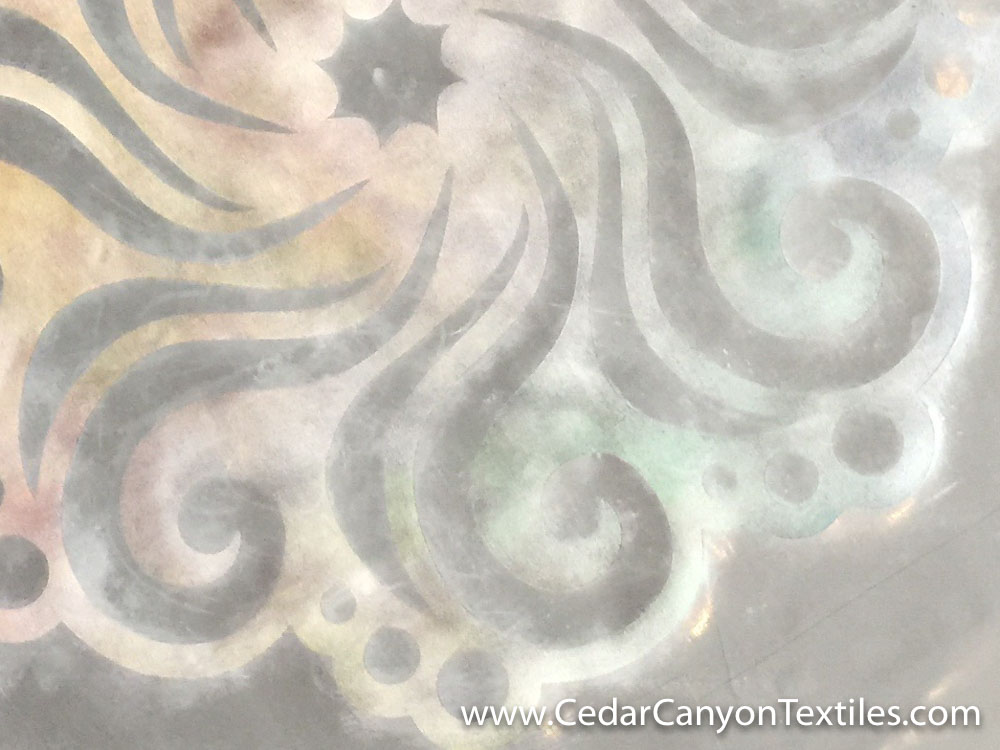 The lesson in all this? Well, when you're working with old Paintstiks – particularly matte colors – give yourself a break. If the paint at the end of the stick is really stiff, cut off a small chunk to see if it gets better.
In the future, I'll cut off a quarter inch off the end of the Paintstik to see if the paint is better. If not, I'll cut off another chunk and try again.
Yes, there is a limit. Paintstiks don't last forever. (I've had students bring 30-year-old Paintstiks to class that were totally dried out.)
But that does not mean that Working With Old Paintstiks is impossible. Give them a try. Cut a generous amount off the end to see if you find good paint. You may be surprised!


Why Titanium White?
If you've been with me a while, you've heard me talk about using Titanium White as a base layer for my Extreme Stenciling technique. If you're new to our community – or want a refresher – here are a few links you may find interesting.
Titanium White is a Stenciler's Best Friend
Extreme Stenciling with Paintstik Colors


Your Turn
Got a question or a comment? Chime in below. I'm always curious to know what you're thinking about.