Wow! The MN Designer's Blog Hop was amazing! I'm having so much fun reading your comments. Thank you so much for joining us for this event and leaving your wonderful comments. I hope you had a great time and will continue to visit us in the future.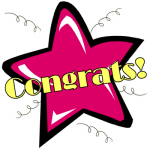 Without further delay, let's get down to the winners!
Paintstik Starter Pack goes to Caryn Bravos
Caryn commented that the Easy Paintstik Placemats were "a very pretty project." You'll have plenty of paint to play with, Caryn. Get your friends together and paint up some fun!
Gudrun (our fearless ringleader) has announced the winners of the 3 grand prizes. Congratulations to
1st Prize    A gift bag worth $200 Gwendie

2nd Prize    A gift bag worth $60

Lynda Green

3rd Prize    A gift bag worth $40

Sue Cahill
Gwendie, Lynda and Sue need to contact Gudrun for more details.
Stop back by the blog in a week or two. We'll be featuring a new pattern and having fun with rubbing plate "portraits."
Until then, happy painting!