Are you ready to take a technique you learned and make it your own?
Do these thoughts ever cross your mind?
I learn all this good stuff in classes – and then come home and find myself doing the same old thing.

I have these stacks of "samples" – but I have a hard time figuring out how to actually USE this stuff in my own projects.

I really loved some of the ideas from that class-but if I do exactly what she's doing, it won't really be MIND
No worries, you have LOTS of company!
Can I just say that you don't have a patent on those feelings – and that I TOTALLY UNDERSTAND exactly how you feel?
First and foremost, give yourself a break. As a creative person, it perfectly normal to want to explore all kinds of different tools, techniques, and materials. That's simply what we do! And frankly, there is no better way than taking a class to figure out what you DO and DON'T like. If you don't try it, how will you know?
The real question is… how do we pursue the few things that we DO like. You know, the things that really trip our creative trigger? How do we go about learning more, mastering the techniques, and figuring out how it fits into OUR ideas, projects and art?
Now, just imagine...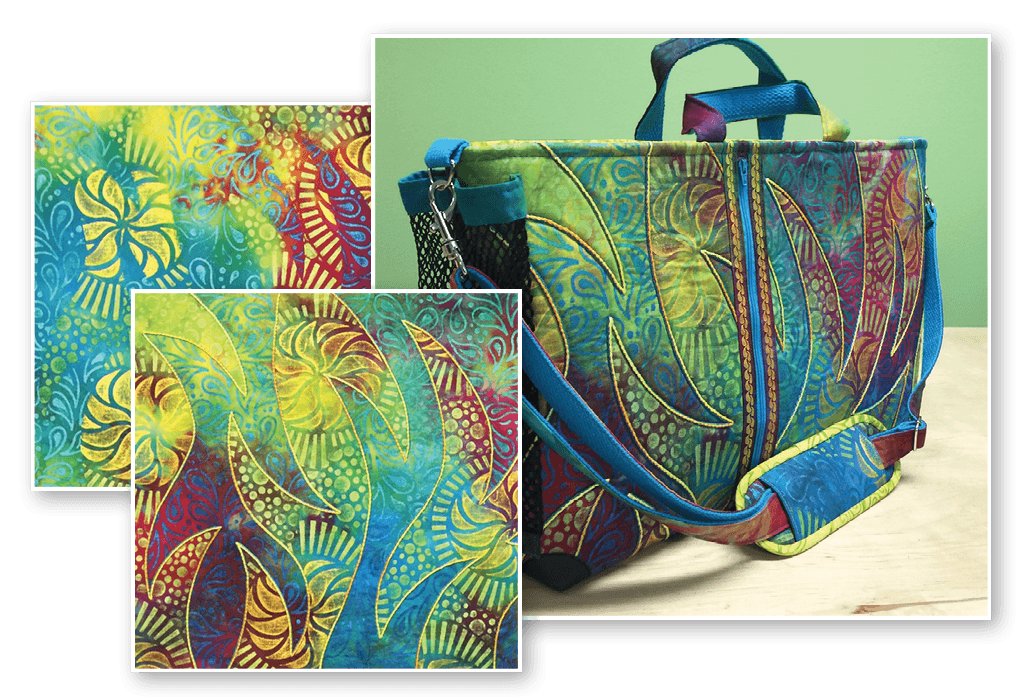 Digging into a technique you have already learned how to do, and exploring the possibilities for creating your own personal fabric.
Being challenged to push the boundaries of that technique – and your own skills – in a safe and supportive environment.
Painting fabric for a one-of-a-kind project that is totally unique to you!
If this sounds exciting, you're in the right place!
I'm Shelly Stokes, founder and Creative Mentor at Cedar Canyon Textiles. It's my role to inspire you to Explore – and Express – your Creative Nature.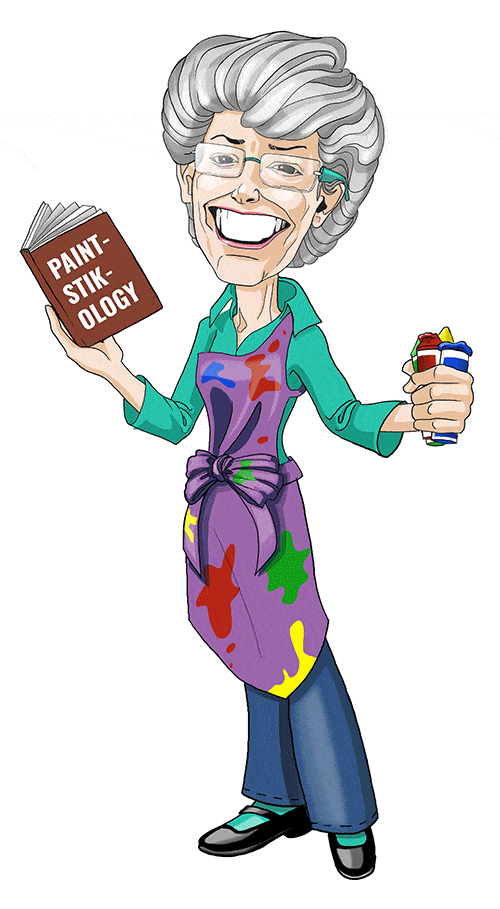 I am an artist, author and "Professor of Paintstikology." My quilting and fabric art adventure began in 1995 when I dropped out of the computer engineering world. I began with quilting, developed a small hand-dyed fabric business, and then fell in love with Shiva Artist's Paintstiks in 1999.
I've spent all the years since then working with Paintstiks, writing books about Paintstiks, developing really cool products that make Paintstiks even more fun – and teaching people just like you to create beautiful fabric with these simple tools and techniques. It is no stretch of the imagination to say that Paintstiks took over my life!
The 15+ years I have spent working with Paintstiks, including 10 years as the supplier and product champion in the quilting marketplace, have given me ample opportunity to explore the ways they can be used with fabric, discover what works and what doesn't – and to see just how far they can be pushed without crumbling, cracking or creating a mess.
In other words, if you want to discover the magic of Paintstiks on Fabric , I'm your gal!
Now that I'm dedicating my work time to teaching and making my own art, I'd be honored to share my hard-earned knowledge with you. Nothing makes me happier than passing along the things I have learned – and watching people just like you take that knowledge and head off on pathways I haven't imagined possible.
Before we go further, I have two questions...
You clicked over to this page to learn more about my online course called Whole Cloth Collage with Painstiks and Textures. And I'm going to give you all the details in just a minute. But first, I want to ask you two very important questions – and I really want you to think about the answers before you race through this page and click on the Register Now button. It's important.

Are you confident in your Paintstik Rubbing skills?

Are you confident in your abilities when in comes to making Paintstik Rubbings? Are you on a first name basis with rubbing plates, sticky spray and sticky mats? I want you to think about this right up front, because this is not a Skill Builder course – it's all about pushing this technique as far as we can – and I want to be sure that you are in the right place.
Now don't go crazy and get too hard on yourself. I'm not asking if you are the Michelangelo of Paintstik Rubbings. (I don't think any of us are ready to claim that title!) I just want to be clear that you need a decent handle on how to make a Paintstik Rubbing in order to get the most out of this course.
Here are some things that would help you know if this course is for you:
If you have taken my Totally Textured online course, you should be ready to go.

If you've taken an in person class that explored Paintstik Rubbings – and you're happy with the Paintstik Rubbings you are able to make, by all means read on.

Or, if you are one of the adventurous souls that has been off on a parallel journey with mine, I'd love to have you join us.
But… if you are brand new to the world of Paintstiks, or you have little to no experience with Paintstik Rubbings – I'm going to suggest that this is NOT the best place for you to start. Okay?

Are you ready to push the limits?

This is a question only you can answer. Are you feeling adventurous? Are you ready to dig into a technique far enough that you come out feeling like you can take off on your own path?
Are you ready to go into a course knowing that there may not be answers to every question – and that the only way to find an answer is for us to collectively experiment until we figure it out?
If your answer is Yes, you're in just the right place. Whole Cloth Collage is a Pushing Boundaries course. We will start with a map (otherwise known as a Lesson Plan), but we may very well chart a new course along the way. If you're good with a bit of this "not knowing" exactly where this adventure will take us, I hope you'll jump in with both feet!
And now that we're clear on WHO this course is geared for, let's take a look a what we will be covering in our 6-week adventure!

~ Whole Cloth Collage ~
What We'll Cover in your 6-Week Course

Our course includes a series of weekly lessons specifically designed to do two things: First, to explore the design concepts one-at-a-time instead of lumping everything together in a single session; and second, to combat the 'short creative attention span' that plagues so many of us by working on new skill in a systematic fashion.
There are six lessons on our Whole Cloth Collage course. The first lesson lays the foundation for a successful adventure – much like packing your suitcase and checking it twice (or three times!) before you set out.
From there, we will explore this concept from one extreme to the other, beginning with Shape Shifters and then moving on to One- and Two-layer Collage. At the end, we'll dip our toe into the world of Hand Embroidery to see how we can use stitching to enhance our designs!
Module 1: Paintstik Rubbings & Shape Shifter Basics
Our Whole Cloth Collage adventure is based on Paintstik Rubbings and a concept I call Shape Shifters. In this first module, we will review all the ins and outs of making beautiful paintstiks rubbings – including the tips, tricks and "secret weapons" that I have acquired over the past 15 years.
Plus, we'll explore the Three Main Design Concepts for creating Shape Shifter images on fabric. Specifically, you'll spend time experimenting with: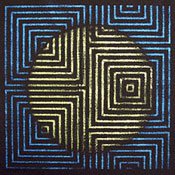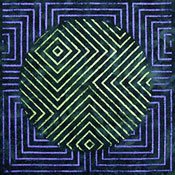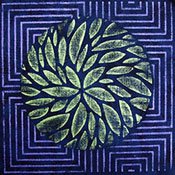 Color Shifts – See how easily you can add amazing color effects, from subtle to dramatic, and create beautiful fabric that will spice up your wardrobe or blend perfectly with your home décor.
Directional Shifts – Create fantastic optical illusions in a flash. It's laugh-out-loud easy!
Texture Shifts – See how a simple change of texture can create depth and contrast, and how you can use this concept to create any style of fabric, from funky and fun to classic and elegant.
Our cutting materials for Module 1 will include freezer paper and other light-weight materials.
This lesson is your opportunity to brush up on your Paintstiks Rubbing skills, and to create some samples that we will be using in Module 6.
Concepts are good, but there are only so many things you can do with small squares of fabric. Module 2 covers the key strategies for applying the Shape Shifter design concepts to larger pieces of fabric.
In Module 2, you will learn:
Why Freezer Paper is an ideal template material for Shape Shifter projects – and discover an iron-on alternative that you might like even better.

How to scale your design ideas up for larger pieces of fabric.

How you can use computer-driven cutting machines to help you cut and scale any shape your heart desires!
Watch the magic happen as you create fantastic fabric large enough for any project. If you can imagine it, you can make it!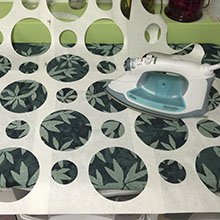 Module 3: The Magic of Sheer Illusions
If you want to make a point, you've got to "Say it again, Samantha!" When you're creating your own fabric, you can 'say it again' by adding a sheer overlay to your design.
This lesson will cover: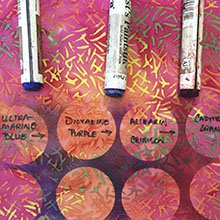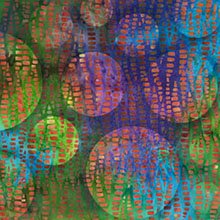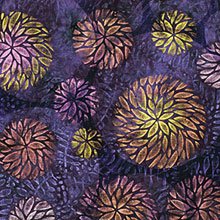 A perfectly painless way to add the look of a sheer fabric overlay – without sewing a stitch!

How your choice of Matte or Iridescent Paintstik colors will dramatically affect the look of your "sheer overlay."

How you can use the sheer overlay technique to add shapes, outlines and stripes to your favorite commercial fabrics.
I'll be the first to admit that it's tough to "show" this idea in a photo – but trust me… it's a keeper!
Module 4: Single Layer Paintstik Collage
Simple concepts create endless possibilities. In Module 3, you'll discover how the "super powers" of iron-on masks can be harnessed to create a fascinating whole cloth collage.
This module includes: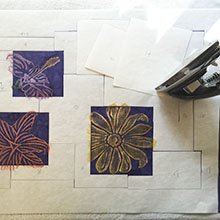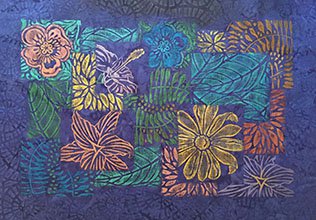 Choosing textures and rubbing plate images with a cohesive theme for your collage.

A simple lift-and-paint method for building up the collage – without making a mess!

An easy-to-use color strategy for defining focal points and backgrounds.
These collages are pretty amazing all on their own. But they are downright breathtaking when you enhance the designs with hand stitching. (We'll be covering that Module 6!)
Module 5: Two Layer Paintstik Collage
Some ideas are super simple, while others are delightfully clever. This two-layer collage technique takes all the guess-work out of complex-looking designs!
You will learn: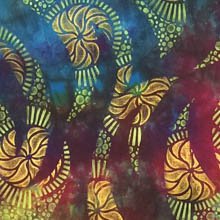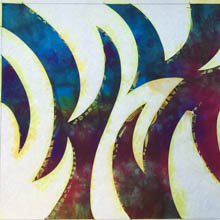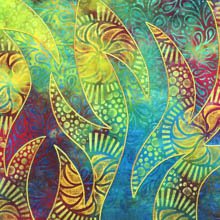 How to adapt a design for this two-layer technique.

How to crate a 2-layer stencil that makes it no-sweat simple to create sumptuous curves and dazzling diamonds much faster than you ever imagined!

A straight-forward strategy for making these two-part stencils with your computer-driven cutting machine.
Module 6: Echo & Accent With Stitch
You've painted fabulous fabric, now bring it to life with simple but stunning stitchery! You'll be amazed at how a few well-placed stitches can add a dash of delight to your fabric – and a smile to your face each time you look at it!
We will explore:
How to stabilize your fabric so that you don't have to work with a hoop or a frame.

How to emphasize your main shapes with outline stitches.

A simple way to repeat a design with running stitches.

How to liven up any motif with accent stitches.
There's far too much to learn about embroidery to cover in a single lesson, but this Module will get you started – and connected to some of the best resources available. From there, the possibilities are endless!
In Module 6, we'll cover cutting instructions for any additional materials you bring up during the first five modules.
Straight from my students...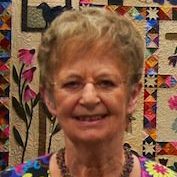 Janet Knapp
Fergus Fall, Minnesota, USA
This class was over the top. The best of them all.
I made time to watch the videos, read your notes, work/play/practice more with the Paintstiks –– and actually saw some results that made me say "wow!"
The pieces aren't prize winners, but they are good enough to encourage me to do more.
With all this practice and some great results, I am anxious to get back to my Paintstiks very soon. No more waiting for the next class before putting my paints to work!
Kathy Maras
Glen Ellyn, Illinois, USA
This has been a wonderful experience. Learning from you and the other students in the class was a hugely satisfying and a creatively expanding experience. I'm looking forward to your next class.
How do I feel compared to the start of the class?
Energized! Unstuck! My creative brain is full of images and ideas for new pieces and art projects!
Take the class! It's worth it on so many levels.

Nancy Dickey
Magnolia, Texas, USA
As an experienced art quilter, I took this class mainly to prompt myself into actually doing some experiments with my paintstiks.
I learned by
• making a color chart on my black fabric of all the paintstiks I own (so far!)
• seeing what my rubbing plates looked like when finally painted,
• working more extensively with freezer paper masks (and the drying times needed for multi-layers), and
• seeing the examples the other students came up with.
I hope to add some embroidery on a few of my pieces this spring.
Got a few nagging doubts? Let's tackle those right now.
I already KNOW how to make Paintstik Rubbings...
Good. That means we are on the same page. If you're still reading this, I expect that you are very comfortable with Paintstiks and making rubbings. This is not about learning to make rubbings. This is about learning to make them work for you and your art.
I'm looking for ways to head off in my own direction... I don't want my work to look just like yours.
Wonderful. After a quick review in Module 1, we're going to explore strategies for creating the look of collage on a single piece of fabric. I want you to take the ideas and go off in your own direction. I want you to create fabric that is totally unique to you.
Uh, oh. I have some travel plans during the class...
No worries. All of the videos for the classes are pre-recorded. There is no "set time" that you need to be online. You'll get a message when each new lesson is available, but you watch the lessons and do the exercises when it's convenient for you. If you have a vacation scheduled, enjoy your trip! The lessons will be ready when you are ready to get back to work.
Remember, the doubts and "I Can't" statements that pop up in your head are exactly what keeps you from pursuing your personal art journey. When you push through the doubts, when you decide to do it anyway… that's when you get back to having fun and making progress toward your goals.
~ Whole Cloth Collage~
A Six-Module Adventure for $147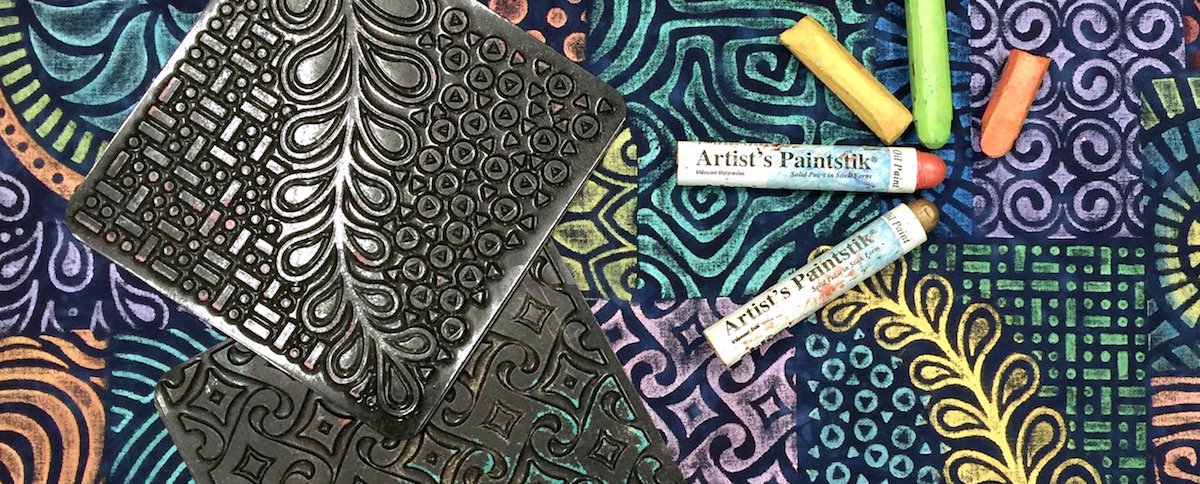 Let's take a look at all the wonderful resources included with your course:
Six Weekly Lessons, Beginning September 19th, 2016
A detailed material list, right down to the specific rubbing plates and paint colors I use in the samples.
A thorough review of the topic for the week, including video demonstrations where appropriate.
Tips, Tricks and Secret Weapons that will make it easier for you to be successful with this lesson.
Specific exercises to get you started as you explore the technique.
Permanent Access to your lessons in our Ruzuku classroom
The link to your lesson will arrive once a week in your Email, just like clockwork. That's your cue that it's time to make an appointment with yourself to pull out your Paintstiks and textures and explore the next phase of the adventure.
The lessons alone are worth the price of the course, but you'll get a whole lot more…

Bonus #1: Private Online Interactive Group
Along with your weekly lessons, your classroom includes a private discussion areas where you can ask questions, post photos of your work and chat with your classmates.
A safe and supportive environment for asking questions and getting feedback,
A way to connect with the other participants in the course, and
Endless inspiration as you "see" what your friends in the group are creating!
You'll get far more out of the course when you activity participate in the online discussions. As a matter of fact, I can just about guarantee that some of the coolest "aha" moments will come from the conversations in the group — and not from my pre-planned lessons. (And I LOVE when that happens!)
Bonus #2: Personal Attention in a Small Group Setting for Eight Weeks
This course is limited to 100 people so that I can give each and every one of you the attention you deserve. And we'll have 8 full weeks together. Not 8 hours, not 8 days, but 8 entire WEEKS where you can learn at your own pace and on your own schedule. (That's 6 lessons over 6 weeks plus 2 Bonus Weeks to ask questions and get feedback and the end of the course!)
Through the online forum, I will be answering any and all questions you post, providing encouragement, and giving you the personal feedback and guidance that you deserve.
Now, I know that 100 students may seem like a large group, but it's not. The reality is that only a portion of you will chime in with questions and post your photos – and the rest will be happily lurking in the background, soaking up all the inspiration!
So don't worry… you'll get plenty of my time and attention. I promise! With 15 years of experience putting Paintstiks on fabric , I'm the perfect person to serve as your guide on this Whole Cloth Collage adventure.
Bonus #3: Technology Lessons!
In the first five modules, we will discuss how you can do things quickly or more easily using the technology you my already have in your studio. Specifically, we will explore how you can use a Silhouette Cameo computer-driven cutting machine to draw shapes and cut stencils a whole lot faster than we can do by hand. (If you have a different machine, the concepts should transfer quite easily to your machine.)
Please Note: The technology lessons are OPTIONAL. You do not need a cutting machine to take this course. But for those of you who already own one of these marvelous machines, we'll take the plunge and put them to work!
Creative learning can be hard!
Our private classroom is the perfect place for talking about the hard stuff. The things that keep us stuck. The old messages that keep coming up as we learn new things. The feeling that "it will never look as good as the picture in the book" — or the real zinger — "I'm not good enough."
I'll be there for you when you feel like you're dragging yourself through the creative muck and the techie meltdowns – and so will the other students in the class. I've watched this time and time again — and I know you'll find plenty of support when the going gets tough.
Creativity, Connection, Community
When you get right to the bottom of things, the real reasons for joining me and for joining this group learning adventure are simple. It's the connection. It's the community. It's the opportunity to nurture your creative spirit while you learn some exciting new skills — and create amazing designs and tools for your fabric art.
A wonderful learning experience!
Shelly, thank you for a wonderful learning experience! As my first online class you exceeded my expectations. Here are just a few of the things I appreciated about your class and your teaching:
The lessons were well organized and easy to follow. It was especially helpful to have the videos and the step-by-step written directions.

Your encouragement, responsiveness and feedback make you a great teacher/coach and made it OK for me to go at my own pace.

I loved the bonus lessons on the Silhouette! It has so expanded my use of it and I look forward to maybe/someday a class focused on it even more?!

Learning from others was awesome!
The ideas, the creativity and the sharing of resources all made this a class I looked forward to every week.
Kate Bender
Arlington, Massachusetts, USA
All I can say is a big Thank You! One more time, I've learned so much from you and the classmates. It was a great class, indeed. Too bad is has to come to an end!
Alexandra Panagopoulou
Pyrgos, Ilias, Greece
Sign Up NOW!
This is where the rubber hits the road. It's time to get registered.
Your investment in this 6-Lesson Adventure is $147. No plane tickets, no driving, no hotels, no restaurants. Just one flat fee for 8 weeks of learning from the comfort of your own home.
But don't delay. In the past, registration slots have filled in a matter of days. (I know that sounds like hype, but it's true. If you want to join the group, you really have to register right away.)
I'm not going to do a big song and dance on why this is such an amazing value. If you're reading this, you've been around the block more than once. You know that you have to invest time, effort, and money to reach the next goal in your fabric art journey.
You know that you have to push yourself – and push the boundaries of the techniques you've learned to take the next big step forward with your art.
If this course is right for you – and I truly hope it is – here's your next step.
What To Do Next
Click on the big green button to get claim your spot in the Whole Cloth Collage course!
If you want to take the class, sign up now. As in RIGHT NOW. Don't hesitate. Don't fool yourself that you'll think about this later. Just click the button, fill out the form – and give yourself a big pat on the back for treating yourself to a marvelous creative treat. You're more than worth it!
Before you go, fast forward a couple of months...
Imagine that it's three months from today. Are you still feeling guilty when you look at the samples from past courses in your closet? Even worse – are you avoiding your work room altogether to avoid the guilt?
Or, are you celebrating the completion of your Whole Cloth Collage adventure, feeling great about how much you learned, and planning that one-of-a-kind project for the fabric you painted?
It's your choice. Join the fun – or risk staying stuck. As for me, I'll be blazing the trail for the Whole Cloth Collage adventurers, and we'll be whooping it up, chatting and laughing all along the way. Come join the fun!
Whole Cloth Collage – The Bottom Line
Creating painted collages on a single layer of fabric is a fascinating process. It allow me to create one-of-a-kind fabric without messy seams or bulky layers – and it can do the same for you.
There's a lot to learn, and it's not for Paintstik beginners. This course is specifically for you if you are ready to explore, push boundaries, to stretch yourself and your skills.
The strategies you learn can be a jumping off point for the next leg of your fabric art journey. I would be delighted to be your guide.
You can do this. Click the green button below and sign up now.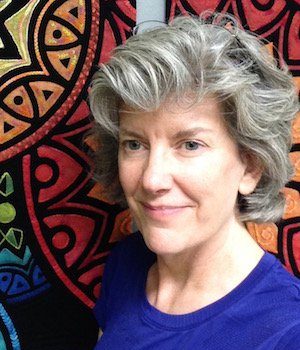 PS. If you are an experienced Paintstik user looking to take your skills to the next level, this course is for you. You'll find everything you need to know about creating the look of collage on a single layer of fabric.
PPS. Six lessons, personal support from me, a friendly classroom, $147. Sign up now.