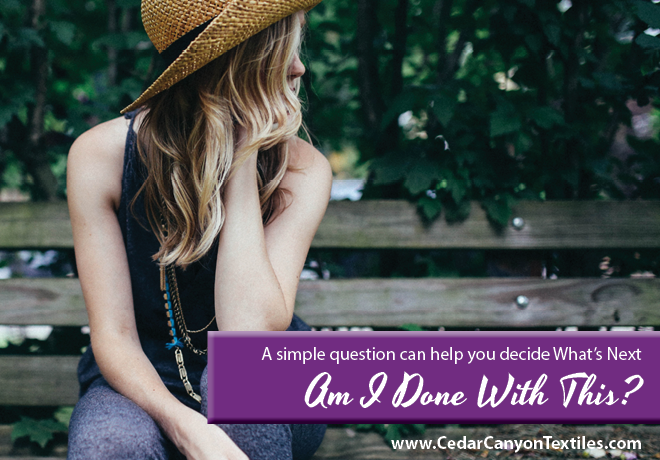 Having just finished up a huge 18-month art quilt project, I have done a lot of pondering about What's Next. In last week's post, I wrote about our tendency to skip the celebration for the thing we just finished. Click here to read that post. Today, I want to talk about the big decision that lies in the middle of the equation and my thought process for figuring out What's Next.
One & Done – or Work in a Series?
Whether your most recent completion is a book, a pattern, a painting or a quilt, it is good to ask yourself, "Am I DONE with this?" No, this is not like the 4-year-old in the back site whining about "are we there yet?" But it's a really important question, and one the we shouldn't take lightly. Did you love it? Did you get bored? Would you do all of it – or a piece of it – again?
Sometimes the answers to these questions are blindingly obvious. At other times they are not. Here are some things to consider:
If, in the middle of your project, you found yourself grousing about it, not having fun, or checking for the 14th time to see how much is left to go, I suggest you do a serious gut check before this thing goes back on your list of things you to do. Why do it again if you really dislike what you are doing? It is perfectly okay to say "been there, done that, got the t-shirt" – and to chalk this one off your list – permanently!
On the other hand, you may have thoroughly enjoyed the process of working on your latest creation – or at least the biggest portion of it. If this is true, you may find yourself saying, "Oh yes, I could definitely do this again!"
What If You Are Not Sure?
If you are waffling about whether you want to do something again – or to continue with something related – that's a good indication that something is holding you back. When this happens to me, there is usually one of two thing going on. Either I feel obligated to do more or I am afraid of something. (Neither of which leaves me feeling happy or motivated!)
The obligation thing is usually pretty obvious.
I bought all this stuff and I should to make good use of it. I can't stop after just one – I haven't really given myself a chance to get good at this. I've got all this stuff left over, I spent all this money, blah, blah, blah!
This, by the way, goes right along with the thing your mom always said about not wasting food because there are kids starving in Africa!
Fear, on the other hand, can be trickier. It can appear as fear of failure, fear of success or just plain fear of not being enough.
I'll never be able to get really good at this – so why bother. I'll never be able to do another one as good as the first one. What makes me think I'm a "real" artist, author, designer, painter, quilter?
When you are in this "not sure" state of mind, take a little time-out before moving on. If you can just sit with the question and sort through your emotions, it's so much easier to give an honest answer to the big question at hand: Am I DONE with this?
(If you're still not sure, try this advice from my mentor Ronda Wada. If the answer to your question is not Hell, Yes!!!, it ought to be Hell, NO! That's pretty black and white, but I find it very useful at times.)
Give Yourself Permission
After thinking through the question of Am I DONE with this, give yourself permission to move on. Yes, that's right. Give yourself permission.
If that sense of obligation has been holding you back, quit SHOULD-ing on yourself and move on. If it's fear, look at it square in the face and then move on in spite of it.
Whether you decide you are DONE – or that there is more where the last one came from – give yourself permission to move forward. You can always change things up as you move through your next project. The big thing is to make a choice, be okay with that choice, and move forward with a happy heart.
That's all for this week. In the final post in this series, I'll tell you about two strategies I use when I am considering the next piece in a series.
Your Turn
Do you find yourself struggling after you finish a big project? Do you have a ritual that helps you through the never-never-land of What's Next? I would love to hear your thoughts. You are welcome to leave a comment below or over on our Facebook page.