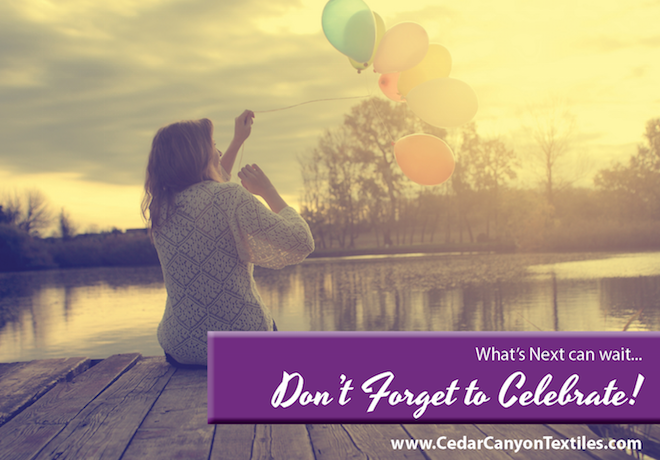 So, why is it that every time we finish up a big "thing" in our life, we automatically go right to asking "what's next?" (Think project, quilt, painting, room makeover… you get the idea.) Worse yet, if it was a REALLY BIG THING, we get extreme and go directly to "how are you going to top that?"
For the record, someone actually asked me that question as I was telling him about my big prize at the Minnesota Quilt Show –  and deep down, I wanted to wring his neck. Are we a bunch of crazy people or what?
I'll stop my rant here and talk like a normal person, but this is really important – especially if the BIG THING we just finished is part of our Creative Life.
Rather than writing a novel, I'm going to break this down into three posts. Today, we'll talk about celebrating. Then, over the next two weeks, we'll dig into that big looming question of What's Next. But first, it's time to have some fun!
STOP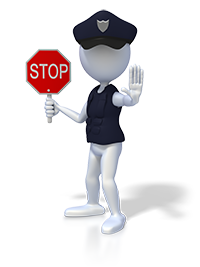 When someone asks you (or you ask yourself) What's Next, I want you to STOP. You know the drill… Go Directly To Jail, Do Not Pass Go, DO NOT COLLECT $200!
Stop, stop, STOP – until you celebrate the thing you just finished!
That's right. Before you start the NEXT BIG THING, give yourself time to appreciate what you just finished by doing at least two of the things on my Five Ways to Celebrate DONE list. And if it was really big, scary or life-changing, bust loose and do them all! (And yes, you certainly have permission to create your own list!)
Breathe
That's right. Just breathe. Slow down, sit down, close your eyes and breathe.
Relish the moment. Enjoy the completion. Absorb the energy that comes with done.
In our fast-paced world, it's really easy to blow past something as simple as a quiet moment of gratitude, but it's something I find incredibly helpful. Try it. I think you'll like it.
Keep a TA DA! List
This is where my friend Karolyn Blume has it all figured out. In a recent blog post, Karolyn proposed that we should all have a Ta Da! list to go along with our To Do list. It's not a brand new idea, but I love the name. A Ta Da! List sounds so much more fun than a completion list or a gratitude journal. Call it whatever you want, but keeping a list of the things we get done (small and large) is a great way to celebrate DONE.
Karolyn, by the way, is the author of a really cool book called Eat the Elephant: Overcoming Overwhelm. The strategies in her book make it a whole lot easier to get stuff off the "to do" list and onto the "Ta Da!" list.
Share the Moment
Once you have internalized that warm feeling that comes with Done, share your completion with someone special. Whenever possible, share with the people who can really appreciate your accomplishment.
When I finished Bailando en la Noche, my big art quilt project, I met my stitching friends at the local wine bar to celebrate. These are the women who witnessed the creation of my quilts over a period of 18 months, put up with my chatter, gave me input when I asked for help (and sometimes when I didn't), and encouraged me along the way. It was great to share the completion with them. They knew – even better than my husband – just how much time and effort went into the making of the quilts. It was fun!
Tell the World
For me, this is the hardest thing to do. I grew up with a heaping dose of "don't toot your own horn" and "don't get too big for your own britches." You know the drill… pride goeth before the fall and all that rot.
Well, I'm here to say that it's perfectly okay to celebrate in public – as long as you stick with stuff that won't get you arrested or embarrass the hell out of you at your next job interview!
Take a selfie with your creation and post it on Facebook. Do a happy dance. (Do it in public if you are really daring!) Have a friend take a picture of you with your quilt at the show – especially if you won a ribbon! You can celebrate without being obnoxious – and the sky will not fall if you share your joy.
Send a Press Release
I think we can agree that we won't be sending press releases when we make an art postcard for a friend or a baby quilt for the grandchild. But, there are times when sending a press release is exactly what you need to do to build your reputation as an artist, teacher, author, etc. After all, if the "News" people don't know about your big accomplishment, they can't interview you, promote your next show or make you famous, right?
Think About What's Next
Now (and only now) can you move on to contemplating the question of What's Next. We'll get into that in the next post
Your Turn
How you you Celebrate Done?  Leave a comment here on the blog or pop over to our Facebook page.