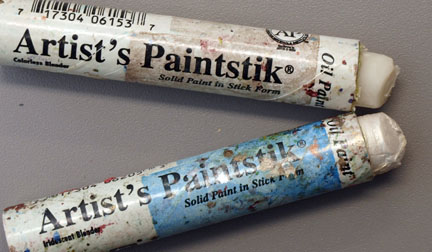 I recently exchanged a series of messages with Suzanne H., one of our Canadian readers. Suzanne asked me a series of questions about the Colorless and Iridescent Paintstik Blenders that pushed me to think beyond my initial short answer.
Just one quick disclaimer — Suzanne did NOT ask "What the dickens is a blender???" That is simply my headline intended to get your attention — but it accurately captures the spirit of a question I've been asked many, many times over the past 5 years.
Here is a summary of our exchange with a few edits for clarity:
Suzanne: I would like to know how and when to use the blender sticks (iridescent or matte). I bought both blenders with iridescent and matte color sticks along with Laura Murray's book called Starbuilders, but her book does not mention the blender sticks at all. (Visit www.lauramurraydesigns.com to find out more about Starbuilders.)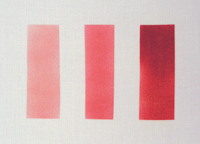 Shelly: I use blenders to create values of paint. Blenders are not needed for blending 2 colors together. There is a discussion on blenders in the front of my Paintstiks on Fabric book.
Colorless Blender
A colorless blender is paint medium with no pigment. It can be mixed with a paintstik color (on a palette surface) to create a sheer version of a color. For example, you can mix a lot of colorless blender with a small amount of a dark red to get a very pale red.
In the photo, the first swatch is mostly blender with a small amount of red added. The second swatch is about half blender mixed with half red. The third swatch is all red.
My only caution with the colorless blender is that it will yellow over time, so I no longer use that stick when adding images to fabric if a change in the color will bother me.
Iridescent Blender
An iridescent blender is paint medium and "shiny stuff" but no pigment. I have not encountered problems with the colorless blender yellowing over time, so this one is quite useful.
On dark fabric, the iridescent blender appears to be a nice, creamy color even though there is no pigment in the stick. You can use it to create lighter values of colors — it can be mixed with both iridescent and matte colors.
The iridescent blender can also be used to add a bit of iridescence to matte colors, but you may find that the smaller paint particles in the matte colors overpower the "shiny stuff" in the blender.
Suzanne: Thanks for the answer, but I would like a more precise answer about the matte colorless blender. When you say it will yellow over time, did you use it alone or with other colors? Can you explain in more detail what you mean by "it yellows" — does it become brownish?
Since I have the blender, would I be able to use it with colors that have yellow in them (such as deep yellow, orange, lime, greens, etc.) to get softer or paler colors without noticing the yellowing problems? Or, if I want to obtain a patina over time, would the blender help me achieve that?
Shelly: Thanks for the excellent questions. I had to think about this for a while to formulate a good reply. Fortunately, I have some pictures that illustrate my point.
Sample Set 1
We did a set of samples for each of the paintstik colors about 4 years ago. We created a small rubbing and a small stenciled image from each color on white, tan and black fabric. We also used the paintstik directly on the label for each color.
Looking at these samples today, it's clear to me that the Colorless Blender, used by itself, will turn dark yellow or gold over time. The Iridescent Blender shows very little change. Here are two photos that illustrate this change.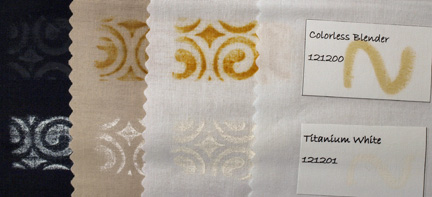 The photo above shows the samples of the Colorless Blender and Titanium White paintstiks from our samples. While the Titanium White is virtually unchanged, the blender has definitely changed color. When we made the samples, the colorless blender was almost invisible.
This photo shows the Iridescent White and Iridescent Blender samples. I've noticed a very slight change with the Iridescent Blender, but not nearly as dramatic as with the Colorless Blender. It's not much different 4 years later. Perhaps a bit more yellow, but still pleasing.
Sample Set 2
About 3 years ago, I made up a series of samples for a segment on Quilting Arts TV. Luckily, I took photos at that time. Here are the "before and after" photos of a leaf painted with a mixture of Prussian Blue and Colorless Blender.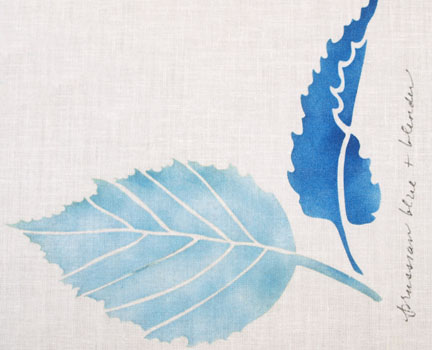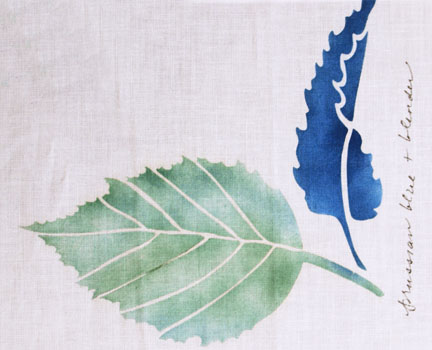 The color adjustment of the two photos is not exactly the same, but I think it illustrates the point. The yellowing of the blender has shifted the lightest portion of the leaf from pale blue to green.
I like your use of the term "patina." That's a good description for what will happen to colors mixed with a high percentage of the colorless blender stick. This is a great use of the blender if done in a purposeful manner.
Many thanks to Suzanne for continuing to ask questions until she got a satisfactory answer.