As I was watching a quick video by Rich Schrefren at Strategic Profits, I realized that the point he was trying to drive home to business owners and entrepreneurs can apply to ANY aspect of our lives, including our creative life.
In the video, Rich challenged his viewers to actually sit down and write out a definition for success. Although his message was clearly directed to the business world, let's take a look at how we can use his questions to create some clarity around our creative activities.
What Is Your Definition of Creative Success?
Before we start in, let me say that this little activity may or may not be important to you. If your creative pursuits are simply a pleasurable way to fill some extra time (and there's absolutely nothing wrong with that), feel free to bail out now. On the other hand, if you have strong feelings about your creative adventures and would like to feel like you are moving forward, read on. I think you'll find this really interesting.
Going back to our question, "What is your definition of creative success?" Have you even taken time to think about this? If not, what would make you feel successful in your creative life?
Do you feel successful when you take time to fully explore a new product or technique, and how you can apply it to your projects or your art? What about completing 8 out of 12 parts of a 12-month challenge? Or how about entering quilts in 4 shows during the course of the year? Would these things make you feel "successful?"
It all boils down to this: If you don't have a definition for success, how do you know if you have achieved it?
Creating Your Success Criteria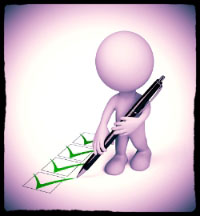 Now, I don't want to turn this into a big formal deal, but I think that setting some goals can be just as helpful in our creative lives as it is in our business, financial, and personal lives. So I invite you to make some time in your busy schedule to sit down, think about your creative life, and what would make you feel successful.
To get started, write this statement on the top of a piece of paper and do a brain dump. (Don't worry – you don't have to keep everything on your first list!) In case you're totally at a loss, here are a few ideas you can modify for your list.
I Am Creatively Successful When I…
Spend at least 20 minutes a day working on my current project or just do something fun in my studio or my workspace.
Explore a totally new technique or product without being judgmental about my early results. I accept that I will not create a masterpiece on my first try, and I'm willing to try it out anyway.
Enter at least one public challenge from my favorite magazines or online communities each year.
Use one or two techniques to enhance at least one fabric that I add to each of my quilting projects this year.
Find a way to incorporate "stripes" in my next 6 projects. (A little whacky, but why not?)
After you dump a bunch of ideas on your paper , and I mean a bunch, read back though the list.  Pick the top 2 or 3 things that you feel strongly about. I find that some of my ideas feel silly, off-the-wall, or just plain nuts, and that's okay. What I'm looking for are the few that really resonate. It should be pretty easy to pick out the top ideas; if not, you might need to make a longer list!
Once you clarify your definition of Creative Success, you'll be amazed at how much easier it is to think about your projects, and to make time to get things done. You'll actually have a measuring stick to help gauge your progress.
Warning! Don't Use Your List As A Whip!
The reason for creating your definition or goals related to Creative Success is to help keep you on track, not to make your life miserable. If you find that your list is clouding your thinking rather than clarifying it, feel free to tear it up and start over.
I like setting some constraints on my work because it helps me to stay focused, but you may find that really confining. Like any other tool, you can decide that this one isn't working for you; find something that will.
Next week we'll tackle a second question from Rich. Until then, I hope you have a great week, and I hope that you find plenty of time to indulge in your creative pursuits.
By the way, I'd love to hear your thoughts on this topic. You can join the discussion by posting a comment here on the Blog, or head over to our Facebook Page.