This summer has been a magical time for me, and I have made the most of my "time off" the past few months. I went to Charlotte, NC for Pamela Bruner's Transform 2013 event (a business conference). Jack and I went up to the North Shore of Lake Superior for our 25th Anniversary in mid-July. Then I hopped on a plane to Denver for Rachael Jayne Groover's Art of Feminine Presence 3-day retreat.
Needless to say, I've spent plenty of time in cars, airports, planes and shuttle buses. For the most part my travels were very smooth and mostly on-time. Until it was time to come home from Denver.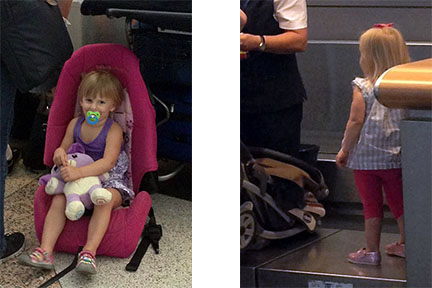 I arrived at the Denver airport in plenty of time for my flight. I knew we might have delays due to unusual weather as Denver was fogged in that morning, but I was in such a great mood from the retreat that I really didn't care.
While I was waiting to check my bag, I had a great time watching the little travelers in line ahead of me. One little girl got tired of waiting for her dad to get the bags checked, so she plopped down in her car seat and made herself very comfy. As she looked at the rest of us, she seemed to be saying "I've got my seat reserved — what about you?"
The little blond girl hopped right up on the luggage scale to supervise the lady checking in her stroller. She was absolutely beautiful, but moved far too fast for me to catch a proper photo on my iPhone camera.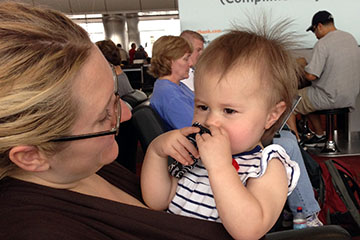 Only after I got to my gate did it become clear that all flights were badly delayed due to the fog. The airport was packed, the lines at the check-in counters were long, and people's tempers were visibly frayed.
It was blindingly clear that the adults in the airport badly needed a chill pill — and to be taking lessons from the youngest members of the flying public. This little girl was delightful. We had a great chat when her mom sat down next to me to charge her cell phone.
I knew it was just going to be one of those days where nothing was going to happen on time, and I had better choose a positive state of mind instead of allowing myself to be annoyed all day. After all, there's not a darn thing anyone can do about the weather, rush-hour traffic or road construction.
I finally made it home at 9 pm, a good 4 or 5 hours late. But you know what? I didn't mind in the least. By mentally hanging out with the happy traveling kids instead of the impatient adults, I was able to make it a fun and relaxing day. I can only hope I'll be this patient next time around!
How about you? Do you have a favorite state-of-mind trick to get through those nothing-is-working-right days? Leave a comment below. I'd love to hear from you.