by Shelly Stokes, Founder and Creative Mentor

Video: Just What Are You Going To Make From That? 
In today's video, I explore three ways to shut off that nagging little voice that says, "just what are you going to make with that?" whenever I want to play. I hope you find my strategies helpful!
"Things to Make" with Design Magic
As I mentioned in the video, my last-ditch strategy for dealing with my pesky little voice is to say "I CAN make such and such a project, but first I have to play." I am not promising to make it, but telling the little voice that I CAN make something is often enough to shut it down. (At least long enough to play.)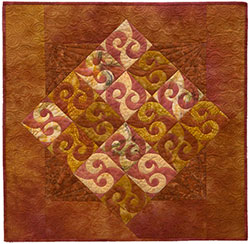 And when it comes to Design Magic, there really are things you can make from your design – if you choose to do so. There are 5 projects included in the book, from placemats to a queen-sized quilt.
My favorite is this lovely little wall quilt called Scrollwork. The finished quilt is just 25" square, so it is a small project that shows off your design beautifully.
Free Projects in the
Community Center
You will also find instructions for 3 Free DesignMagic projects over in the Community Center. Log in using your Email address and go to the Projects Tab. If you don't remember your password, click on the link that says "forgot my password" and follow the instructions.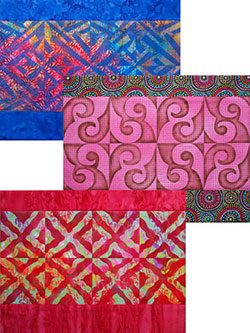 On the Projects page, the Bubble Runner, the Wreath Quilt and the Magic Mats patterns all use DesignMagic designs. The patterns call for pre-cut mylar stencils, but you can substitute the personal designs you create when you join the 30-Day challenge.
Watch your inbox for the details on the 30-Days of Design Magic challenge. I am still working out the details, but I am getting closer to sending out the invitation.
And trust me, this is not going to be a big fancy program — just a simple way for you to join the fun if it appeals to you. And when that pesky little voice pops in with "what are you going to make with that?" You will have an answer!