Oh my gosh! I just finished a quick test of the new Doodle plates and I am thrilled beyond words. OK — not quite beyond words — obviously, I'm still typing. The images are simply fantastic. (I'll refrain from using the word "awesome" — my graphic artist would hang me!) But the new plates are really cool, if I say so myself.
This set of plates has been a challenge — for me, my artist, and the engineers at the manufacturer. Our first set of molds had to be scrapped, but we got it right on the second try. And did we get it right! I just set my paintstik down after a quick pass over all 6 designs. I am happy, happy, happy!
I'll share a few pictures this week and then treat you to a full-blown announcement next week. By then, we'll have the plates in stock and ready to ship.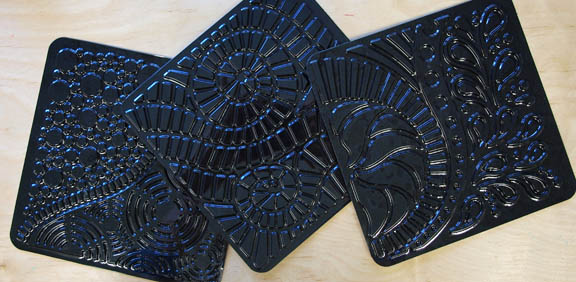 It's really hard to take photos of the black plates. I usually don't even try. Our plates are black because they are made from recycled plastic. It's far less expensive than working with colors and I like the fact that we are using recycled materials. And I'm even happier about the fact that the plates are made and packaged right here in Minnesota. I'm all for keeping jobs here at home. Heaven knows we need every one of them!

I took a break from writing long enough to paint up 3 samples from this set. And now that I've finished putting my newsletter together, I'm going back for more!
I'll post more pictures in next week's newsletter when we formally launch these gorgeous new plates!