The Houston Quilt Market ended just 2 short weeks ago and we are still shipping orders as fast as  can — so we'll call it a huge success. It was fun, it was exciting, and it was exhausting! I was blessed to have Susan Stein and Nancy Kazlauckas with me on this trip, and I certainly don't know what I would have done without them. Here's a short synopsis of our trip. (I wish I had some photos of the booth while it was mobbed with shop-owners –but we were much too busy trying to help everyone to worry about photos at that point!)
Our first day started with 4am wake-up alarms to get to the airport in time for our flights. (When you use miles for tickets, you don't always get the choice departure times…) Fortunately, our flights were smooth, we got a car that fit us and our bags, and all our last-minute shipments to the hotel were waiting for us. We arrived at the convention center and my pallet of freight was right in front of the booth (yeah!), so we were off to a good start. (Yes, I always hug my boxes when I arrive!)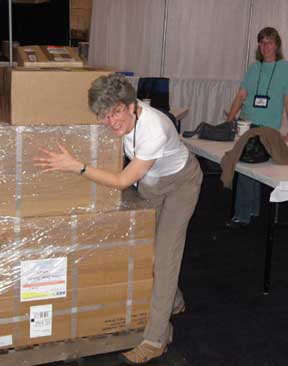 The weather was steamy on the day we arrived (mid-90s and about 100% humidity), so booth setup was challenging. It was just plain miserable in the convention center. Needless to say, the task of steaming the curtains was not popular with any of us that day.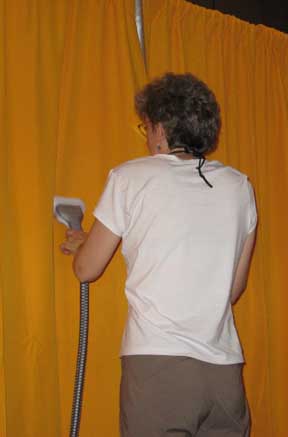 But, once that nasty job was done, the rest of the booth could be assembled. Nancy and Susan are not my usual trade show companions, so setup took a bit longer, but by the end of the 2nd day, we got it all put together and looking good. Setup is always a little strange — you put the booth together, then take a bunch of stuff down for the Schoolhouse sessions, then put it all back up again, but somehow it all comes together and you reward yourself with a very nice dinner.
Here's what it looked like when we got it all put together…
We have a "play table" in one side of the booth where shop owners and others can sit down and try out the paints, rubbing plates, and stencils.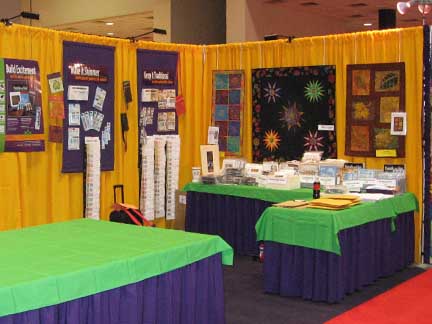 And in the other end of the booth we have product for sale and a place to write orders. And once the door opens, it can get busy in a big hurry!
In addition to the regular hours in the exhibit hall, I taught classes on Sunday and Monday morning. I love the classes, but the 8am starting time is a bit of a killer — especially on the last day of market.
The last day is always a long one, because we have to pack up everything and get it ready to ship home. It was raining that afternoon, so my cartons were delivered to the booth after a soaking shower — thank goodness for strapping tape! Needless to say, we were truly tired and hungry by the time we walked out the door.
It was a wonderful market. We met lots of wonderful new friends, got to say hello to our long-time customers, and had a great time showing off the new paint colors and stencils. (But I have to say I'm truly glad this only comes twice a year!)