Water Lily Quilt: A Touch of Hawaii Without All The Work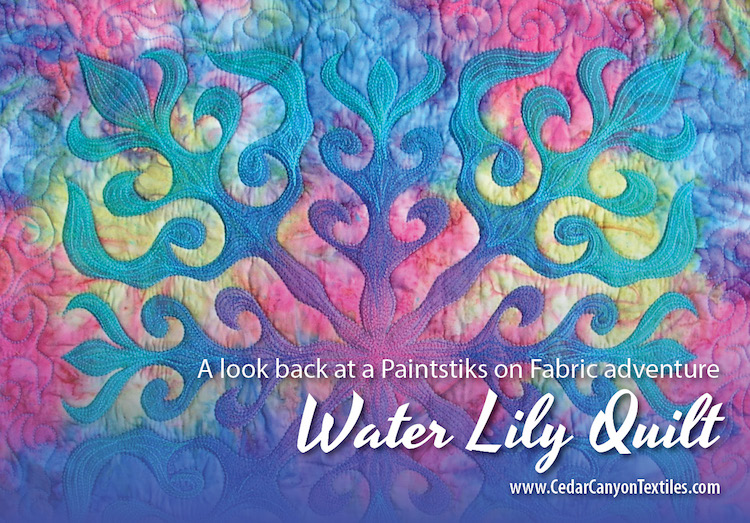 [vc_row][vc_column][vc_column_text]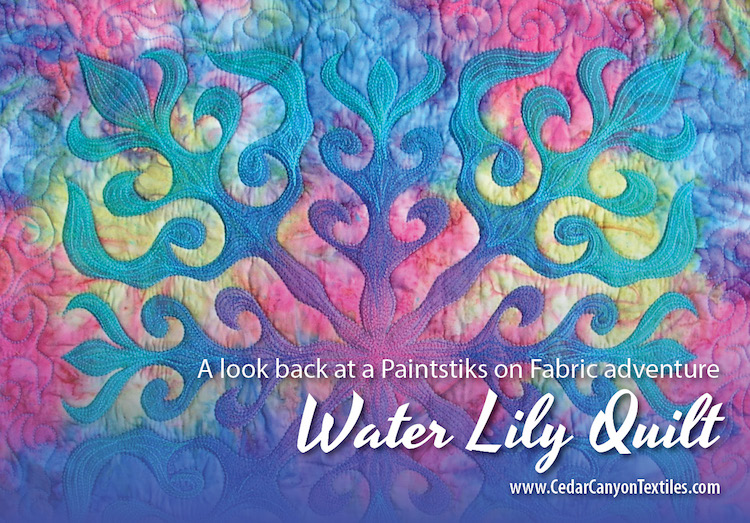 As I was looking through the original samples from the Paintstiks on Fabric book, I was reminded how far we have come on this Paintstik adventure. I say "we" because it really has been a shared journey. I have had the opportunity to teach thousands of students and readers to use Paintstiks on fabric, and I have learned more from you than I could ever have imagined.
Today, let's take a look at the Water Lily quilt that I made a number of years ago. I enjoyed the fact that it required far less time than a traditional Hawaiian quilt. (And today, it would be even faster!)
This is the photo from the book that got me thinking about the Water Lily Quilt. To make this stencil, I cut a stencil from a folded sheet of freezer paper, pressed it to the fabric with a warm iron, and added the image with Paintstik color and a stencil brush.
Several years later, I was teaching at a machine quilting conference in Duluth, MN. Helen Smith Stone, the show coordinator, sent out a couple of pieces of fabric and asked the instructors to make a small quilt for a charity auction. The only requirement was that it had to be machine quilted.
I can paint a whole lot faster than I can appliqué, so I decided to cut a Hawaiian-style stencil and turn it into a small quilt.
We didn't have nearly as many iridescent Paintstik colors at that time. For this piece, I started with Pink in the center, then worked my way out through Purple, Dark Blue, Turquoise, and perhaps a little bit of Green. (All iridescent colors.)
After the stencil was removed, I decided that some thread painting (by machine) was in order to add a bit of texture.
I changed thread frequently to stay consistent with the paint color, and was pleased with the way it looked. I was not, however, pleased with the amount of shrinkage due to the stitching – in spite of the added stabilizers.
I only had the one piece of fabric, so there was no turning back. I layered the wavy top with batting and backing, said a prayer, and carefully stitched around the perimeter of the painted design. I wasn't sure if I had a snowball's chance in hell of this thing turning out flat, but the only way to find out was to keep going.
As I stitched around the design, the quilt flattened out – at least in the center. Luckily, the Quilting Gods smiled down on my work, and the quilting in the border was enough to tame the last of the (very) wavy edges. After a good blocking, the Water Lily Quilt was ready for binding and her appearance in the charity auction.
If I Were To Make This Again…
It's great fun to look back at projects I completed years ago –– and to think about how I would create them today. So, how would I make the Water Lily Quilt?
For most of the project, I wouldn't change a thing. Paintstiks, fabric, freezer paper stencil. Check, check, check. Creating that stencil? That's a whole different story!
The biggest change in my fabric art toolbox is the addition of my Silhouette Cameo cutting machine. Rather than folding freezer paper, drawing a design, cutting by hand and hoping for something I liked, I would definitely head straight to my Silhouette software and cutting machine. And for good reasons:
Creating a design – or tracing one drawn on paper – is easy to do in the Silhouette software.

The ability to see the full design and make changes before cutting anything cuts a whole lot of time out of the design process.

The actual cutting is much faster (and more accurate) when the Silhouette Cameo does the work.
And now, of course, my brain is spinning with ideas for creating Hawaiian-style designs with the Silhouette. And Extreme Stenciling. And Hand Embroidery. And…
Oh goodness. From a Water Lily Quilt to a whole new Paintstiks on Fabric adventure. Here we go again!
Your Turn
Do you find inspiration in your old projects when you take a trip down memory lane? Do you ever think about how you would make them differently today? Leave a comment below to share your story.[/vc_column_text][/vc_column][/vc_row]