My Urban Computer Satchel is Finally Done!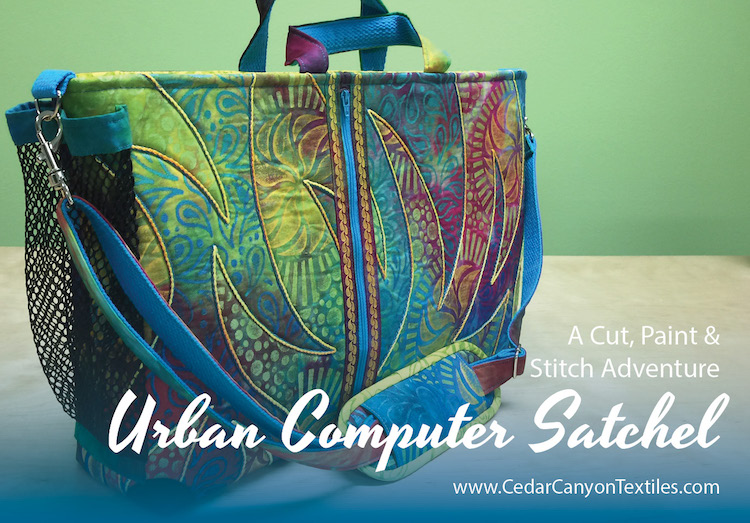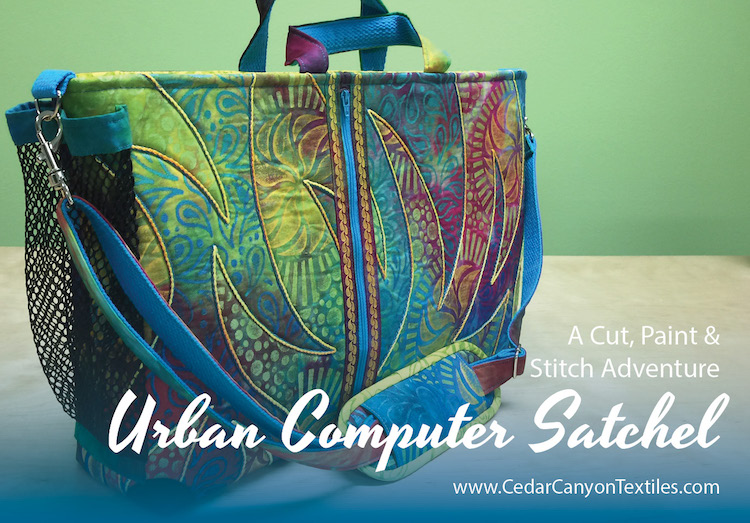 At long last, my Urban Computer Satchel is complete! This is one project that turned into a marathon, and I'm thrilled to cross the finish line.
I used Brenda Miller's Urban Computer Satchel pattern and her hardware kit. (I love, love, love being able to purchase a hardware kit! It saves tons of time and energy trying to find the right combination of bits and pieces in the correct size and finish.)
Before we go further, I have a confession… I STARTED with Brenda's pattern, and quickly veered off course. So, this was a marathon of my making. I would have been done months ago had I simply followed the pattern.
Brenda's pattern has some wonderful features that will make this a Very Useful Travel Companion. The padded handles, an outside pocket for a water bottle and a padded slider for the shoulder strap show the thought that went into the design.
The front of the bag features a padded pocket for an iPad, and the back includes a strap to attach the bag to the handle of your suitcase. Nice!
But… here's where I went off track…
I painted several panels of custom fabric as a sample for the Whole Cloth Collage class using a pair altered rubbing plates.
The painted fabric needed some help, so I added embroidery to calm the visual chaos. 
Long story short, I wanted to use one of these panels for the front of the bag, and I wanted to add quilting for more texture. Suffice it to say that my desires and Brenda's pattern were not exactly heading down the same path, and things got interesting in a hurry.
Due to my detour, I needed facing strips on both sides of the zipper. The facing strips were boring. As in dreadfully boring. So… I cut some custom vinyl stencils with my Silhouette cutter and added a bit of bling with Paintstik colors. Ah, much better!
For some reason (that totally escapes me now), I thought I wanted a mesh pocket instead of fabric. Have you ever tried sewing with that stuff? Let's just say I'm not sure I would take that detour again!
Next, I added Kraft-Tex Corners. Given the size of the bag, I decided against bag feet. But these custom corner protectors will add years of life to this bag.
The Urban Computer Satchel pattern calls for two large pockets on the back side of the bag. I'm a pocket nut, so I added smaller pockets to the front. You can never have Too Many Pockets — right?
My final detour was to whip up some Custom Color Velcro. I'll show you how to make that in the next post.
And here she is in all her glory, a truly one-of-a-kind Urban Computer Satchel. Brenda Miller's pattern, packed with thoughtful details, provided a great jumping off point for my overly long fabric art adventure.
The construction would have been a whole lot easier had I not insisted on using my custom painted and stitched fabric. But the result is lovely and I expect this bag to be a great travel companion for many years to come.
Resources
You can find the Urban Computer Satchel and Hardware kit at Among Brenda's Quilts.
Links to related blog posts: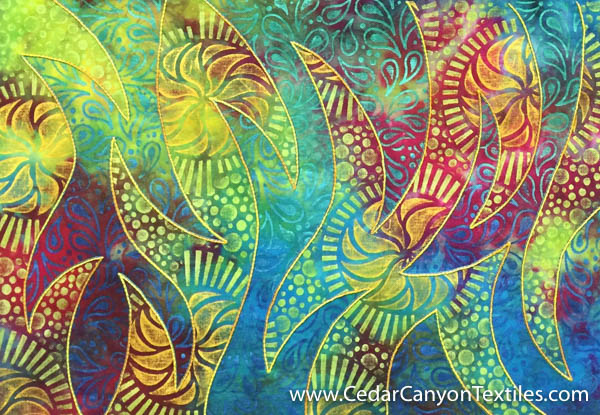 You can learn to paint custom fabric like this piece in my Whole Cloth Collage course. (This piece was part of Module 5 on two-layer masks.) Check out all the classes here.
Your Turn
Do you find yourself wandering off into uncharted territory with your projects? Do you question your sanity when your detour requires a major change in a pattern? 'Fess up below… (I hate to think I'm the only crazy person who does this!)