Are You Aching To Try Something New, But You Have A Room Full Of Fabric And Supplies That Are Just Gathering Dust?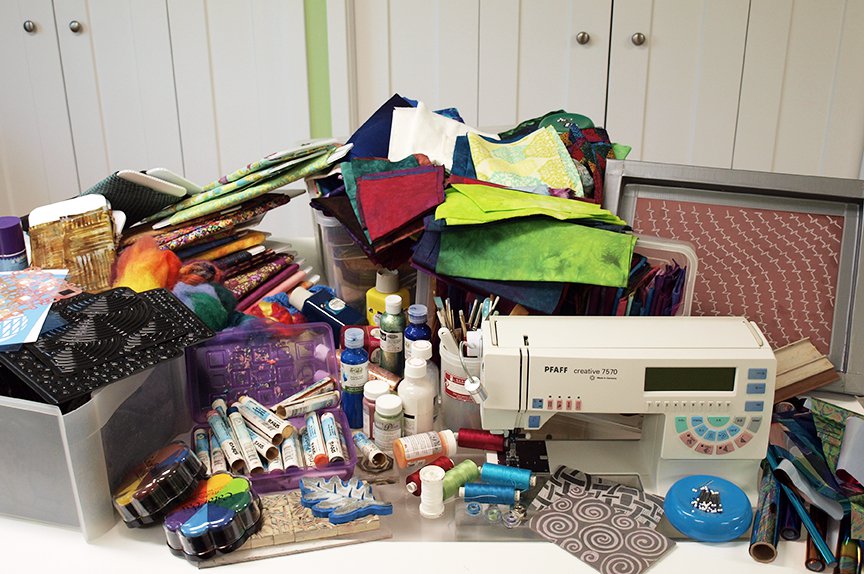 Do these thoughts ever cross your mind?
I want to learn new techniques but it takes too long to get really good results.

I wish I could make something easy and beautiful, and have people say "Wow! You made that?"

I'd love to do something really creative and different, but I feel like I can't until I use what I've already got.
You're not alone - and it's not your fault!
It's perfectly normal for creative people to have tons of good ideas and a fantastic stash. But most of us don't have a good step-by-step way to explore a new idea or technique, so we get frustrated and feel guilty about all our stuff. (It's not just you.) Fortunately, we can fix this!
When you're long on supplies and short on inspiration, the single best thing you can do is to dig into something new and explore every nook and cranny. You'll find a treasure trove of great ideas while you are creating some really cool new stuff. AND you'll find that your natural curiosity gets kicked back into overdrive.
Now, just imagine...
Finding a fabulous new creative fabric idea that you can do amazing things with, using supplies already on your shelves.

Getting excited about the variety of tools and supplies you have collected to feed your creative passions, because you have a completely new way to use them!

Knowing exactly how to create unique and beautiful fabric for any of your sewing, quilting or fabric art projects.
If this sounds exciting, you're in the right place!
I'm Shelly Stokes, founder of Cedar Canyon Textiles. I turn quilters (and others!) into artists every day by serving up inspirational ideas and easy-to-learn techniques.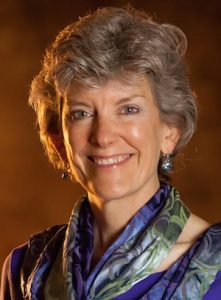 In lots of ways, I'm just like you...
I've always loved to do creative work, but about 15 years ago I was really struggling to find a look for my quilting and fabric art work that was uniquely "me." (Can you relate?) I was doing a lot of really nice work, even winning a few ribbons for my quilts. But something was missing. I hadn't found anything that I would help me develop a signature style.
I was really frustrated. I was dying my own fabric, studying surface design with an incredible teacher and mentor – but I just couldn't seem to put the pieces together in a way that felt like "me."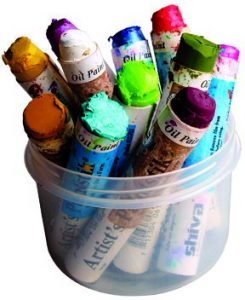 And then, tucked away in a book out of the UK, I discovered a totally cool paint product called Artist's Paintstiks. Now Paintstiks, believe it or not, are nothing more than "grown-up Crayons." If you are new to these tools, let me assure you they truly are simple to use.
I also started experimenting with rubbing plates, which are sheets of textured plastic and just about anything that had a textured surface (including the bottom of my tennis shoes!)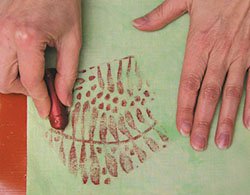 Do you remember making rubbings by putting a leaf under a piece of paper and coloring over it with a crayon? A Paintstik Rubbing on fabric is no different – we put fabric over a rubbing plate, and use our "grown up" crayons (Paintstiks) to transfer the design from the rubbing plate to the fabric. Simple – right? These are no more complicated than what we did in kindergarten – and definitely not rocket science!
But the results? They are simply incredible – and most definitely not child-like. I, along with my students and readers, have been having a great time creating fabulous quilts, bags, garments and mixed media art – some of which have garnered top prizes at the biggest quilt shows in the world. All with these wonderful "grown-up Crayons!"

I've spent all the years since I discovered Paintstiks, teaching people just like you how to play with them and create beautiful work with these simple tools and techniques.
In fact, I literally wrote the book on Paintstiks in fabric arts!
Since publishing my book, Paintstiks on Fabric: Simple Techniques, Fantastic Results, more than 40,000 creative people have learned to decorate their fabric with Paintstik colors from my books and classes. (And so can you!)
Why do I do it? Because it's fun, because I am in love with color, texture and fabric and because I believe that we are all really creative people – even if we don't always feel that way. I simply love inspiring you to capture the joy of creating cool stuff in your studio or sewing room.
You Are Creative.
~Even if you don't always feel that way.
Now I am totally confident that you have some great creative genes in you – even if you think they have been "hiding out" most of your life. Those little talent genes are there – and it's our job to uncover them! In less than a minute, I am going to share with you that one special secret that will change the way you approach all your creative activities.
But first, I want to make sure you are in the right place. I have an incredible secret to share. It's for you if you are tired of doing the same old thing with your once-favorite tools, if you feel like you're stuck in a creative rut – or if you feel like you simply can't start on anything NEW until you use up some of the stuff that's taking up space in your studio. If this is you… read on!

You don't have a patent on the creative "blahs"... It happens to everyone!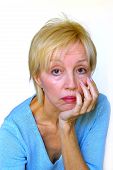 Today's big secret is important to you, to me, and to all of us at some point in our creative life. When we're stuck in a creative rut, or just simply bored with what we are doing, we get a case of the 'blahs' and drift away from our creative activities. When we're exploring something new, we get excited – and get back to having fun.
Now, I know what you are thinking, because I am just like you – and I still struggle with the same dragons. Do you ever think to yourself…
"I have tons of fabric, tools and craft supplies, but I just don't know what to do with them."
"It's too hard and it takes too long to really get good at a new technique – I'm sure I won't get over the hump."
"I'm so tired of struggling when I try something new – I just want to be able to make something beautiful quickly and easily."
I know exactly how you feel! So many times, I've been right where you are, wishing I could snap my fingers and *poof*, instantly master a new creative technique and start producing fantastic results in no time. Unfortunately, it doesn't usually work that way.
That's why I'm so excited about sharing this special secret. I just know that you'll be able to put it to use IMMEDIATELY – and get back to having the fun in your creative life that you deserve – and get back to loving all the wonderful goodies that you've collected over the years. And what's not to love about that?

As creative people, we are plagued by a short attention span.

Believe it or not, it's unfortunately true. As I traveled to trade shows, guild meetings and classes over the past few years, I have asked literally hundreds of people what holds them back from mastering a tool or technique. And over 90% of them say the same thing, "I just don't stick with it long enough or I'm too easily distracted by something new.
As quilters, painters, artists and crafters, we tend to learn something new, practice one or two variations, and then set it aside as we pursue the next new and exciting tool or technique.
The most obvious reason for this is simple: As a creative person, you are blessed with an abundance of curiosity and willingness to explore new things. But you may lack the patience and persistence to keep going back to the well with the same tools and techniques to see "what else" you can create from them.
Unfortunately, this short attention span and the tendency to move on to the next thing can lead to feeling guilty and getting down on yourself as you think "I can't believe I bought all this stuff and now it's just taking up space in my studio!" or "Why do I think I'll be creative with this set of tools when I've never mastered any of the other stuff I've bought?"
As a teacher, here's what I've learned that keeps creative people stuck. Ask yourself if any of these have stopped you before:

No step-by-step system.
Do you get stopped in your creative pursuits because you don't have a step-by-step system, just a bunch of ideas but no clue where to start?

Too hard a process.
Do you worry that you will use up a bunch of perfectly good fabric and supplies without anything to show for it because the process is too hard, so you never finished the project?

Can't get the results shown in the book.
Maybe you feel like you'll never be able to create something that looks like the picture in the book – and that you'll be disappointed in yourself, or that it will simply take far too long before you can create something you like.
If you can relate to any of these feelings, I'm excited to share that you can have a whole new relationship with the tools and supplies stashed in your studio. Now, here's the big secret that I've been promising you…

The secret to Creative Success is
PLAYING – WITHIN A FRAMEWORK.
To do that, you need STEP-BY-STEP
SUPPORTED LEARNING, using
simple tools and techniques, so you get
GREAT RESULTS RIGHT AWAY!

Getting stuck creatively is almost never a matter of talent or ability – it's a matter of process. And that's pretty easy to fix.
Now here is the key… the power of exploring a topic in a step-by-step fashion is that repetition builds confidence – and confidence boosts creativity. By having step-by-step expert guidance with a simple technique, you'll have fun immediately (which means you'll stick with your creative process long enough to develop it fully).
Then you never have to feel guilty about having yet another set of supplies that are just gathering dust or taking up space. You'll know exactly how to use them for any number of projects!
And if you follow this path, you will build your collection of beautiful, creative work right away, not to mention your confidence. Guaranteed!
In fact, I am willing to bet that if you use a step-by-step approach like I have been describing, you will find that you can't wait to get into your studio, to tackle the next step — and to have fun again. And that's what it's all about!
Best of all, this magically wonderful step-by-step process will be handed to you, because we've created it for you!

Get Totally Textured with Paintstik Rubbings!

Have you ever played with Paintstiks? My favorite thing about Paintstiks is that they have a fabric-friendly formula. And, because they are solid, Paintstiks can be used in totally different ways than ordinary textile paints.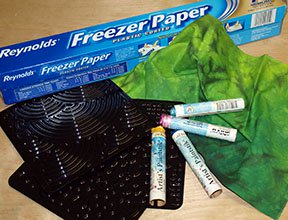 Today I would like to invite you on a new fabric art adventure that I call Totally Textured, where we will be using these wonderful Paintstiks and textures to create some pretty amazing fabric.
Maybe you're used to quilting, sewing, or other ways to play with fabric. What if you could actually CREATE unique fabric for your projects?
So, what exactly is a Paintstik Rubbing? It's a technique — a very simple technique — for transferring the design elements from a textured surface onto fabric with Artist's Paintstiks. It's as simple as putting fabric over a textured surface and coloring with Paintstiks.
Before I say more, here's just one example of what you can do with your Totally Textured fabric. I used one of my pieces to create a gorgeous handbag. (The only problem is that I have to guard it with my life!)

Now rather than simply writing another book that winds up in the pile of " I'll get to it soon " reading materials in your studio, I've created a series of step-by-step lessons (yes, that systematic learning system) to guide you through your Totally Textured Adventure. I have nothing against books, mind you. It's just that I know that most of you will learn a whole lot more from a series of guided lessons than you will from a book.
And, by the way, you don't need a dedicated studio, work room, or even a special work table to have a ton of fun with this process. If you've got a desk or a countertop that you can clear off to use as a work surface, you have plenty of room to make some really cool Totally Textured fabric.
I'll never forget reading that Lesley Riley, a super-talented mixed media artist, spent years in a home where her work table was nothing more than a board that she laid over the top of her bed. And believe me, she produced amazing amounts of incredible art on that make-shift work table!

The Totally Textured Fabric Art Adventure

I love adventures, and I want to invite you to join me on this one! We are going to have tons of fun, learn some really useful skills, and create some really cool fabric. By the end of your adventure, you will…
Transform some of the fabric that's sitting in your work room into exciting new projects.

Be excited about having Paintstiks and Rubbing Plates in your toolbox because you will know exactly how to use them.

Know that you can create fabulous fabric with confidence for all your quilting and fabric art projects at any time.
Now, you may be thinking that's a pretty lofty set of promises, but I can assure you that we've got you covered along every step along the way. Let's take a look at everything that comes with your Totally Textured Adventure, starting with the step-by-step lessons.

Fabulous Fabric in Six Lessons

The key element to our adventure is a series of weekly lessons that are specifically designed to do two things: First, to explore the design concepts one-at-a-time instead of lumping everything together in a single session; and second, to combat our 'short creative attention span' by working on new skill in a systematic fashion.
There are six lessons on our Totally Textured Adventure. The first lesson lays the foundation for a successful adventure – much like packing your suitcase and checking it twice (or three times!) before you set out. Then, we will explore this technique from one extreme to the other — from fill-the-fabric personal prints to portraits and masked marvels — and from soft and subtle to dramatically detailed rubbings.
Let's take a closer look.
Module 1: Paintstik Rubbings & Fill the Fabric Prints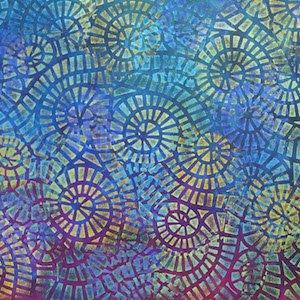 The whole Totally Textured Adventure is based on Paintstik Rubbings. In this first lesson, you'll learn everything you need to know to make really good rubbings – including all of the tips, tricks and "secret weapons" that I've acquired over the past 15 years.
Why you should always have a good supply of "sticky stuff" in your work room or studio.

How to dramatically improve your results with one simple change to the way you paint.
Plus, we'll explore the ins and outs of creating Fill-the-Fabric prints that will make your next project an attention-grabbing delight!
Module 2: Picture Perfect Rubbing Plate Portraits & Multi-Color Rubbings
Practice makes perfect — once you know all the secrets. After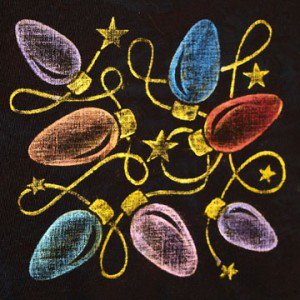 lesson 2, you'll have the secret code for making amazingly tidy rubbing plate portraits using a rainbow of colors.
You will learn:
Why a shadow (rubbing) is your best friend.

How to make multi-color rubbings without creating a mess.

How to remove the occasional "oops" that happens to all of us
And, just for fun, we'll take a short detour to the opposite end of the spectrum to play with "joyfully messy" rubbings. Such fun!
Module 3: Masked Marvels (Shape Shifter Rubbings)
Simple concepts create endless possibilities. In Lesson 3, you'll discover how the "super powers" of freezer paper can be harnessed to take Paintstik Rubbings in a whole new direction.
Specifically, you'll spend time experimenting with: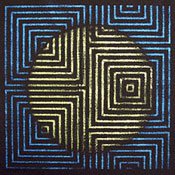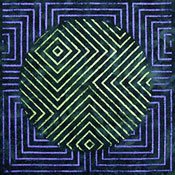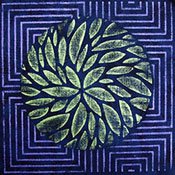 Color Shifts – See how easily you can add amazing color effects, from subtle to dramatic, and create beautiful fabric that will spice up your wardrobe or blend perfectly with your home décor.
Directional Shifts – Create fantastic optical illusions in a flash. It's laugh-out-loud easy!
Texture Shifts – See how a simple change of texture can create depth and contrast, and how you can use this concept to create any style of fabric, from funky and fun to classic and elegant.
With freezer-paper masks in your toolkit, you'll be ready to experiment with frames, borders — and even whole-cloth collage!
Module 4: Rubbings In The Round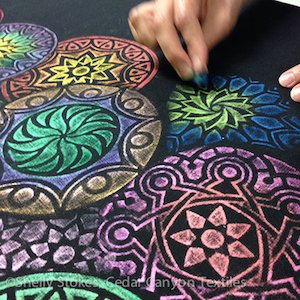 Some ideas are super simple, and others are delightfully clever. In this lesson, you get a little of both! You will learn:
Two ways to create circular rubbings from square rubbing plates (No, you don't have to cut up your precious collection of plates – if you don't want to!)

How to create a "coins in the fountain" look with overlapping circular images

A really slick way to make the edges of your circular images look almost perfect – even when you know they are not!
Module 5: Soft, Subtle Rubbings & A Texture Safari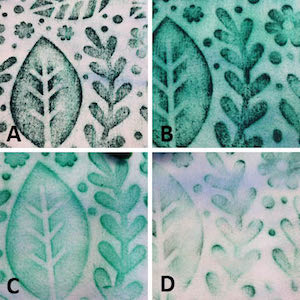 And did I mention the Texture Safari? This is going to be fun!
When bold and bright is not the right answer, it's time to tone it down. Lesson 5 is all about ways to create softer versions of Painstik Rubbins that can add a hint of texture of face into the background.
This lesson will cover:
At least 3 different options for making "quiet" rubbings.

My secret recipe for making the world's best daubers!

A method for making Painstik Rubbing test samples that make it easy to pick the perfect Painstik Rubbing technique for your next project.
Module 6: Dramatically Detailed Rubbings from Rubber Stamps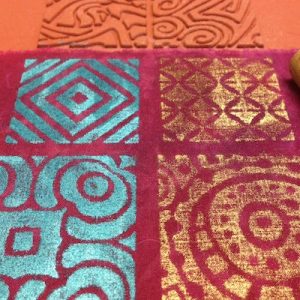 When you want to work small — and detailed — you have to change your style. What worked for Lessons 1 through 5 simply won't cut it when it comes to Rubber Stamp Rubbings.
This lesson will include:
A simple change to your painting style that will dramatically improve your results

A very cool method for building complex images from lots of little "parts."

A simple way to repeat a design with running stitches.

Tips and insights from the Queen of Rubber Stamp Rubbings, the one and only Laura Murray.
Uh, oh… Do you hear that little voice in your head spouting off a bunch of those pesky I CAN'T statements? That's perfectly normal, but don't give up just yet. Let's tackle a few of these I CAN'T gremlins.
This is going to take too long… It takes me forever to get good at something new.
No, it won't take forever. I will be right there with you at every step, and make sure you have everything you need to start getting great results quickly. And I do mean quickly. If you follow the steps in the lessons and do each exercise, you'll see very cool results in minutes – or perhaps a few hours. You will not need months or years of practice to create something beautiful!
But Shelly, I've never used Paintstiks before. Is this going to be yet another new thing I try, but never get good at?''
Don't worry – Paintstik Rubbings are fun for absolute newbies and people with lots of Paintstik experience. I promise that you can make beautiful fabric art in hours and days, not months or years. I will share all my Secret Weapons and every tip I know to make sure you are successful.
I'm a quilter, not an artist. What will I make with my Totally Textured fabric?
This is the really cool thing about playing with Paintstik Rubbings. Once you create your fabric, you can turn it into a quilt, make a tote bag, create unique pillow covers and other home decor goodies – even stitch your fabric into a totally unique garment with your favorite clothing pattern.
Oh Shelly, I already have so much stuff in my work room… how can I possibly justify investing in anything new?
I totally understand how you feel. But think about this. As creative people we need that spark, that something new, to get our creative juices flowing. And a small investment in Paintstiks and a few rubbing plates (if you don't already have them) can get you back into your work room, using up fabric you already have – and feeling great about what you are doing!
Remember, all those I CAN'T statements are exactly what's keeping you from truly enjoying your workroom, your treasure trove of fabulous supplies and your creative life. When you hear yourself saying I CAN'T – and then decide to do it anyway – that's when you'll get back to having fun!
Really – you CAN do this! But don't take it from me. Here is some feedback from students who have already taken this course...
For me, it is the combination of approaches that really fleshes out the techniques you are presenting. Watching a demonstration plus having written step-by-step instructions, with the addition of suggested practice exercises really touches all the bases.
My husband has always admired the military style of teaching where he declares, "They tell you what they are going to teach you, then they teach you, and they finish by telling you what they have taught you." Your approach seems equally thorough; plus it is highly enjoyable!
Sherry Whitford
Virginia, USA
Totally Textured Online Course
The instructions/photos are super… followed with a video… it can't get any better. The exercises are fine as well and gives each of us the option to do or not to do – given our interests must be clearly varied.
I am a visual learner. I loved the videos & pictures! Your lessons are very well laid out. They are concise and to the point!

~ Totally Textured ~
A Six-Week Adventure for $129

What's included? I'm glad you asked! Let's take a look at all wonderful resources that are included with your course.
Six Weekly Lessons, Beginning April 4th, 2016
A detailed material list, right down to the specific rubbing plates and paint colors I use in the samples.
A thorough review of the topic for the week including video demonstrations where appropriate.
Tips, Tricks and Secret Weapons that will make it easier for you to be successful with this lesson.
Specific exercises to get you started as you explore the technique.
Permanent Access to your lessons in our Ruzuku classroom, including any updates made to the course in the future.
The link to your lesson will arrive once a week in your Email just like clockwork. That's your cue that it's time to make an appointment with yourself to pull out your Painstiks and textures and explore the next phase of the adventure.
Sign Me Up Now For The Totally Textured Fabric Art Adventure!
The lessons alone are worth the price of the course, but you'll get a whole lot more… 

Bonus #1: Private Online Interactive Group
Along with your weekly lessons, your classroom includes a private discussion areas where you you can ask questions, post photos of your work and chat with your classmates. 
A safe and supportive environment for asking questions and getting feedback,
A way to connect with the other participants in the course, and 
Endless inspiration as you "see" what your friends in the group are creating!
You'll get far more out of the course when you activity participate in the online discussions. As a matter of fact, I can just about guarantee that some of the coolest "aha" moments will come from the conversations in the group — and not from my pre-planned lessons. (And I LOVE when that happens!)
Bonus #2: Personal Attention in a Small Group Setting – for Eight Amazing Weeks
This course is limited to 100 people so that I can give each and every one of you the attention you deserve. And we'll have 8 amazing weeks together. Not 8 hours, not 8 days, but 8 entire WEEKS where you can learn at your own pace and on your own schedule. (That's 6 lessons in 6 weeks plus 2 Bonus Weeks to ask questions and get feedback and the end of the course!)
Through the online forum, I will be answering any and all questions you post, providing encouragement, and giving you the personal feedback and guidance that you deserve.
Now, I know that 100 students may seem like a large group, but it's not. The reality is that only a portion of you will chime in with questions and post your photos – and the rest will be happily lurking in the background, soaking up all the inspiration! 
So don't worry… you'll get plenty of my time and attention. I promise! Having lived and worked with Paintstiks (not to mention eating and practically sleeping with them!) for more than 15 years, I'm the perfect person to serve as your guide on this creative adventure.
Creative learning can be hard!
Our private classroom is the perfect place for talking about the hard stuff. The things that keep us stuck. The old messages that keep coming up as we learn new things. The feeling that "it will never look as good as the picture in the book" — or the real zinger — "I'm not good enough." 
I'll be there for you when you feel like you're dragging yourself through the creative muck – and so will the other students in the class. I've watched this time and time again — and I know you'll  find plenty of support when the going gets tough.
Creativity, Connection, Community
When you get right to the bottom of things, the real reasons for joining me and for joining this group learning adventure are simple. It's the connection. It's the community. It's the opportunity to nurture your creative spirit while you learn some exciting new skills — and create amazing fabric. 
Former Students Love the Discussion Group!
I was a bit doubtful about joining the discussion group at first, but still woke at 2am (New Zealand time) to register so I would be involved in the discussion group. I have found this to invaluable, seeing and reading what other students are doing. I will set the alarm again next time to ensure I get in the discussion group.
Gail Downey
New Zealand
Totally Textured Online Course
I like the feedback, and how everyone supports and encourages each other. Lots of good ideas and some spectacular work.
I like the discussion group, even though I haven't posted much of my own work. I enjoy seeing the lovely things other have produced, and even seeing things others post that they didn't actually like much. The feedback is great and I've gotten some great ideas from other people's comments.
Sign Up For Your Totally Textured Fabric Art Adventure NOW!
This is where the rubber hits the road. It's time to get registered.
Your investment in this 6-Week Adventure is $129. No plane tickets, no driving, no hotels, no restaurants. Just one flat fee for 6 weeks of learning from the comfort of your own home.
I'm not going to do a big song-and-dance on why that's such an amazing value. (Even though it is!) Only you can decide if it's right for you — if a gift for the creative little girl inside of you is worth $129. If you say YES! — and I truly hope you will — here's the next stepIf this course is right for you – and I truly hope it is – here's your next step.
What To Do Next
If you want to take the class, sign up now. As in RIGHT NOW. Don't hesitate. Don't fool yourself that you'll think about this later. Just click the button, fill out the form – and give yourself a big pat on the back for treating yourself to a marvelous creative treat. You're more than worth it!
Before you go, fast forward a couple of months...
Imagine that it's three months from today. Are you still feeling guilty when you look at the samples from past courses in your closet? Even worse – are you avoiding your work room altogether to avoid the guilt?
Or, are you celebrating the completion of your Totally Textured adventure, feeling great about how much you learned, and planning that one-of-a-kind project for the fabric you painted?
It's your choice. Join the fun – or risk staying stuck. As for me, I'll be blazing the trail for the Totally Textured adventurers, and we'll be whooping it up, chatting and laughing all along the way. Come join the fun!