If you've been with me for a while, you know I have this thing about Sticky Stuff. In fact, if I had a nickel for every time I shouted the praise of Sticky Mats and Sticky Spray, I would be sitting under a palapa in Mexico instead of looking at the snow outside my window. But… I digress…
What I really want to tell you today is that I'm adding a New Sticky Thing to my toolbox. It has been sitting next to my desk for almost 2 years, but I didn't even think about how useful it might be until a few days ago.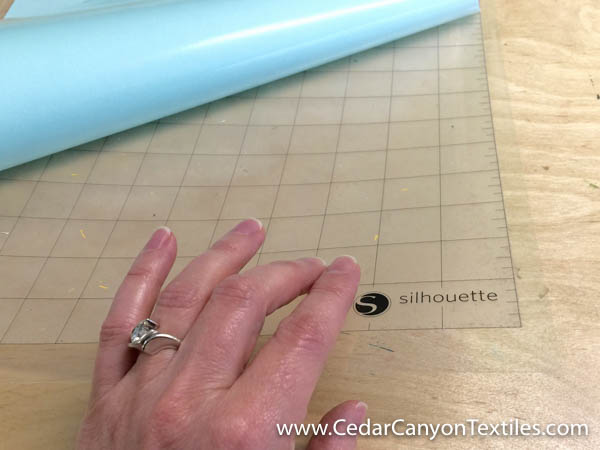 So what's my new Secret Weapon? It's the Sticky Cutting Mat from my Silhouette Cutting Machine. And, you are probably thinking… What's the big deal? Let's just say that I never considered using this self-stick wonder separate from the cutting machine.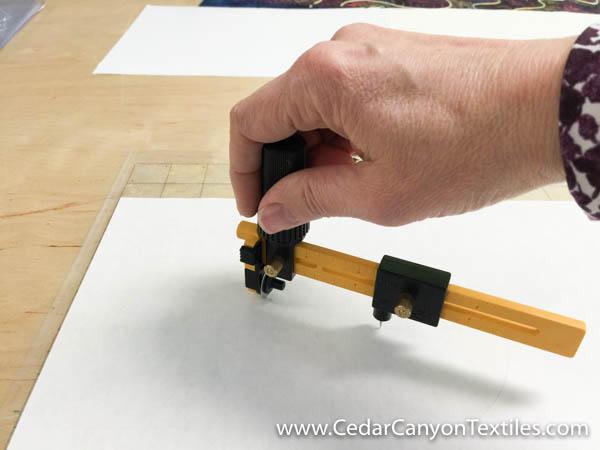 My big "aha" moment came as I was doing experiments with the cutting machine — and comparing the results to doing the same task by hand.
Clearly, it's more accurate to cut circles with a computer-driven cutter. The paper goes onto the sticky cutting mat, the mat goes into the machine and the machine does it's magic.
As I watched, I wondered if the sticky cutting mat would help me make more accurate circles with Olfa's Circle Cutter. Hmmm… off to the studio with a Sticky Cutting Mat and a stack of freezer paper.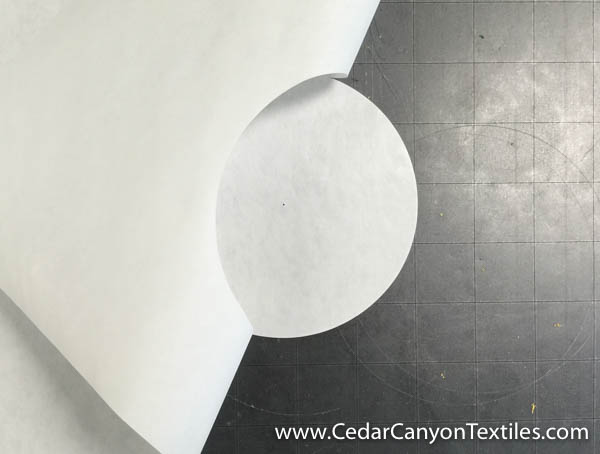 I gave myself a few sheets of paper for practice. (I always seem to put too much pressure on the circle cutter.) I stuck the paper on the cutting mat, shiny side down, cut the circle and peeled up the paper to see how well it worked.
After getting warmed up, I peeled the paper off my last attempt…

… and found just the smallest bit of mis-match at the start/stop point of my circle. Not bad!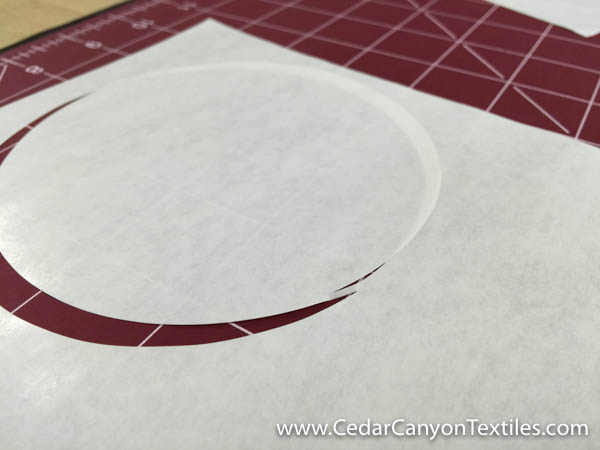 For comparison, I put a sheet of the freezer paper on a regular cutting mat and cut another circle with the Circle Cutter. For me, using a plain (non-stick) mat was not nearly as accurate.
A New Secret Weapon?
I'm not convinced that a Sticky Cutting Mat is going to make it onto my short list of Secret Weapons, but I will definitely keep one in the studio. The mats won't hold up to everyday rotary cutting, but there are times when they will be a perfect "sticky" solution.
Resources
I use a Silhouette Cameo cutting machine, so I am most familiar with the Silhouette Cutting Mats. Similar mats are available for Cricut machines (and most likely from any company that makes a computer-driven cutter). Both are readily available doing a quick search on Google for Silhouette Cutting Mat or Cricut Cutting Mat.
If you are not familiar with my favorite sticky tools, you can ready about them here.
Better Tools for Better Rubbings: My Favorite Tips explains how I use Sticky Mats and Sticky Spray when I make Paintstik Rubbings.
Tool Talk: Grip-n-Grip Mats has great information on how to clean those Sticky Mats
Your Turn
What would you do with a Sticky Cutting Mat? Post away! I'm sure you can come up with some ingenious possibilities.