There are a lot of daubers available in craft stores, but most of them aren't worth the powder to blow them to you-know-where! Fortunately, you can make a lifetime supply of fantastic daubers with a few simple materials.
I'll be honest, I never gave daubers much of a thought until I was in a class with Jane Dunnewold a number of years ago. She taught us to use daubers for stenciling, especially if we had trouble with liquid paint running under the edges of our stencils. (And yes, that would be me!)
When I got home from class, I did a few experiments and found that I needed some REALLY dense foam for the inside of my daubers. You won't believe it; I found the answer in the toy section of the store. Yes, Nerf balls to the rescue! Read on for my secret method for making the best darn daubers out there.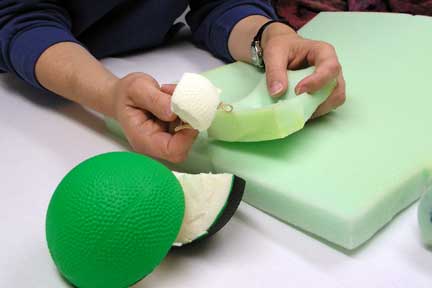 To start, you need a Nerd-type ball, a sheet of upholstery foam, a pair of heavy-duty scissors and some rubber bands.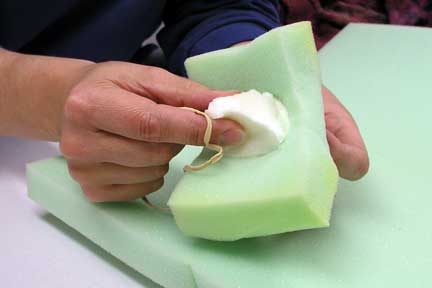 To make a dense center for the dauber, cut a chunk from a nerf ball. I sliced the ball in half, then in quarters and then cut off a chunk.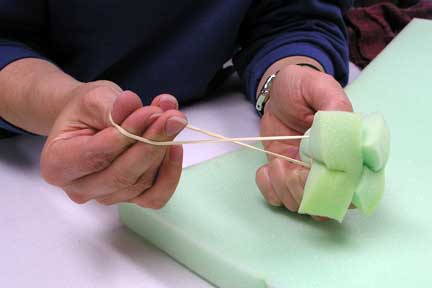 Cut a square of upholstery foam and wrap it around the chunk of Nerf ball. Wrap it tightly with a rubber band to form a really nice, dense dauber. Trim the excess foam any way you like, but leave enough to make a nice handle.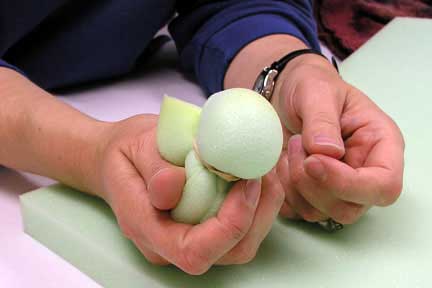 There you have it – the best darn dauber out there! After you use the dauber, you can clean it just the way it is, or you can unwrap the rubber band and clean the foam in a flat piece. When it's clean and dry, wrap it up again and you're ready for your next adventure. When the foam wears out, just replace it with a new piece.