Now that winter is setting in, I'm ready to get back to my print-making experiments. My next project is to make positive and negative prints with my hand-carved linoleum blocks. (If you missed the articles on carving your own stamps from linoleum blocks, click over to the blog and search on "linoleum".)
Before we jump right into making prints, I want to take time out to tell you about a really cool tool – a gelatin plate. You heard me right, I said a gelatin plate (and that's gelatin – not Jello!) A gelatin plate is the perfect tool for reversing an image. If you've never played with gelatin printing, you will just have to trust me. It's a lot of fun, and they really come in handy.
You can easily make a gelatin plate with unflavored gelatin, or you can purchase a permanent plate. Let's start by making one so we can try out the process.
Make Your Own Gelatin Plate…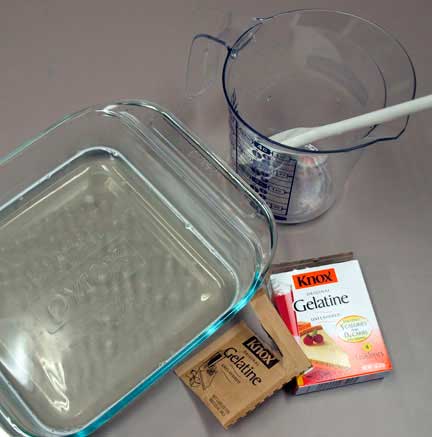 Ingredients: You need one box (4 envelopes) of Knox® Unflavored Gelatin, some water and an 8″ square cake pan (or something similar).
To make the gelatin, pour one cup of cold water into an 8″ square pan. Add all the contents of all four envelopes from the Knox® gelatin box into the pan. Stir until partially dissolved. Add one cup of very hot water to the pan. Stir until the gelatin is completely dissolved. Refrigerate the pan until the gelatin is set.
See? It's easy! Next week, I'll be sharing the first of my gelatin printing experiments. If you want to play along with me, pick up a package of unflavored gelatin when you do your grocery shopping. You're much more likely to jump into the fun if you don't have to run to the store.
Buy A Permanent Gel Plate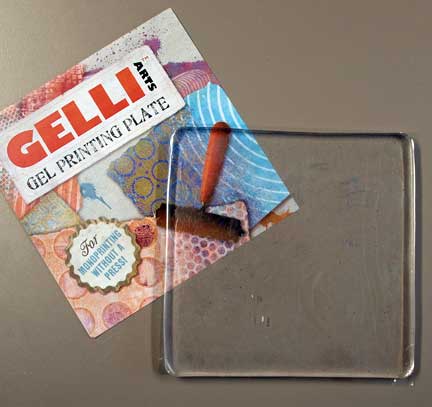 I recommend that you make a gel plate the first time you do gelatin printing. If you like it, great. If not, you haven't purchased yet another tool that takes up space in your studio.
On the flip side, you may fall in love with the gelatin printing process, but dislike the time element of making the plates (or storing them in the refrigerator while keeping the family from trying out the funny-looking dessert). In this case, consider buying a permanent gel plate from Gelli Arts.
The Gelli Arts plates are made from mineral oil, and they're ready when you are. That makes me very happy! The plates come in 3 sizes: 6″ x 6″ ($20), 8″ x 10″ ($30) and a really big 12″ x 14″ ($65).
We don't sell the Gelli Plates in our Online Store, but they are easy to find online if your local retailers don't carry them. Just check your favorite fabric art supply sites, search on Gelli Arts Gel Printing Plate or go directly to GelliArts.com.
Check back next week for the first installment of my gel printing experiments. I'm going to make good use of my linoleum blocks. You're welcome to join the fun. See you then!