I have a confession to make. I like circles – and dots – and just about anything round. (I'm not sure where this came from, but I suspect it came from my "extra" sister, Deb.) At any rate, I often want a circular shape when I'm playing around with my Paintstiks or other goodies in my studio. I'd dearly love to have a whole series of circle stencils in graduated sizes, but I've been much too lazy to make them.
Fortunately, our friends from Olfa have a nifty Rotary Circle Cutter that works great for cutting circles from paper or fabric.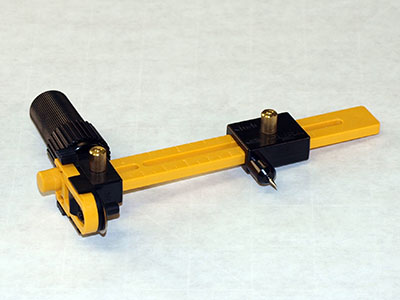 It's a nifty tool that combines a little bitty rotary cutting blade on one end with a very sharp spike on a slider. It's basically a compass for drawing circles with a cutter instead of a pencil. By the way, be very careful handling this thing once you take the cover off of that spike. That baby is sharp!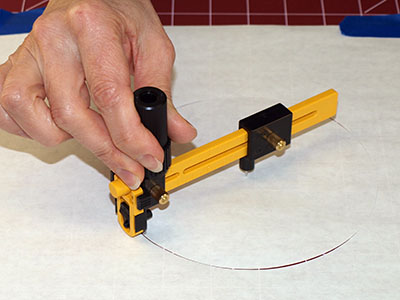 The process for cutting a circle is pretty simple. Choose the size of the circle using the markings on the tool, push the spike firmly into your cutting mat where you want the center of the circle to be, and run the cutter around in a circle. Before I forget, here's a tip: If you're cutting paper, use a few pieces of tape to secure the paper to your cutting mat. That makes it a whole lot easier to get a good result.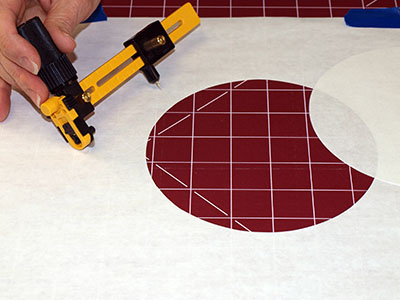 One quick pass with the cutter and you have a circular cutout and a background.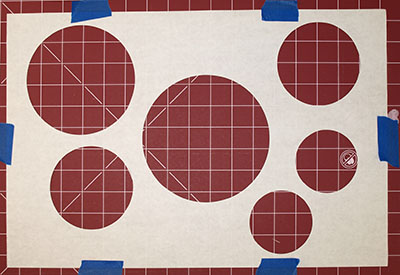 You can make one circle cutout on a piece of paper – or a whole bunch. Swiss cheese anyone? This tool is definitely going to come in handy as I continue to explore the Shape Shifter concept. I can make circles exactly the size that I want to, without cutting them by hand or being limited to the sizes available for die cuts. I like that!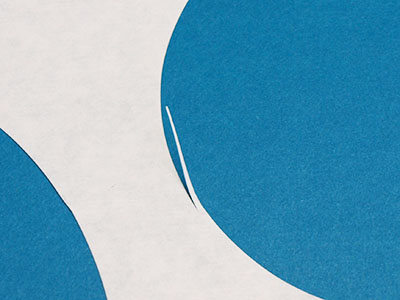 The downside of the circle cutter is that the start/stop point of the circle is not necessarily perfect. At least, not in my quick experiments. (Like everything else, it probably gets better with practice.) Whether this matters, depends on what I'm doing.
If I'm using the cutout and background to mask off fabric for making rubbings (see the Shape Shifter article), that little imperfection won't make a difference. But if I'm planning to use the background for a stencil, this little "oops" will definitely show in the final product. The bottom line is consider what you are doing and how precise it needs to be when choosing your tools.