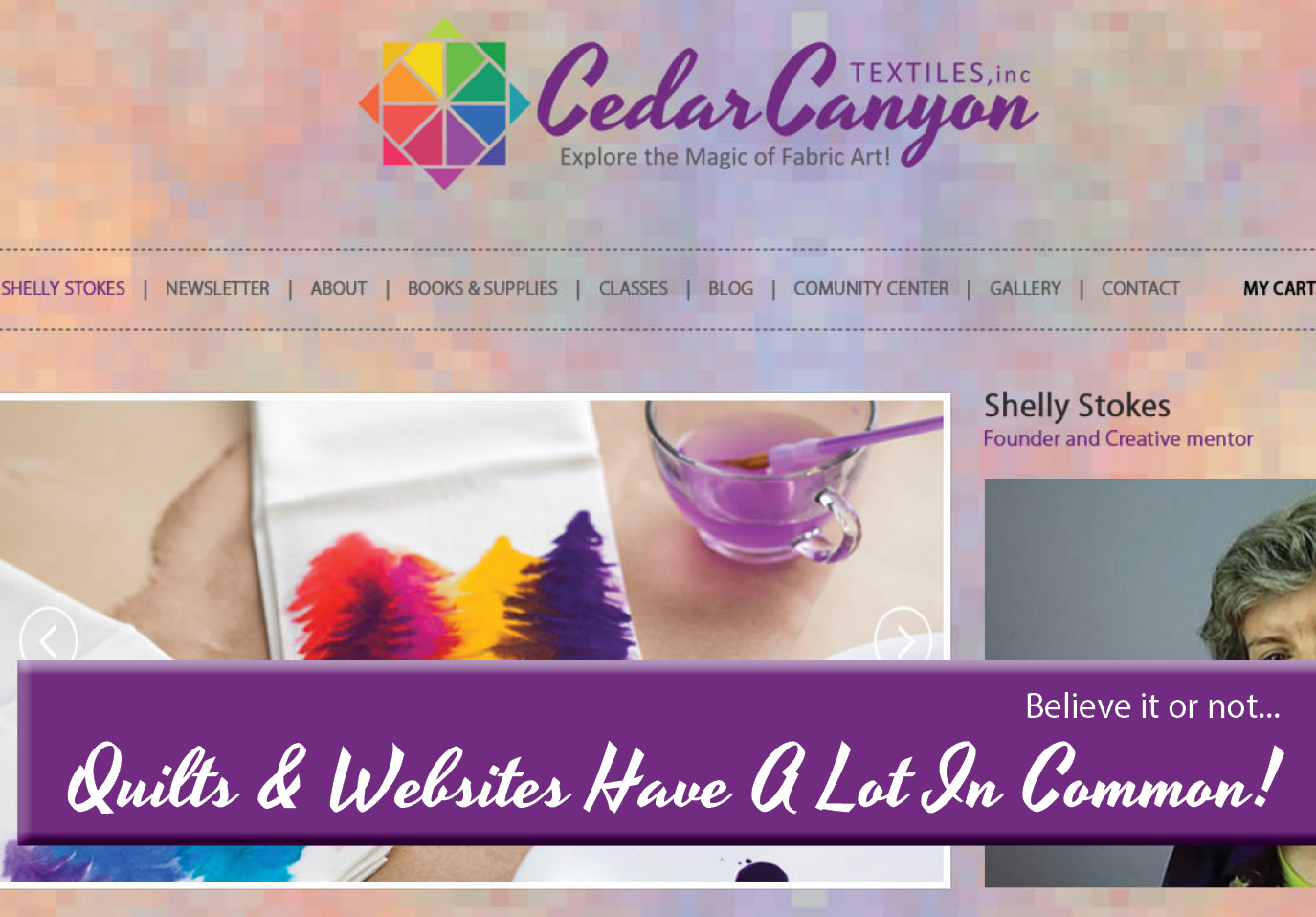 Image caption goes here
As I have been working on the new website for Cedar Canyon, I realized that building a new website is a lot like making a quilt. If you're thinking, "oh boy, there she goes again," hang in there with me. Quilts and websites have a lot in common. Here, I'll show you how…
Structure, Color, Background
When you make a quilt, you start with a pattern. Unless you are working on an original design, you start by browsing through books and patterns to decide what you want to make.
Building a new website begins much the same way. You browse around the internet to find sites you like – and borrow the best of the ideas for your new site. The key is to Steal Like An Artist by incorporating these ideas – not just making a copy of someone else's site.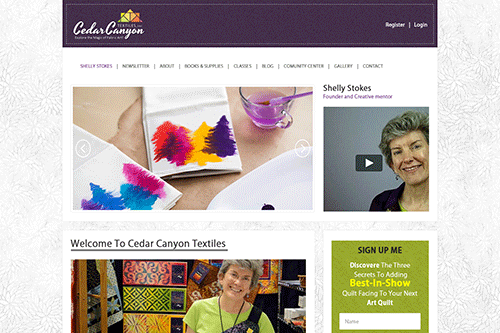 Image caption goes here
The first big decision was about color. Should the background be gray-scale…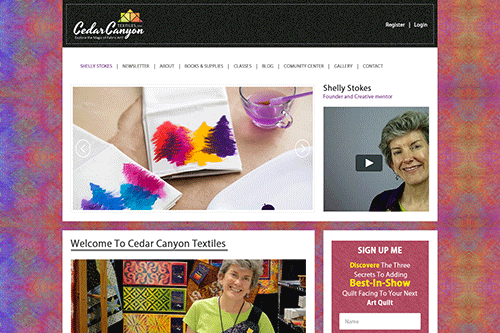 Image caption goes here
…. or should it be color? If you've been with me for more than a day or two, you know that I'm all about color. But this color option was pretty bold, even for me.
Now, if I were making a quilt, I would dig through my stash – or go shopping! – to find a background that was Just The Right Color. That doesn't quite work for websites, so I took a deep breath and entered the never-never land called Photoshop.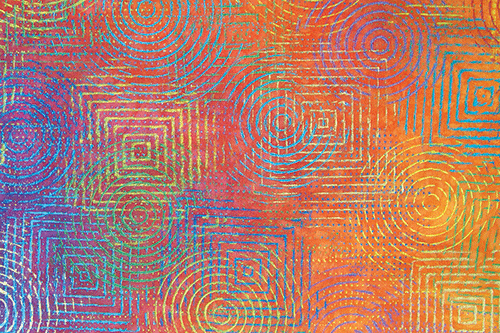 Image caption goes here
The starting point for the background was this image from the front of the Paintstiks on Fabric book. My challenge was to soften the image so the lines were less distinct. (It's a good thing I like challenges!)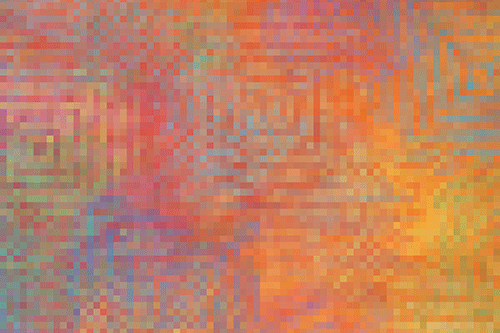 Image caption goes here
Thankfully, Photoshop has bunches of things called Filters that you can apply to manipulate and distort images your heart's content. This was interesting, but still not quite what I had in mind.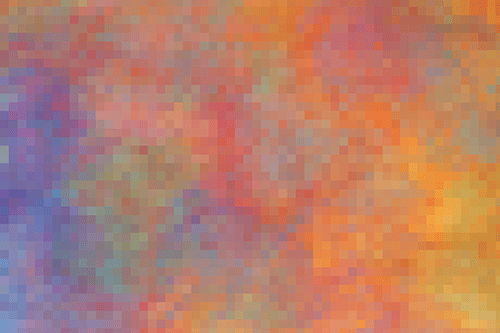 Image caption goes here
After a couple of hours of dinging around, I finally settled on this image. I kept the colors from the original image, but softened the circles and squares. I was making progress, but the color was Still Too Strong. Hmmm… how to soften the color.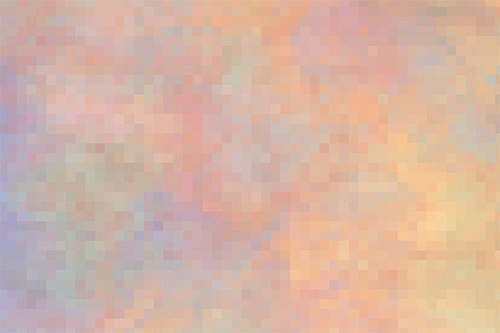 Image caption goes here
I got my brain back in quilting mode and said, "Hey — this is a Value problem." If I were choosing fabric for my quilt, I would find something in a lighter value. Once I got my art brain talking to my engineering brain, I found a setting in Photoshop to remove half the color, and finally had an image we could use for the background. Whew!
But, (there's that But again…) I didn't like the solid bar at the top of the home page. Back to the drawing board. Was it time for a new logo? Was there a better design for the top of the page?
Design Changes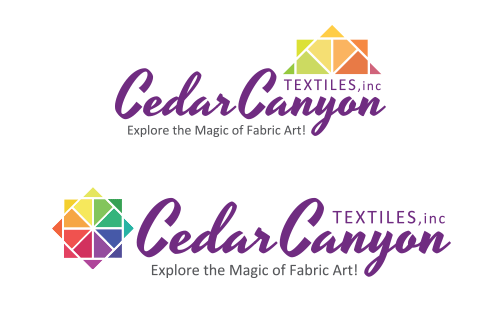 Do you ever look at a quilt pattern and decide to make a change? It always Sounds Like A Good Idea, but the doing can be more challenging than it looks. Feeling really adventurous, I fired up Adobe Illustrator to do a little makeover on the logo.
This is the stuff that I normally send off to a graphic designer, but that's not always the right answer. Sometimes it is more work to explain what I want than it is to do it myself, even though you could fit all of my Illustrator skills in a thimble! It took a few hours, but I'm pleased with the fresh look for the Cedar Canyon logo.
A New Site Takes Shape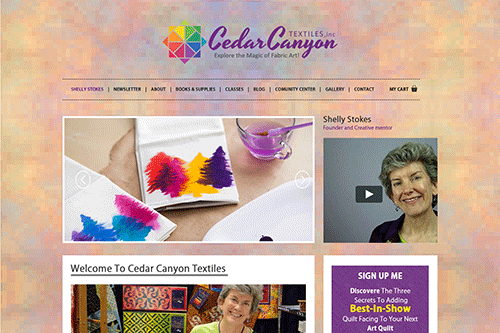 Image Caption Goes here
After torturing my designers by having them show me a dozen different backgrounds and a couple of logo options, we finally settled on the bones of the new website. I like the warmth of the background and the way it complements the photos without being distracting.
Now that the major design and color choices are made, it's time to cut fabric and make blocks… oops, make that choose photos and write copy. Just like making a quilt, it takes a lot of butt-in-chair time to get it all done. See, Quilts and Websites DO have a lot in common!
Your Turn
Do you have a website? Do you do it all yourself – or hire it out? If you have a story to share, I'd love to hear it.