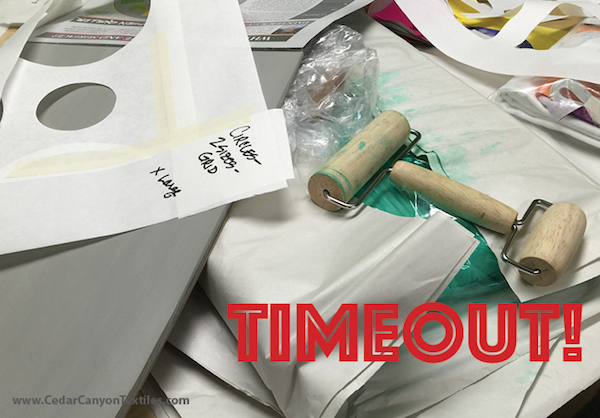 Are you good at keeping your workspace neat and tidy? If so, can I borrow you for a week or two? When I get busy, I tend to pile stuff on any and every horizontal surface. In Multiple Layers. (Just ask my husband, who knows that entering my office or studio can be hazardous to his health during said busy times!)
But, even I have my limits when it comes to piling stuff higher and deeper. When that moment comes, I call a Timeout, and do as much Studio Cleanup as fast as I can. On a lark, I took some photos and made a list of everything I put away in the space of 1 ½ hours.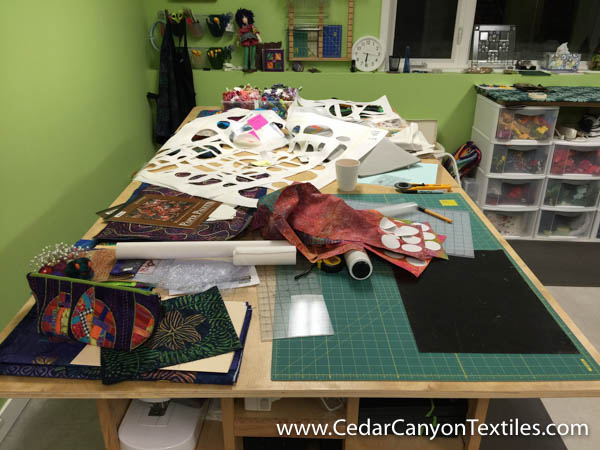 Here's the (unbelievably long) list of stuff piled on that work table…
   1 Piping Hot zip bag from my friend Deb

   1 turtle that holds the big pins for my Design Wall

   3 rulers

   1 X-acto knife — without the cover (accident waiting to happen)

   2 rotary cutters

   1 grip-n-grip mat

   2 cutting mats

   2 Silhouette cutting mats (one uncovered gathering dust and lint)

   1 roll of freezer paper

   1 tape measure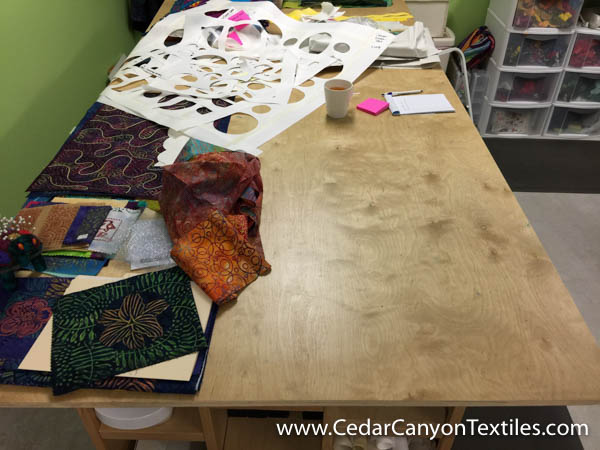 That was progress, but it was just on the first end of the table! There was more… lots more…
   8 different masks and the associated cutouts for my Whole Cloth Collage course

   1 bag of sewing supplies from a class I took 10 days ago

   painted velcro pieces I made for a Quilting Arts TV segment (100 years ago, perhaps?)

   3 pads of palette paper

   yet another ruler

   various pens and markers

   3 pieces of batik I'm using for a Whole Cloth Collage lesson

   Clay matrix and roller from my Clay Prints class with Zahava Sherez a couple of weeks ago

   Olfa Circle Cutter

   mechanical pencil

   a set of new rubbing plates from Roylco that I need to test with paintstiks and fabric (of course)

   a step stool that needs to be put away before I break my neck

   a pile of painted samples from my Whole Cloth Collage class

   a pile of painted sales from the Totally Textured class that need a permanent home

   a few painted samples that I THINK I want to doodle on with embroidery (maybe, someday…)

   samples from testing color combinations for a big project a Long, Long time ago.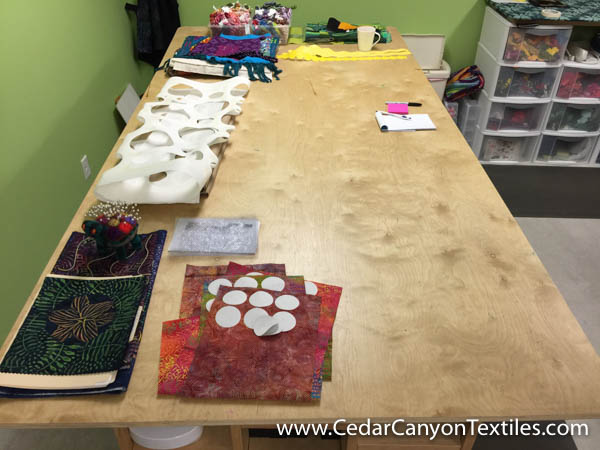 No, I still wasn't done, but I could see a whole lot more of the table top!
   An unfinished quilt that needs to go back into the closet for another day

   a stack of embroidered pieces I acquired during my last trip to Mexico

   3 strips of shaped Frog Tape that I want to play with for a blog post

   2 pins of embroidery thread that needs to be wrapped onto floss bobbins

   a stack of fabric for an unfinished challenge — that shall remain unfinished for a while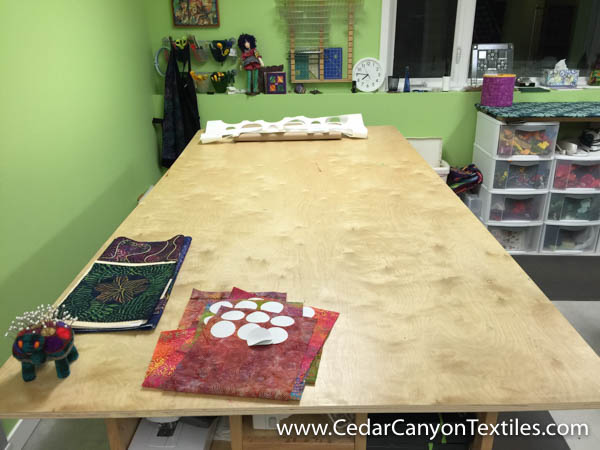 Mission accomplished! The only things left on the table top are for the lessons in my Whole Cloth Collage class. Woohoo!
I was on a roll, so I tackled the sewing island as well. After putting my machine back in the cabinet and re-stringing the cords, I had another pile of stuff that needed to be put away.
   a roll of masking tape

   2 boxes of beading supplies

   packing tape

   super glue, and

   a spray bottle that belongs by the iron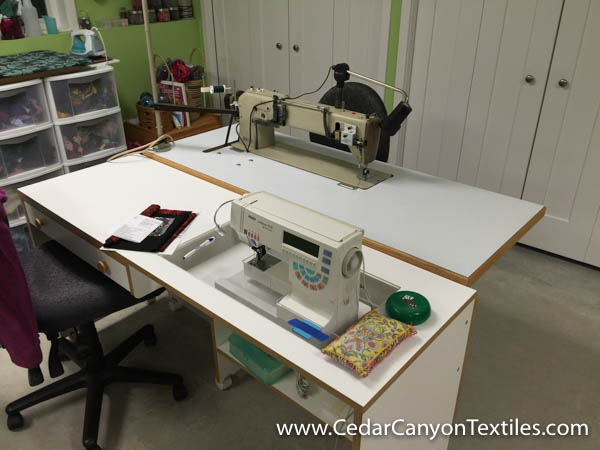 And did I mention that I'm married to the most wonderful guy? Jack hauled out the vacuum cleaner and sucked up all the dust bunnies while I was off running errands. What a sweetie!
Alas, my studio will never be neat and tidy all the time. At least not in my lifetime. It will get piled higher and deeper again, and I'll blow the whistle for another Studio Cleanup Timeout. (Sigh. Very heavy sigh.)
Your Turn
What's the thing that makes you call a Timeout in your creative space? One too many things missing? No visible table space? Leave your confessions below. I promise I won't tell a soul!