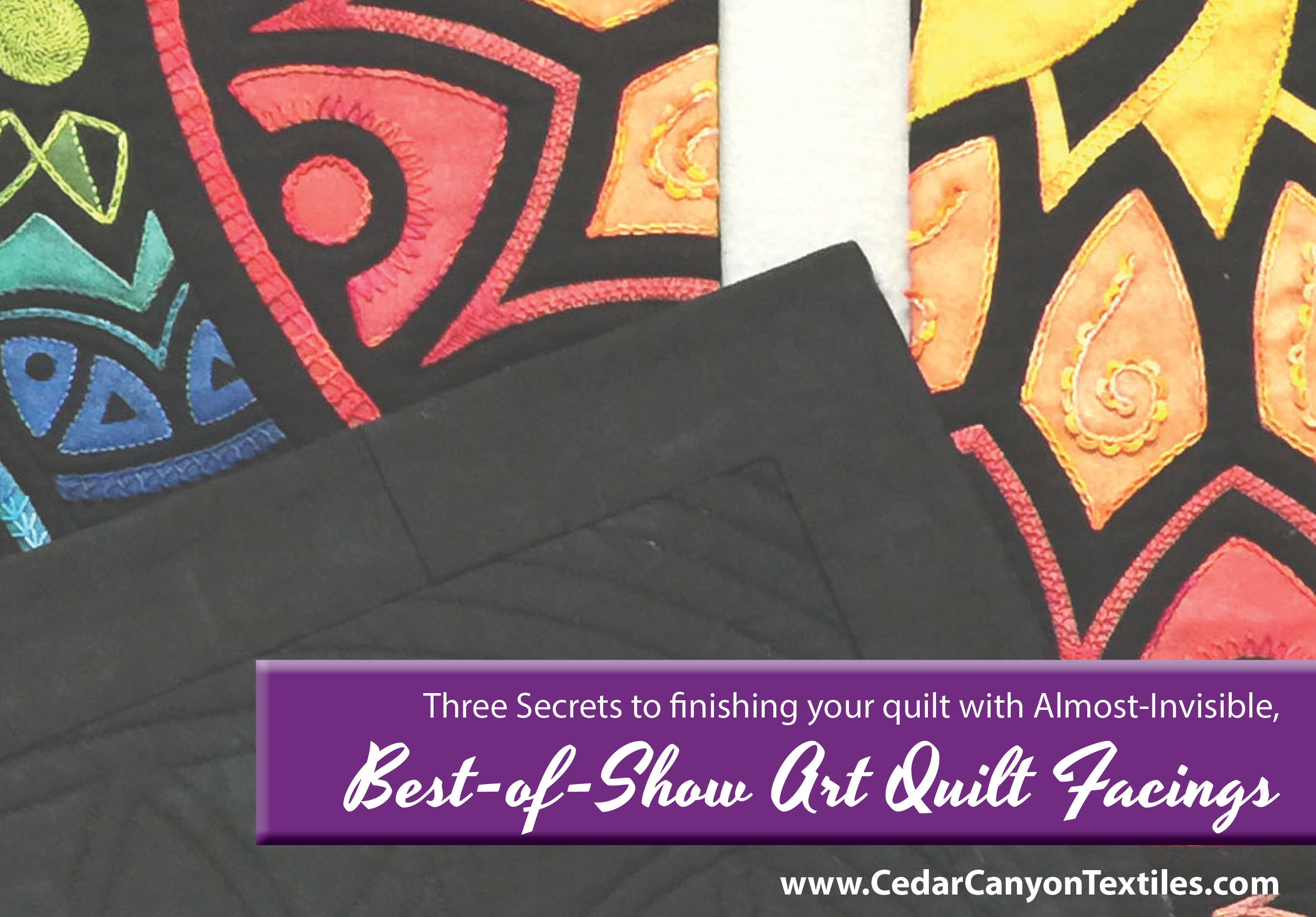 If you've been following along recently, you know I've been working on a new Online Course covering a really cool way to finish art quilts with facing rather than binding.
Now before we go any further, please don't get hung up on my use of the term "Art Quilt." I'm not making any judgements about what is art – just substitute "wall quilt" if you don't consider your small quilts to be "art." Okay?
There are lots of ways to finish the edges of quilts, including binding, raw edges, stitched edges and facings. While I have used bindings for most of my career, I have turned into a big fan of facing my pieces – when binding simply doesn't look right.
I love facings (done properly) because…
They are virtually invisible

They allow the design elements to extend all the way to the edge of a quilt

They often make a viewer think "art" rather than "quilt."
As I worked (frantically) to finish up the three panels of my Bailando en la Noche quilts in time for two major deadlines, I worked through some pointers from my friend Nancy Kazlauckas and settled on a really cool method for making facings. Plus, this facing technique helped me win a Best-of-Show award at the 2015 Minnesota Quilt Show.
Today, I want to share the Three Secrets that make this facing method work – and invite you to register for the Finish Your Quilt with Almost-Invisible, Best-of-Show Art Quilt Facings online course. Let's jump right in.
Give Yourself Extra Room To Work
When we apply binding to a quilt, we generally trim the edges to ¼" outside the stitching line. When facing a quilt, this is Not Enough Space to work in. (Trust me!)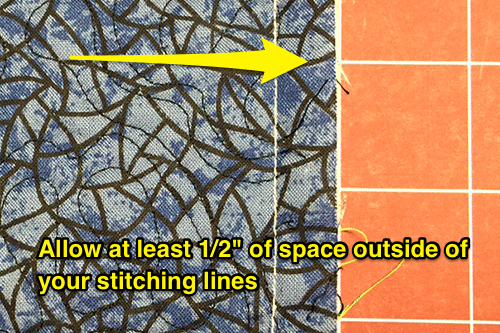 To make the facing process manageable, you must allow for at least ½" around the edges of your quilt. And if your fingers don't like working in small spaces, you may want to leave ¾" or even 1" to make this more comfortable.
Important Tip: Less quilting in this seam allowance area will make the second big step a whole lot easier. (It's easy to pick out a few stitching lines, but dense quilting in the seam allowance creates a major pain in the fanny.)
Get Rid Of The Bulk
Quilts, with their layers and batting are naturally bulky – and we wouldn't have them any other way. The layers and loft are exactly the thing that allow us to create such marvelous textures with stitching!
But, when it comes to applying facings to a quilt, that bulk has simply Got To Go. Turning facings to the back of a quilt without "debulking" is just asking for lumpy edges!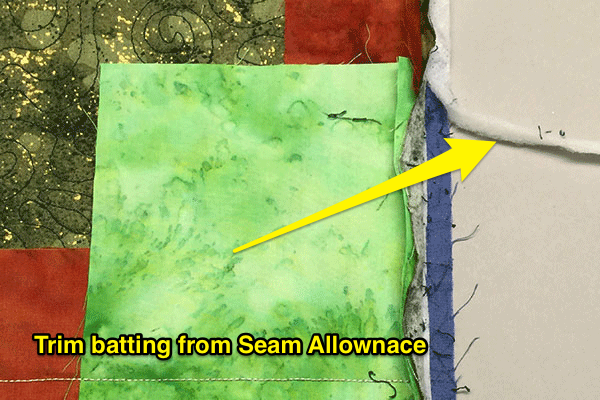 The best way to "debulk" the edges is to borrow some nifty techniques from our garment sewing friends. I trim the batting away completely and then grade the remaining seam allowances – taking care NOT to trim the most important layer – the quilt top.
Separate The Sides From The Corners

If you're thinking "What in the world is she talking about?" hang in there for just a minute. This is the Most Important of the Three Secrets. (Really.)
To make seam-free, bulk-free corners in your facings – and to ensure that the facings will lie perfectly flat on the back of the quilt, you must separate your facing into corner squares and side strips.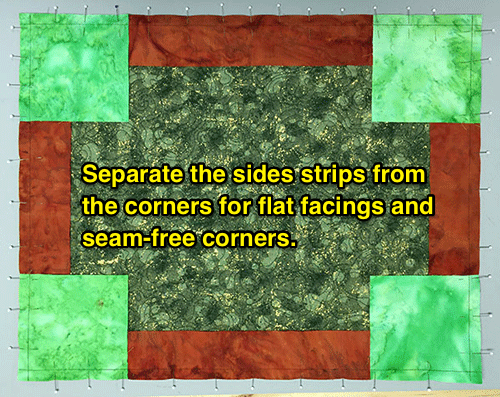 Now, I know it sounds crazy that 8 pieces of facing would be better than 4 pieces, but it really works – and here's why:
The points where the pieces overlap allow you to make simple push/pull adjustments – and that is what keeps everything perfectly flat.

Using squares in the corners means there will be Absolutely No Seams in the corners. No mess, no mitres – no nothing. Just flat, square corners. How cool is that?
Register Today – for just $19.95!
Now, I'm not going to leave you in the lurch after sharing the Three Secrets. There is so much more to learn! The Finish Your Quilt with Almost-Invisible Best-of-Show Art Quilt Facings course is set to begin on Thursday, September 17th, and I'm opening registration today.
For just $19.95, your course includes
An

Overview of the Three Secrets

for finishing your quilts with Best-of-Show quality facings.

A

super-detailed explanation

of the process from start to finish, including

32 step-by-step photos

to show you how everything works.

A

printable document

that you can keep right next to your sewing machine as you work – complete with photos!

A

worksheet

to help you calculate the correct size to cut your facing strips and corners.

Instructions for making your own BOS Art Quilt Facings

sample that you can use for years to come!
Limited Time Bonus: First Session Will Be LIVE!
In a few short weeks, this course will be strictly Independent Study. But, for those of you who enroll RIGHT AWAY, this course will be LIVE. You'll be able to ask question, post images, and get all the clarification you need – right in the classroom! (No Facebook, no Yahoo – everything right at your fingertips!)
What To Do Now:
To get yourself registered, click on the link below:

After you fill out the form, you'll get a message with a link to our new Online Classroom at Ruzuku. Follow the link, complete your registration on Ruzuku.com, and you'll be all set!
(And just so you know, you only register on Ruzuku once. If you take another course with me – or with another instructor – you will simply have to log in. Cool!)