In yesterday's blog post, I talked about the importance of Examining The Best Examples as a practice that can help you "woo your muse." And guess what I found in my inbox this morning? A perfect opportunity for anyone living within driving distance of Minneapolis/St Paul to see an exhibit, meet the author, and take a class.
There are many days when I might not have paid attention to this message in my email. Heaven knows I sort through far too many messages each day. But because I had been thinking about purposefully "examining examples," I realized that a wonderful opportunity had been dropped in my lap. Ask and ye shall receive!
Now, don't let me hear you say "I don't live anywhere near the Twin Cities." These opportunities are out there, wherever you happen to live. The point is to pay attention when you see them. Got it? Good! 🙂
"THREADS OF CONNECTION: WORKS BY DEIDRE SCHERER"
SEPTEMBER 23 THROUGH NOVEMBER 18
United Theological Seminary of the Twin Cities
3000 5th Street NW
New Brighton, MN
651.255.6138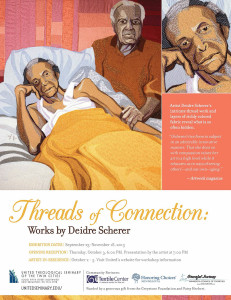 Using richly colored fabric and intricate thread work as her medium, artist Deidre Scherer invites us to see the full arc of life, bringing a sense of beauty and dignity to the end-of-life experience.
Best known for the image that accompanies the popular poem "When I Am An Old Woman I Shall Wear Purple," Scherer highlights the place and value of elders and challenges stereotypes about death. She has been recognized for "… her thought‐provoking investigations of our society's view of aging, … family relationships and the welfare of future generations."
Scherer will speak about her work at a reception on October 3.
WORKSHOPS AND OTHER RELATED EVENTS
All events at United unless otherwise noted. Register at
www.unitedseminary.edu/CommunityPrograms/classroomgallery.asp
or call 651.255.6138.
Wednesday, October 2, 1:00-4:00 PM
"Community Quilting Project"
$20. $10 Students (includes materials). Registration required, scholarships available.
Thursday, October 3, 11:35 AM-1:15 PM
Chapel Service & Luncheon Discussion with the Artist
No charge. No registration required.
Thursday, October 3, 6:00-9:00 PM
Exhibition Opening & Artist Talk
Reception, program with Deidre Scherer, and panel discussion.
No charge. Registration requested.
Friday, October 4, 9:00 AM-12:00 Noon
Workshop: "Drawing with Scissors"
At the Textile Center of Minnesota, $25, Registration required
Friday, October 4, 1:30-4:30 PM
Workshop: "Drawing from Life"
$20. $10 Students (includes materials). Registration required, Scholarships available.
Saturday, October 5, 9:30 AM-12:00 Noon
Workshop: "Narratives with Surrounded by Family and Friends"
$10 (includes materials).
Registration required. Scholarships available.