Have you ever wondered what a distributor Open House looked like? It's pretty crazy!
I worked at the big Checker Distributors Open House event just outside Toledo, Ohio last week. This is an event where the Quilt Shop owners can actually go in and shop the Checker warehouse. And let me tell you, these folks know how to shop!
The Open House is a huge event for the Checker staff, and they do an amazing job. They invited 30 vendors (people like me) to do demonstrations for the shop owners and answer their questions. It's kind of like Quilt Market, just on a smaller scale.
Now I have to admit that I left my camera at home, and I was so crazy busy that I forgot to attempt any photos with my new iPad. (Silly me!) Fortunately, the roving Checker photographer took a pile of pictures and gave me a disc before I left. Really, they thought of everything!
Here are a few photos from the event.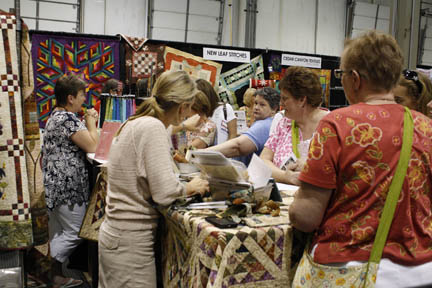 This is the view from behind one of the demo tables. We were busy from start to finish both days. My demo stand was straight back from the lady in the pink shirt, but with so many people there, there was no way to see it from here!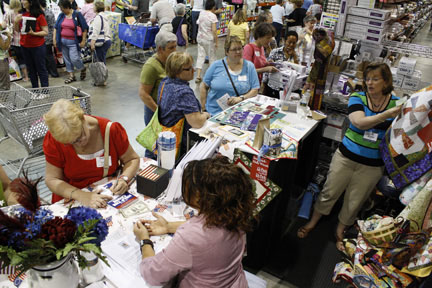 Here's my friend Joan Ford (check out her Scrap Therapy book) showing off one of her quilts. Busy, busy, busy!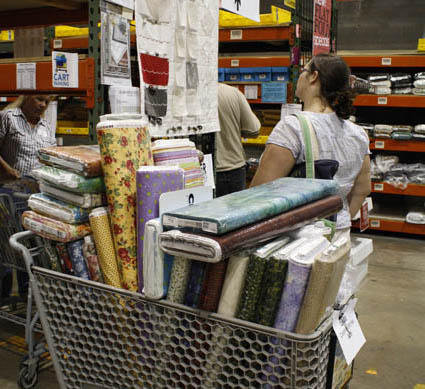 The shop owners could shop freely in the fabric warehouse. It wasn't unusual to see someone dragging 3 carts like this to the checkout area — we're talking about serious shopping! I talked to one woman who drove up from Florida for the event. Holy buckets, Batman!
Clara's Calling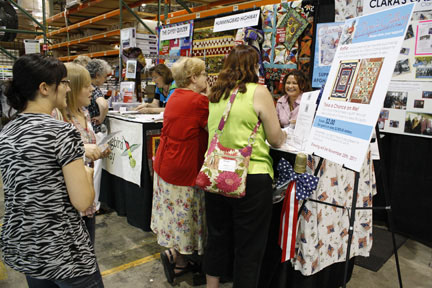 The highlight of the event for me was meeting Master Seargent Clara Vargas. (She's the tiny lady in pink.) While she was serving in Afghanistan, she started a program to help Afghan women learn to sew in order to support themselves and their families. Rob Krieger, owner of Checker Distributors heard about her efforts and signed on to be one of the key sponsors of the Clara's Calling efforts.
You can read more about Clara's Calling at this website. This is an amazing effort — not just to help the individual women — but to help us win the hearts and minds of the Afghan people and to prove to them that Americans are their friends. Check with your local quilt shop to see if they are accepting donations for Clara's Calling. If they are, by all means, do everything you can to help.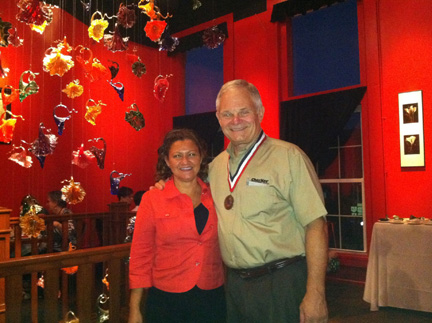 By far, the most touching event of the weekend came at dinner Sunday night. A major award ceremony for those who have made the Clara's Calling efforts such a success was held in Virginia. Rob Krieger, owner of Checker Distributors, could not attend as he and his staff were putting the finishing touches on the Open House event.
So Clara brought all of the awards and certificates to dinner and presented them to Rob in the company of his staff and all the Open House guests. It was quite a moment — I was thrilled to be there to share it with them.
Enjoy the rest of August. I'll be back next week with more news from Cedar Canyon.