I've been creating rubbing plates for 5 years now, and I've come to appreciate one of the little bonuses that comes with each set. We create 6 designs, but we actually get 12 design surfaces. Using one side of the plate, you'll get the image that we intended when we created the design. Using the opposite side of the plate, you get a secondary image that I call a backside bonus.
Some plates have very cool backside images. Some don't. The molds for the plates are made with a chemical etching process, and there is no way to control exactly how deep each groove in the plate is etched. It's much more hit and miss than the design side.
When I get a new set of plates, I first make a set of samples from the design side of each rubbing plate. After all, those are the designs I really wanted. Then I flip each plate over and check the back side to see if I like any of the secondary images. When I see one I think is pretty cool, I do a little happy dance and celebrate my bonus. Here's what I found with the new Doodles Rubbing plates.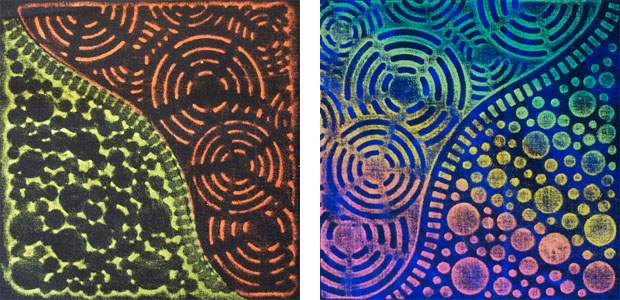 With this plate, the backside image (left) of the dots is much less distinct, and I had to use the end of my paintstik to get the dashed lines that run through the center of the plate. The "stove burner" images were very cool — a nice complement to the image on the design side.
The backside of this plate gives a totally different look than the front side. I love the little dots and dashes on the bottom right of the backside (green). The images from both sides will make great backgrounds around larger images.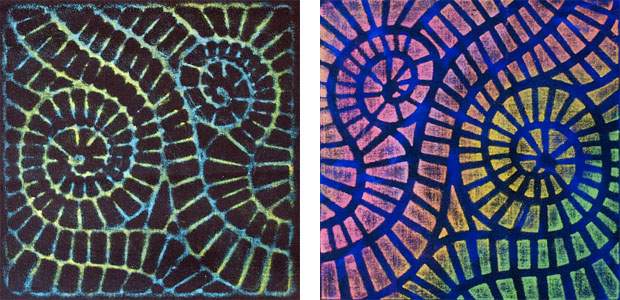 And this one, hey — what can I say? On the design side, I love the look of mosaic tile. But I'll admit that I might like the bonus backside of this plate even better. It reminds me of a snail shell cut open or something like that. The image is much softer, more organic than the crisp clean lines of the design side. Which do you like better?
If you haven't already ordered up your new Doodles plates, you can hop over to our Online Store. If you have a local store that carries our product, give them a call. We are shipping the plates every day and we would be happy to send some their way. Here's the link to the Online Store.
Next week, we'll take up the topic of multi-color rubbings. Stay tuned.