When I started quilting, it never entered my mind how much time I would spend trying to photograph my quilts. And it really never occurred to me that I would resort to climbing on counter tops and putting myself through all sorts of contortions to get the camera in "just the right spot" for a photo!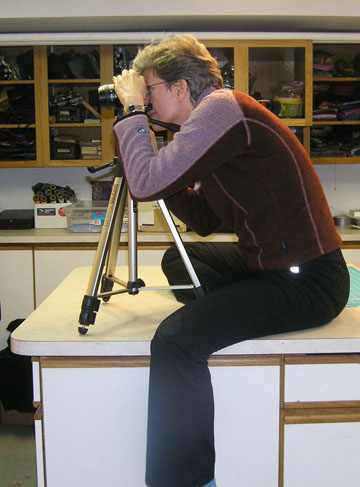 I don't usually have to do this with my own quilts, but I was helping Laura Murray photograph some of her StarBuilder quilts last winter. I had to use the macro lens on my camera to avoid getting distortion on the edges of the quilt, but her work table prevented me from moving far enough back from the quilt. So — up on the counter top I went.
I got the giggles with Laura taking pics of me taking pics of her quilts, so we took a break and had some fun.  Here's Laura — taking pictures of me…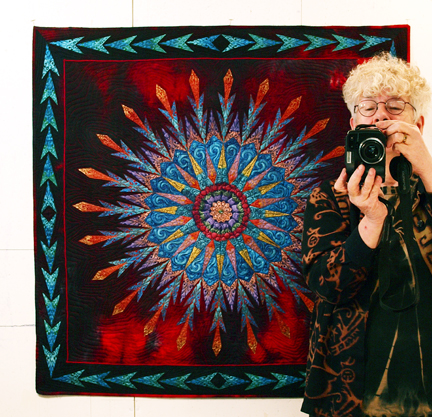 … and me taking a picture of Laura!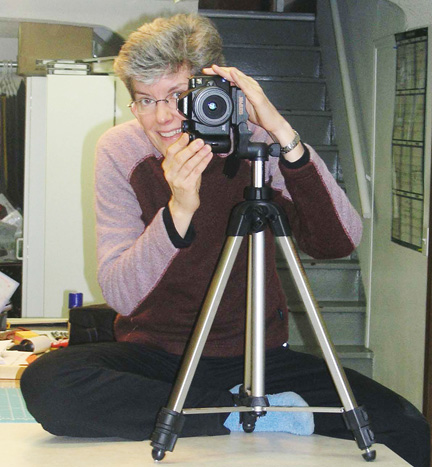 Isn't that quilt fabulous? Laura's new book on StarBuilders has gone to the printer, and she'll be posting a guest entry here on the blog within a few weeks. Stay tuned!