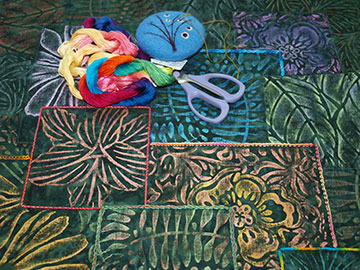 When I first started off on my Shape Shifter adventure, I decided that my fabric needed stitching to enhance the painted motifs. I have to say that hand stitching is a HUGE departure from the way I normally work. I've always been a "put it on the machine and git 'er done" kind of girl. I always thought "who in the world has TIME to sit around stitching things by hand?"
In all fairness, my first real attempt at hand quilting and hand stitching came when I was dying fabric. I was already putting my hands through the wringer every day and they were usually tired and sore. So more handwork was not a welcome addition to my life.
Now I find it wonderfully relaxing. I find myself stitching with my first cup of tea in the morning or after dinner when I want to wind down. It's almost like a meditation. It takes enough attention to make all the other thoughts drift away, but not so much that I feel stressed.
I have almost zero experience with embroidery, save a few tea towels when I was a kid. So this is a new adventure for me. Fortunately, my friend Jean has started a Modern Stitching monthly class at the local Quilt Shop, and I've been able to find a couple of good books.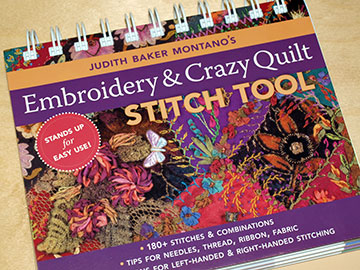 The first book I acquired is by Judith Baker Montano. It has instructions for a boatload of stitches and, better yet, has stitch diagrams for both left and right handed folks. I'm not a lefty, but a number of my friends are and they love the opportunity to see things from their point of view.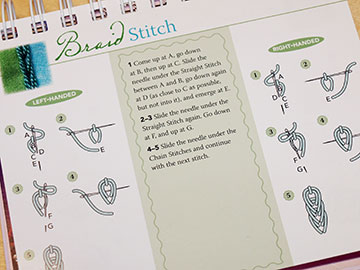 It took me a while to find my way around this little book. All the stitches are listed alphabetically rather than by stitch family or purpose. But it's a great little guide, especially for us beginners.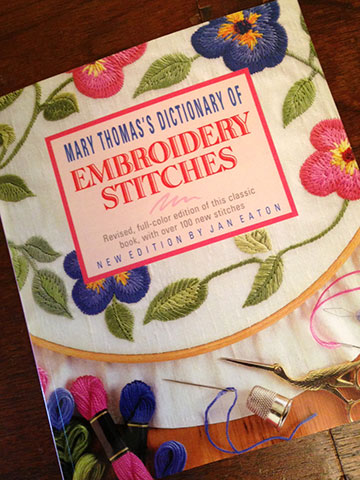 The second book that I purchased is one that was first published back in 1934. What I like about this book is that it is organized by stitch type. For example, all of the Outline Stitches are grouped together in one chapter. Because I'm dividing up all the sections on my painted collage, I can find a bunch of different outline stitches really fast.
Two Books Are Better Thank One
Why have more than one book? Other than the fact that I'm a certified book lover, I've already found value in having 2 stitch "dictionaries." I was following the instructions for a stitch in one book, but my stitches weren't looking like the illustration. Finally, I had a brain wave and looked up the stitch in the Mary Thomas book. Sure enough, that set of instructions included a tidbit of information that I didn't get the first time around.
I'm enjoying "slowing down to the speed of hand-stitching." And, not surprising, I've started collecting more beautiful threads. But that's a story for another day.