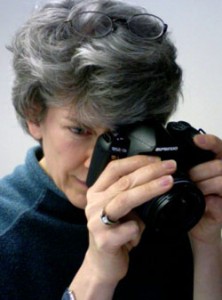 It's Monday, so it must be time for a little magic. Today I'm going to take a break from Design Magic and skip over to photo magic. It's a little peek into our activities here at Cedar Canyon.
One of my biggest challenges is creating our ads for Quilting Arts, Cloth Paper Scissors, and a few other publications. The text is usually easy. After all, I love to write. The photos? Now that's a challenge!
I always chuckle when we get calls from a big customer like Nancy's Notions or a distributor asking me to connect them with someone in our art department. Yeah, right. I AM the art department – along with my day job! Fortunately, a digital camera is not much different than a computer these days. As a former engineering programmer, I can handle the computer. Therefore, I should be able to figure out a camera – at least that's my theory. Mostly it works. When it doesn't, I call my brother-in-law. Photography is his grand retirement hobby and he helps me over the technical hurdles. (Thanks John!)
One of the challenges of ad photos is getting everything laid out just right so it looks good in the ad. It sounds so simple, but I've learned that there are a ton of little things you won't see until you look at the photograph. I am beyond grateful for digital photography. I simply could not do this stuff if I had to take real photos, get them developed, made adjustments, take more real photographs… I would truly be in the nuthouse by now!
Here's a photo we'll be using to introduce our new website in a Quilting Arts ad.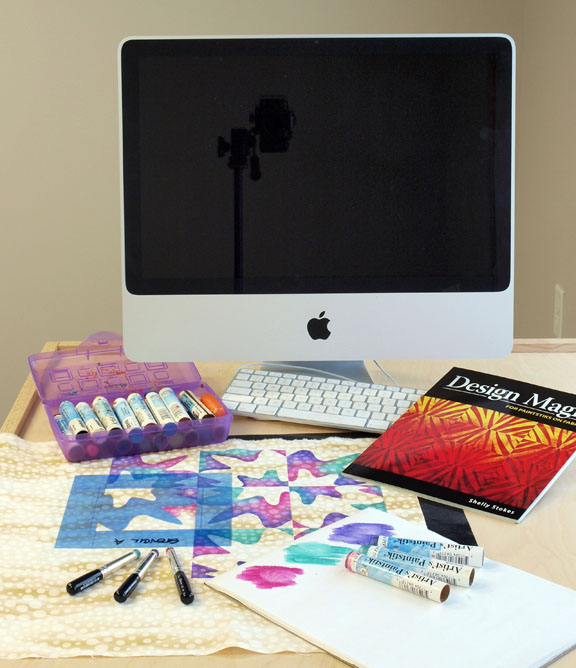 It looks pretty straight-forward, but it took an amazing number of gyrations to get it put together.
First, I had to move the small mountain of stuff that accumulates on the work table in my office. No small task there… Then I had to swipe the computer off my desk and the keyboard from Leanne's desk. (Which means that she can't do anything related to orders while the computers are tied up.)
Next comes the actual arrangement of all the stuff in the photo. I carefully chose the fabric and paint colors for the sample so they would complement our ad colors, the sample has to be far enough along to show what's going on, and the brushes need to have the right color of paint in them – even though I'm not actually painting.
The photo was really blah – too much "beige" so I had to find ways to add color and contrast. I added the book (propped up with a rolled up towel to get the angle right) and the box of paintstiks because the purple helped break up the beige of the desktop and fabric. Then I always have to get the paintstiks name-side-up so you can tell what they are. (And paintstiks love to roll around with the slightest bump of the table.)
I'm usually taking close-up photos, so this one was extra challenging. My lovely digital camera could not decide where to focus. So, on the phone to the brother-in-law to walk me through setting the camera to aperture-priority to get everything in focus at once. Got it right in round 2 when I figured out how to tell the camera that I was 5′ away from the scene. Whew!
The next time you look at an add, take a look at the photos and see if you can pick out the details on how things are staged. It's an art – and a bag of magic tricks all rolled up in one.