by Shelly Stokes, Founder and Creative Mentor

When I announced the Design Magic class that is currently underway, a number of people asked "Why 30 designs in 30 days?" Well, there are several reasons, and at least one is quite compelling.
This little adventure began as a challenge I set for myself. I wanted to see if I had the discipline to do 30 designs in 30 days. I have a pretty short attention span, so I figured the odds were better if I announced my intention publicly.
I do not expect my 30 designs to all be beautiful. As a matter of fact, some of them will be downright lousy. (At least in my eyes.) But the practice of creating one design each day is a beautiful thing.
The fact that 158 of you jumped at the chance to design along with me confirmed my thoughts that we all crave some creative time in our day. And the designs that come into our Inbox each day are a testament to the creative spirit in each of us that is just waiting for a chance to come out and play!
Small things created over time build into something bigger.
Here is a TEDx talk by artist Jolie Guillebeau that takes on the topic of doing small things over and over. I have added the link to the blog post where she describes what went in to making the 1000 plexiglass paintings that hung on the stage for her talk. Both the video and Jolie's post are beautiful.
Click on the images below to access the video and blog post.
Jolie Guillebeau's Video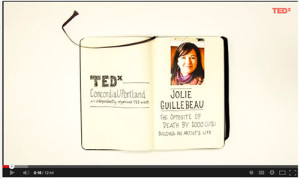 Jolie Guillebeau's Post