I've had some good questions piling up on my desk. If you have a question, please send it to me through our Contact Page.
Heat Setting (Carolyn Carson)
Q: I've been using Shiva paintstiks to paint on cotton batik fabric in my art quilts. Since they're meant to hang on a wall, is it essential that I iron [heat set] the fabric after the paint dries? What will happen if I neglect to do this?
A: If you are creating fabric for a wall hanging, there is technically no need to heat set the paint. Jut let the paint dry on it's own time and it will be fine. Heat setting speeds up the end of the drying process and is recommended for anything that will be washed, but there is no compelling reason to heat set fabric that will be used in wall hangings.
Cleaning Stencils (Carolyn Collins)
Q: I have been using iridescent paintstiks and the snowflake stencils to make some fabric. Is there a particular way to clean the stencils when I am finished with them for the day? I do have the Cedar Canyon Brush Cleaner — thank goodness!!
A: Yes, there are several ways to clean stencils.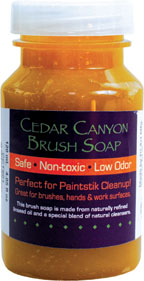 1. Wipe the stencils as you work. I keep a piece of scrap fabric or paper towels handy. After I stencils an image, I put the stencil on the scrap fabric and gently wipe the paint off with another piece of fabric or a paper towel. I wipe both sides as I often have just a little bit of paint that gets under the edges of the stencil openings.
2. Mist the stencil with a solvent and wipe with a paper towel. This is very useful if you have paint buildup on the stencil. I don't care for most solvents, so I use something like Citra-Solv. Citra-Solv is a concentrated orange-based cleaner.
3. Clean with Cedar Canyon Brush Soap. Scoop some brush soap out of the jar and smear it on the stencil. Remove the soap with a damp cloth or paper towel. Works like a charm, and is totally non-toxic. (And don't forget that the brush soap is a great hand cleaner!)
For more information on Paintstik Cleanup, visit this entry over at the Blog. If you need some of our wonderful brush soap, you can order from our Online Store.
Fiber Content and Paint Durability (Katy Meile)
– in response to our Fabric Paint educational e-mail series:
Q. Your articles on various fabric paint topics were useful and I have stored them for future reference. I have a question that I don't feel was answered: What effect does the fiber content of the fabric have on durability? My background involves yarn and fiber dying, so I know some dyes are suitable for cellulose fibers and others for protein. How does this fit in, or does it?
A: Fiber content is not going to be an issue with paints. When you dye a fabric, a chemical bond forms between the dye molecules and the fibers. That's why you need certain dyes for cellulose fibers (cotton, linen, rayon) and different dyes for protein fibers.
When you paint a fabric, the bond is strictly mechanical. The paint adheres to the surface of the fibers rather than forming a chemical bond. The only fabrics I know to watch out for are those that have been chemically treated to be stain resistant. If the fabric is stain-resistant, it may also be paint-resistant.
Keep in mind that almost all fabric coming into the stores is treated with finishes when it is manufactured. That is why we recommend pre-washing fabric before painting it. Use a plain detergent when pre-washing fabric and do not use fabric softener. With that single step, you should be ready to paint.
Paintstiks "Under Glass" (Marti Hale)
Q. Can fabric colored with paintstiks be framed under glass or acrylic, or does the glass need to be left off as in an oil painting?
A: I am not an art conservator, but there are some common sense things you can do here. If you want to put the fabric under glass or acrylic, I would use a shadow-box approach or at least a spacer between the glass and the fabric. I don't think you want the painted fabric touching the glass.
I would personally wait at least 6-8 weeks for the paint to dry before framing a piece. Paintstik oil colors are oil-based paints and they take longer to dry than water-based paints. Better safe than sorry.
For a definitive answer to this question, I would contact the art department at a local college or university or consult with someone at an art gallery that handles oil paintings.
Are Paintstiks Odor-Free? (Cynthia Van Buren)
Q. I like the idea of using the paintstiks on fabric. Are the paints without any fumes or smells?
A: Not according to my sensitive nose! (said with a big smile) The paint manufacturer calls the paintstiks "no odor" but I disagree. I call them "low odor." They smell like a combination of wax and oil paint, but the smell is very light compared to a traditional oil paint. I notice more an odor as the paints are drying than when I am painting. It's not obnoxious, but it's there.
Some people notice a residual odor in scarves / garments. It depends on how sensitive your nose is. One of my best customers successfully removes the leftover smell by gently washing her fabric with Fabreeze for the Wash.
If you are particularly sensitive to chemical odors, I suggest purchasing one or two colors and experimenting with them to see if it's a product you can work with. As with any product, there's no sense making a big investment only to find out you are too sensitive to the smell to enjoy using it.