When I started Cedar Canyon Textiles back in 1997, I was a fabric dyer. I was in love with color — and fabric dying was the perfect outlet for my creative work.
Over the next 7 years, I dyed thousands of yards of fabric, in an amazing range of colors. I dyed all my fabric one yard at a time, starting with 40-inch pieces of fabric to allow for shrinkage. I tore the pieces from the fabric rolls to keep raveling under control, and by the time I was finished, each piece had two soft, raw edges.
These raw edges usually ended up in a pile on the table when I cut the fabric into fat quarters and half-yard pieces, and that's where the story gets interesting.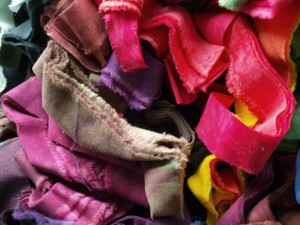 I freely confess that I really liked the look of all these raw-edge strips. The colors were fabulous, and I loved the texture. Of course, I had no idea what I was going to do with them, but I just couldn't throw them away. (Please tell me I'm not the only one with this obsession for hanging onto pretty bits of fabric!) So, I started tossing all the strips in a bin. And then another bin — and another.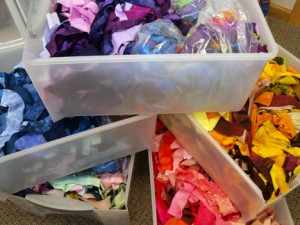 I even got to the point that I sorted the strips into color groups. I have a bin of reds & oranges, one for all versions of yellows, lots and lots of greens, one for blues, and one for purples. There's a separate bin for my color-wheel dark & black over-dye families. And… I'd better stop here or you'll think I'm totally nuts.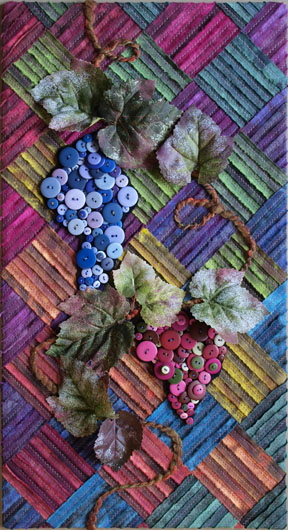 To make a long story short, I've made a series of quilts over the years that I call my "Rough Around the Edges" quilts. Each quilt is created one strip at a time, in a quilt-as-you-go manner.
Instead of doing the "sew-and-flip" thing, I create the quilt so all of the wonderful raw edges are on the top of the quilt instead of hiding in between the layers. The finished quilts have a soft, chenille-like texture that just begs to be touched.
To make my quilt for the DIVAS "vine" challenge, I took a checkerboard-style quilt that I made years ago and used it as my background. (I liked the piece, but it never felt "finished.") The colors were perfect for my Grape Vine theme, and re-using a piece saved me a ton of time — which is in short supply right now anyway.
I pondered for a long time on how to make the grapes. My answer came when I found a lovely stash of buttons from Hillcreek Designs that I acquired at Quilt Market several years ago. (Hillcreek Designs has a wonderful range of folk-art buttons with a matte finish. All of the buttons in my stash are from their Shades of Color collection.)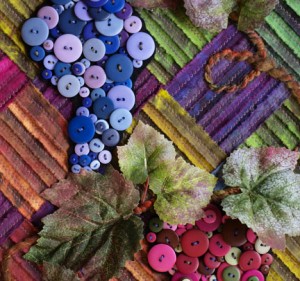 To make my grape clusters, I grabbed a piece of heavy wool felt and randomly stitched buttons to the felt in tight overlapping pattern. The buttons ranged in size from about 3/8″ to almost an inch in diameter, so they were perfect for making grapes.
I couched yarn to my quilt for a vine, and picked up a sprig of grape-vine silk leaves at the local gift shop. I have to admit I was pretty proud of myself — everything but the leaves came from my stash, so I only spent $5 to make this lovely quilt.
Most of all, I love the textures. The raw-edge strips give the background a warm, fuzzy feeling, and the buttons are smooth, but not shiny. The leaves are attached at the stems and I love the way they stand off the surface of the quilt.
Once I finished the quilt, it was time to pack up my make-shift sewing studio. We'll be moving in a couple of weeks, and my husband is determined that I will NOT wait until 2 days before the move to start packing. But that's a story for another day…